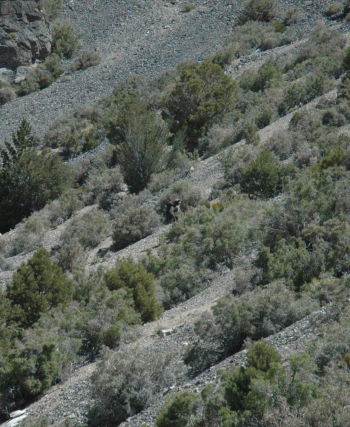 Anthony Smith struggling up a scree mountain slope.
I have only visited Nevada twice before, and those visits had been limited to the area around Las Vegas. Thus, my impression of the state had been similar to what most other people assume: a big ostentatious urban city surrounded by boring flat deserts.
Instead what I found is that Nevada is probably one of the most beautiful states in the nation. It has many mountain ranges, interspersed with wide flat valleys, a number of which have lakes or swampy areas because the water is trapped there, draining neither to the Pacific or Atlantic.
Yet, it is desert country. The limited amount of water means that the state is lightly populated, and the few farms or ranches that you pass actually act to amplify the feeling of emptiness. This is further enhanced by the frequent mountain ranges. Every time you cross over a range, you find yourself high in the air with a spectacular view of the vast valleys below.
The Forest Service job that I was part of this past week was focused on inventorying and surveying a number of known caves covering a large area in northeastern Nevada. The work had actually started several years earlier, so that this particular week was the final wrap up, mapping the last few known caves on the list while also ridge-walking several different canyons in an effort to find some new discoveries.
» Read more