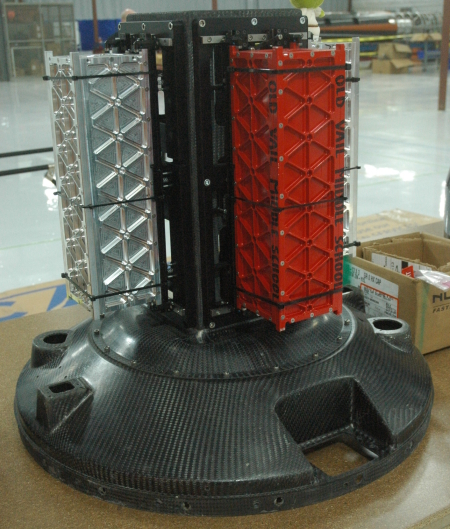 In the coming year we should see the spectacular first launches from two smallsat rocket companies, Vector and Virgin Orbit, joining Rocket Lab (which has already launched successfully three times) to form an entirely new industry of small rockets designed specifically for launching cubesat and nanosat satellites, what I call smallsats.
The image on the right shows the payload adapter fitting for Vector's Vector-R rocket. The red and silver rectangular objects are dummy cubesat payloads. Overall, this structure, only about three feet high, will allow Vector to place as many as eight smallsats into orbit on one launch.
The picture was taken yesterday during a tour of Vector's facilities given to me personally by Vector's CEO, Jim Cantrell. During my previous tour of Vector back in March 2017, Cantrell had described the company's planned test launch schedule as follows:
The company is presently in the testing phase leading up to their first orbital launches, which they hope to start in 2018. Right now they are building a series of full scale versions of their Vector-R rocket with a dummy second stage. The idea is to do a string of suborbital test flights, the first of which will fly in about a week from Mohave in California, with the second flying from the Georgia spaceport in Camden County.
The first two launches occurred as promised, first in Mojave on May 3, 2017 and then in Georgia on August 3, 2017. An announcement in October 2017 set the launch of the third test first for January 2018 but that launch did not happen. In March 2018 Vector announced it planned to launch two cubesats into orbit from Alaska by the end of 2018, but this did not happen either.
Because of the delays, with no explanation, I was beginning to harbor doubts about the company's status. Last week Cantrell gave a talk at Tucson's Space Business Roundtable, and I went to that talk to find out what the issues were as well as attempt to find out when they did plan to launch.
Cantrell not only filled me in on the details, but generously offered to give me another personal tour of Vector's facilities, which had grown significantly since my 2017 tour. Then, Vector employed only thirty people and was based in a small warehouse. Now it employs more than 150, and has two much larger facilities in Tucson as well as one in California (where its mission control is based).
First let me outline the company's launch status.
» Read more