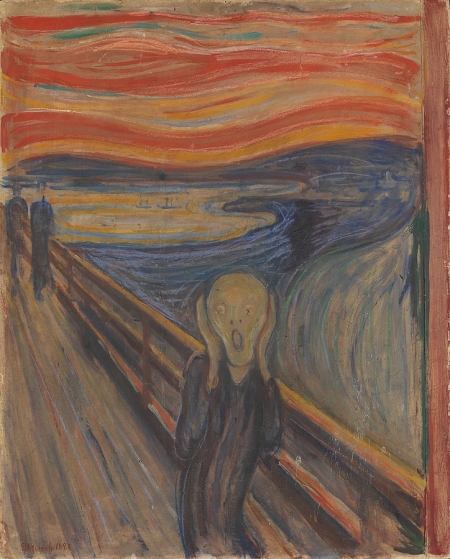 The Scream by Edvard Munch
One year ago I posted an essay entitled COVID-19: the unwarranted panic. At that time we had just begun a "15-day-lockdown" to slow the spread of the virus, a lockdown that has ended up lasting a year with literally no signs of ending, even though vaccines for the coronavirus are now available and are being administrated widely to millions.
In that essay I reviewed four early science studies that provided some solid initial data about the coronavirus, all of which strongly suggested that it was not the plague many government healthy officials at that time were proclaiming it to be. Instead, these studies showed that it was only a threat to the elderly sick, that it was relatively harmless to a young population, and that the death rate was low, likely well below 1% and possibly very comparable to the flu.
These data strongly suggested to me that lockdowns, social distancing, masks, and restrictions on the freedom of the healthy and young were all a bad idea. Better to follow the traditional response to past such epidemics in which you quarantine the sick, protect the vulnerable (the elderly), and allow everyone else to go about their lives as normal.
We did not do this, however. Instead, as a society we chose in the past year to do the exact oppose, imposing strict lockdowns, mandating social distancing and mask use everywhere, while quarantining the healthy. We did this based on the worst scenarios and models put forth by health officials, who firmly believed COVID-19 was far worse than any past epidemic, and required a new, radical, and much harsher response.
I now want to ask, one year later: Whose conclusions about the seriousness of COVID-19 were more accurate? Was it just another type of flu, though maybe somewhat worse, as I posited, or was it the deadly pestilence predicted by the world's health authorities?

Recently, I received a detailed 32-page report [pdf] entitled "A Pragmatic Perspective on COVID-19," written by Henry Schneiker, (who is not only a friend, a caver, and an engineer, but also has "a background in emergency medicine, microbiology, virology, and infectious diseases"). Schneiker might not be a health official, or a scientist, but those titles should never mean anything to anyone if the data presented is intelligent, thoughtful, accurate, and comprehensive. His report is exactly that, providing a nicely detailed fact-based review of the entire epidemic and its present state. It is worthwhile to calmly sit down and read every word, as he reviews every aspect of the virus, from its death rate to the response to it, looking at the actual data to see if our response was worthwhile as well as to gauge the virus' true threat.
This report is most pertinent in answering my question about the severity of COVID-19.
First, who has been the most threatened by COVID-19? Was it the elderly sick as first suggested by last year's first studies? Were children relatively safe from the virus, as those studies also suggested. Or was the virus a deadly plague that would kill millions, as predicted by all government health officials? One year later, when we have much better data, Schneiker's report says this:
Age is a significant risk factor. It is clear that older populations will generally have a higher death rate compared to younger populations. However, the state of someone's health is probably the most significant risk factor – even if it is more difficult to ascertain. Poorer health only generally correlates with increasing age. But even in the highest risk age group, the survival rate is estimated to be 95%.

For perspective, it was estimated that 607 thousand people died from cancer in 2019 in the US – a per capita death rate of 0.184%. This happens year after year – yet no one gets very upset.

By summer 2020 the data showed that children were at very low risk from COVID-19. Children generally have mild symptoms and rarely have complications requiring medical care unless they have an underlying medical condition – children have a very low rate of underlying medical conditions. Further, children pose a lower risk of passing on a COVID-19 infection as their viral loads tend to be much lower than that of an adult. Yet, most US public schools remained closed.
Those early studies were 100% right, and our lordly government health officials were wrong. There was never a reason to close the schools. The people we should have protected were the elderly sick, while letting everyone else go about our lives as normal.
The report also analyzed the scientific background to social distancing and whether it accomplished anything. The initial theory behind social distancing is that by keeping at least six feet away from a sick person you likely prevent contact with any of their respiratory droplets. Somehow this common sense approach was morphed by the Bush administration from isolating the sick to isolating the healthy, based on no scientific studies other than a 2006 high school science fair project, (as I had already reported). As the report concludes,
People have always known that staying away from the sick was protective. This is why sick people have been isolated throughout history. But it was only recently that the concept of social networks was refined into formal public health policy that isolates the healthy.

If you are going to converse with someone for an extended period of time, physical distancing can make sense. But if you are both asymptomatic and feel fine, nothing will be accomplished by it. [emphasis mine]
Social distancing of the healthy as imposed by the government and big corporations is junk science, and should be ignored by any sane and rational human.
As for masks, the report goes into all the same facts that I have reported previously about their general misuse and uselessness. The report comes to this blunt conclusion:
Masks are not magic. Masks will not make up for bad decisions, bad habits and poor hygiene. In other words, masks are highly over rated in a public setting. Conversely, if you think you need a mask to protect others – because you might be infectious — you should not be out in public.
Finally, how bad is the actual death rate from COVID-19? Does it compare with the flu, as I believed one year ago?
To answer this question the report provides many pages of detailed information about how the numbers for COVID-19 have been compiled, including describing comprehensively the many uncertainties and questions that exist about that data.
In the end the actual death count that will result from COVID-19 is difficult to measure, but all the data suggests that while it is worse than the ordinary flu, it will not be as bad as the Spanish flu in 1918. That epidemic killed about 675 thousand. Using today's population numbers that translates to about 2.1 million deaths.
According to the report's analysis, based on the available data now, the total death count from COVID-19 could range anywhere between 500 thousand to 10 million, with a number more likely close to the bottom of this range, based on using the actual monthly death counts from COVID:
The April 2020 COVID-19 death count as reported on May 29, 2020 by the CDC was roughly 50 thousand COVID-19 deaths. The data was at least a month old at the time so the data should have been sufficiently stable. Pandemics tend to run for roughly 2 year so we can extrapolate that to 24 months with the same monthly death count. This yields 1.2 million deaths in the US.

If you compare "COVID-19 deaths" to "Pneumonia and COVID-19", the death rate drops by half. That would lower the guess to only 600 thousand deaths using this method. Given the primary cause of death from COVID-19 is from pneumonia related issues, this may be a better number.

Note that we have assumed the pandemic will run continuously at the same level for 24 months and then suddenly stop. As of mid February 2021, the monthly death rate has averaged roughly 40 thousand deaths per month over the last 12 months. If we were to simply double this to 24 months, we get a guesstimated 980 thousand deaths by the end of the pandemic.
Once again, these actual numbers suggest that my early conclusion was correct, that COVID-19 was not to be dismissed, but in the end it was nothing more than a variation of the flu, requiring attention and preventative measures comparable to what has been done repeatedly in the past.
Lock downs were a foolish over-reaction. They did nothing to stop the virus' spread, and only served to destroy the economy, bankrupt businesses, and destroy many lives. As the report also notes in this context,
Current estimates are that between 25% and 33% of all excess deaths during this pandemic are not from COVID-19.

But this just begs a different question. Where did all of those non-COVID-19 excess deaths come from? Is it because the medical system is so focused on COVID-19 that they are ignoring the common fatal disease states such as cardiovascular disease and cancer that kill a lot of people each year? How about trauma injuries? Or are people now afraid to go to their doctors for treatment? Or are people no longer able to get to their doctors for treatment? Or are people so stressed out by losing their jobs and/or being isolated that they are committing suicide? Or are people dying from excessive self-medication while trying to cope?
In other words, the over-reaction and panic over the coronavirus likely resulted in many excess deaths that could have been avoided.
Finally, there is the question of the rush to provide vaccines for COVID-19. Are the vaccines presently being given worldwide a worthwhile effort. Maybe, but the report notes several important facts. First,
[T]hese vaccines are not "approved" but are actually "investigational" drugs – i.e., experimental. …[I]t is important to note that not only are the pharmaceutical companies protected from liability for any adverse affects caused by the vaccine under federal law (see the Public Readiness and Emergency Preparedness Act), you will also be required to sign away any rights to sue the pharmaceutical companies before receiving the vaccine.
And second, because of the experimental nature of the vaccines they are resulting in a lot of adverse illnesses and deaths. The report notes this startling fact:
[A] realistic bracketing for a vaccine-related death rate [results in a rate] of 0.05% to 1.2%. And death is only one of the serious adverse events possible.

As a point of comparison, on February 20, 2021 the US per capita death rate for COVID-19 was 0.15%.
In other words, the death rate resulting from taking the vaccine is only slightly better than the death rate from the virus itself. That people are rushing to take the vaccine but hiding in terror from the virus despite these numbers illustrates once again how irrational the fear of COVID-19 has been. Both numbers are relatively low, though higher than we would like. Both suggest that the major change in our social behavior that has resulted was entirely uncalled for.
Nonetheless, I personally think the vaccines are a great idea, even with this risk, if only because their widespread use might help to alleviate the irrational fear that so many people feel. End that fear, and people might actually begin to live normal lives again, or if prevented from doing so by the petty dictators in government, might finally begin to rebel against their irrational edicts.
Final thoughts. Based on this report, it appears that every conclusion I put forth back in March 2020 was entirely correct. We panicked, and instituted policies and behaviors that accomplished nothing to slow the virus' spread, but everything to cripple our economy, destroy lives, and nullify our Constitution and Bill of Rights.
I concluded that March 2020 essay like so:
I repeat: Any disease like this requires a rational aggressive and focused response. We can't ignore it. People need to voluntarily self-quarantine if they feel sick, or if they have older and sick relatives living with them. We should also wash our hands regularly, and avoid unnecessary physical contact with many other individuals.

At the same time, we mustn't waste our energies doing things that are unnecessary, foolish, or downright counter-productive, such as releasing entire prison populations into the general population.

We also should be outraged by politicians who are using this situation not to deal with it but to impose their pet totalitarian rule over the population, such as passing entirely irrelevant gun bans and shutting down businesses willy-nilly and imprisoning everyone in their homes.

These actions will do little to ease the epidemic. Instead, they might worsen the situation by causing panic (as they have apparently done). Panic is not what this situation warrants. Instead it needs a calm rational response, something that only civilized rational people can give it.

Are we that? Watching what is happening I must sadly say I have my doubts.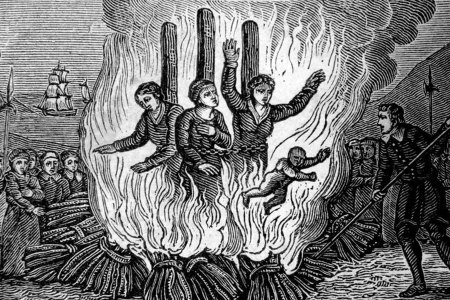 Burning witches: what an irrational and fear-based society does.
One year later, I think those doubts have now been tragically confirmed. We no longer a civilized rational people. And this terrible conclusion is confirmed every time I see a person riding a bicycle all alone wearing a mask, or while driving their car. A rational people would not do such silly things.
Can we return to rationality? It is possible, but to do so will require a lot of people to admit they were wrong and to rip off those masks. I just do not see that happening, ever, in my lifetime.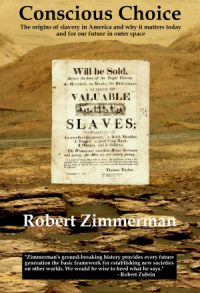 Now available in hardback and paperback as well as ebook!
From the press release: In this ground-breaking new history of early America, historian Robert Zimmerman not only exposes the lie behind The New York Times 1619 Project that falsely claims slavery is central to the history of the United States, he also provides profound lessons about the nature of human societies, lessons important for Americans today as well as for all future settlers on Mars and elsewhere in space.
Conscious Choice: The origins of slavery in America and why it matters today and for our future in outer space
, is a riveting page-turning story that documents how slavery slowly became pervasive in the southern British colonies of North America, colonies founded by a people and culture that not only did not allow slavery but in every way were hostile to the practice.
Conscious Choice
does more however. In telling the tragic history of the Virginia colony and the rise of slavery there, Zimmerman lays out the proper path for creating healthy societies in places like the Moon and Mars.
"Zimmerman's ground-breaking history provides every future generation the basic framework for establishing new societies on other worlds. We would be wise to heed what he says." —Robert Zubrin, founder of founder of the Mars Society.
All editions are available at Amazon, Barnes & Noble, and all book vendors, with the ebook priced at $5.99 before discount. The ebook can also be purchased direct from my ebook publisher, ebookit, in which case you don't support the big tech companies and I get a bigger cut much sooner.
Autographed printed copies are also available at discount directly from me (hardback $24.95; paperback $14.95; Shipping cost for either: $5.00). Just email me at zimmerman @ nasw dot org.