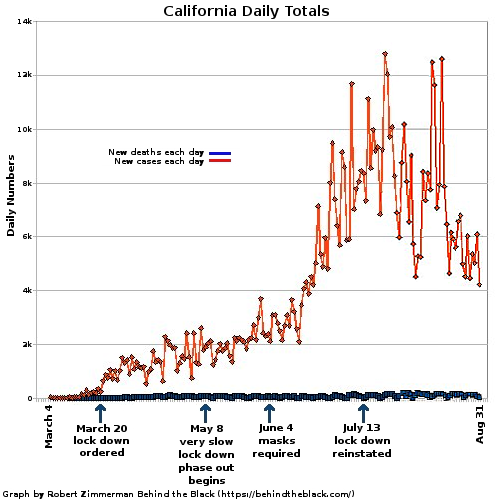 The fading and not very threatening COVID-19 epidemic
in California. Note how masks appear to increase the
disease's spread. Note also how this doesn't seem to
change the death toll significantly. Go here for more details.
In the past few days there have been a flurry of new reports proving once again that the panic over the Wuhan virus was completely unnecessary, that the disease was exactly what the initial data suggested, a variation on the flu that would be, like the flu, harmless to the healthy and young while dangerous to the elderly sick.
And like the flu, the Wuhan virus required no extreme measures. All we had to do was protect those elderly sick, and let everyone else continue living their lives normally.
First we have the revelation this weekend, from the CDC no less, that the number of people who died only from COVID-19, with no other health issues, was only about 6% of the total deaths assigned to the disease, or only about 9,700 people total, an infinitesimal percentage of the total population.
The Centers for Disease Control and Prevention (CDC) website disclosed the shockingly small number of people who died from only the Wuhan coronavirus, with no other cause of death mentioned. Hold on to your hat because here it is: out of the 161,392 deaths in the CDC data, just six percent, about 9,700 deaths, were attributed to the coronavirus alone. According to the CDC, the other 94 percent had an average of 2.6 additional conditions or causes of deaths, such as heart disease, diabetes, and sepsis. [emphasis mine]
Let that sink in. The Wuhan virus killed you only if you had an average of slightly less than three serious chronic health conditions. And generally you had to be elderly, with the average age of death 78 years old. Otherwise, just like the flu you might have been sick for a few days, but you would have recovered and been able to go on with your life as normal. This data once again demonstrates that the masks, the shut downs, and the economic disaster were all unnecessary.
Then on Friday we had another research paper, one of a long continuing string of papers, finding once again that COVID-19 is of no threat to young children at all, that they not only don't get sick from it they also don't infect anyone else.

It covers two-thirds of all children's admissions in the UK due to Covid-19 between January and July and confirms what is already known about the minimal effects of the virus on children.

A "strikingly low" 1% of these 651 children and young people – six in total – had died in hospital with Covid-19 compared with 27% across all other age groups, the study found. Eighteen per cent of the children needed intensive care.

And the six who had died had had "profound" underlying health conditions that had often been complex and themselves life-limiting.
There is no reason not to reopen the schools, in a completely normal manner. None. Why then are our governments and teachers either refusing to do so, or imposing insane mask and social distancing rules that kids will simply not follow, while doing them irreparable harm by making the live under them?
This is not how you teach children to become independent-minded thoughtful free citizens. It teaches them how to become fearful slaves.
Nor is this all. We also had this past weekend new data showing that if you are infected with COVID-19 but have no symptoms, you simply don't spread the disease to others.
Earlier this month, a study published in the Annals of Internal Medicine announced findings that asymptomatic patients were, in both relative and absolute terms, unlikely to infect close contacts.

The researchers, based largely out of Southern Medical University in Guangzhou, China, tracked the level of "secondary attack rate" among COVID-19 patients of varying degrees of infection. A secondary attack rate is the level at which a disease is transmitted among close contacts in familiar settings. "Patients with more clinically severe disease were more likely to infect their close contacts than were less severe index cases," the researchers found; they added that "asymptomatic cases were least likely to infect their close contacts."

The scientists said they discovered that "the risk for transmission via public transportation or healthcare settings was low," particularly in comparison to household settings. One explanation they advanced was that "mask wearing to prevent infection was mandatory in public settings but not in households during the study period."
Their last statement about masks is pure politics and a guess. The simple fact is that, like the flu, this virus does not easily make people sick, even if it spreads relatively easily. Early data told us you needed to be in close proximity with a sick person for an extended length of time to get sick yourself, and the data continues to reinforce that conclusion.
This conclusion was further confirmed by the New York Times, which reported this past weekend that most declared cases of the Wuhan virus involve people with so little of it that they pose no threat.
According to The New York Times, potentially 90 percent of those who have tested positive for COVID-19 have such insignificant amounts of the virus present in their bodies that such individuals do not need to isolate nor are they candidates for contact tracing. Leading public health experts are now concerned that overtesting is responsible for misdiagnosing a huge number of people with harmless amounts of the virus in their systems.

"Most of these people are not likely to be contagious, and identifying them may contribute to bottlenecks that prevent those who are contagious from being found in time," warns The Times.
All of these stories, as well as numerous other reports (here, here, here, and here, to cite just a few), demonstrate that this disease is simply not dangerous. You need to be sick and old from other serious illnesses for it to kill you. Otherwise, it is just another flu-like disease, causing an inconvenient short illness that almost everyone recovers from. And like the flu, if you catch it you are almost certainly not going to be harmed by it in any permanent way. There is no reason to cringe in fear from it.
And yet, we remain terrified of this disease, as if it is the plague, which killed 40% of the population at its height. (The death toll from COVID-19 is so far below that number as to be ludicrous, with estimated mortality rates ranging from 0.1% to 0.5%, which is once again comparable to the flu.) Businesses are shuttered. Quarantines are imposed. Religious gatherings are banned. And governments and corporations continue to impose insane rules while requiring masks, even though improper mask use probably increases the chances of getting sick.
Worse, it appears that the public is supportive of these rules, bound by their fear of this generally low-level virus as if it might strike them down dead in the middle of the street should they for one minute forget to put that mask on.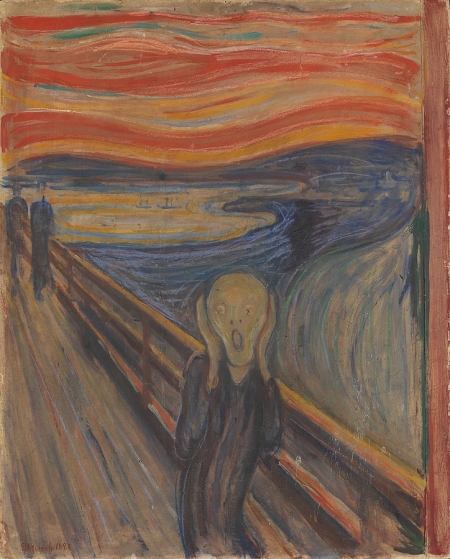 The Scream by Edvard Munch
This is the real problem. People are afraid, and they don't seem willing to give up that fear. Even when you present them with these facts, they recoil in horror, becoming indignant that anyone would dare, dare, suggest COVID-19 is not dangerous. Corrupt politicians and health officials who for political reasons are very intent on destroying the country in order to defeat Donald Trump in November have successfully convinced far too many people of the dangers of this disease, even though the actual evidence continues to tell us that this virus is not much different than the flu.
Until people defy that fear, and decide to tell politicians and their bosses to stop pushing it on them, we will continue to move inexorably towards tyranny and bankruptcy. You simply can't have a free and prosperous society when everyone in it lives in terror, afraid to take any risks. More importantly, under such emotional conditions, bad people will quickly take advantage of that fear to impose their will, offering false security and fake protection even as they instead grab power for their own personal benefit.
The final result will be violence, poverty, and oppression. And the end of American freedom and the pursuit of happiness, for all people.
Readers!
In order to remain completely independent and honest in my writing, I accept no sponsorships from big space companies or any political organizations. Nor do I depend on ads.
Instead, I rely entirely on the generosity of readers to keep Behind the Black running. You can either make a one time donation for whatever amount you wish, or you sign up for a monthly subscription ranging from $2 to $15 through Paypal, or $3 to $50 through Patreon, or any amount through Zelle.
The best method to donate or subscribe is by using Zelle through your internet bank account, since it charges no fees to you or I. You will need to give my name and email address (found at the bottom of the "About" page). What you donate is what I get.
To use Patreon, go to my website there and pick one of five monthly subscription amounts, or by making a one-time donation.

For PayPal click one of the following buttons:

If these electronic payment methods don't work for you, you can support Behind The Black directly by sending your donation by check, payable to Robert Zimmerman, to


Behind The Black
c/o Robert Zimmerman
P.O.Box 1262
Cortaro, AZ 85652