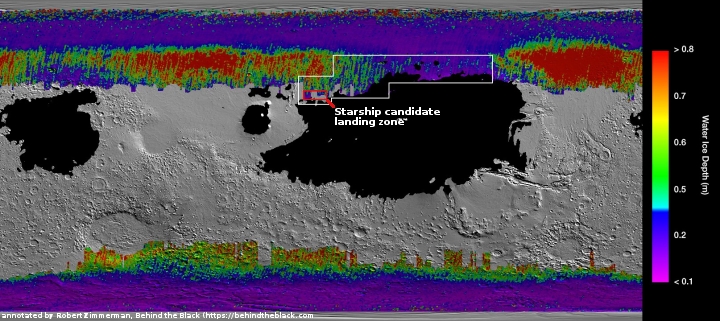 Click for full resolution image.
In a new science paper planetary scientists have produced a new global map of the water ice of Mars, based on data from Mars Reconnaissance Orbiter (MRO) and Mars Odyssey.
The image above is a lower resolution version of that map, annotated by me. The black areas are regions covered with a thicker layer of dust, so no good data was obtained. As you go from red to green to blue to purple the ice is thought to be closer to the surface, with the depth as small as an inch in the dark purple areas. The white rectangular represents the region best for human settlement, as it has ice near the surface and is at lower latitudes.
The red box indicates the location in Arcadia Planitia that is SpaceX's candidate landing zone for Starship. Based on this new water ice map it appears that SpaceX has chosen very well. And the scientists who wrote this paper agree, as noted in the press release: "A large portion of a region called Arcadia Planitia is the most tempting target in the northern hemisphere."
The map also confirms the existence of the 30 to 60 degree latitude bands where scientists believe a lot of buried glaciers exist. Both bands are both very evident in this new map.
To provide some further context, below is a global map of Mars labeled to show its major geographic features as well as the locations of all previous and upcoming landers/rovers, rearranged to match the water ice map above.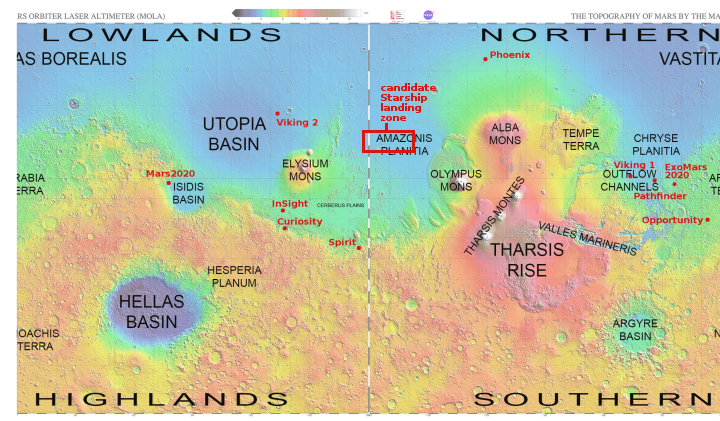 If we can avoid destroying ourselves over politics, the future in space could be very exciting.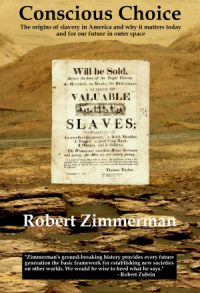 Now available in hardback and paperback as well as ebook!
From the press release: In this ground-breaking new history of early America, historian Robert Zimmerman not only exposes the lie behind The New York Times 1619 Project that falsely claims slavery is central to the history of the United States, he also provides profound lessons about the nature of human societies, lessons important for Americans today as well as for all future settlers on Mars and elsewhere in space.
Conscious Choice: The origins of slavery in America and why it matters today and for our future in outer space
, is a riveting page-turning story that documents how slavery slowly became pervasive in the southern British colonies of North America, colonies founded by a people and culture that not only did not allow slavery but in every way were hostile to the practice.
Conscious Choice
does more however. In telling the tragic history of the Virginia colony and the rise of slavery there, Zimmerman lays out the proper path for creating healthy societies in places like the Moon and Mars.
"Zimmerman's ground-breaking history provides every future generation the basic framework for establishing new societies on other worlds. We would be wise to heed what he says." —Robert Zubrin, founder of founder of the Mars Society.
All editions are available at Amazon, Barnes & Noble, and all book vendors, with the ebook priced at $5.99 before discount. The ebook can also be purchased direct from my ebook publisher, ebookit, in which case you don't support the big tech companies and I get a bigger cut much sooner.
Autographed printed copies are also available at discount directly from me (hardback $24.95; paperback $14.95; Shipping cost for either: $5.00). Just email me at zimmerman @ nasw dot org.