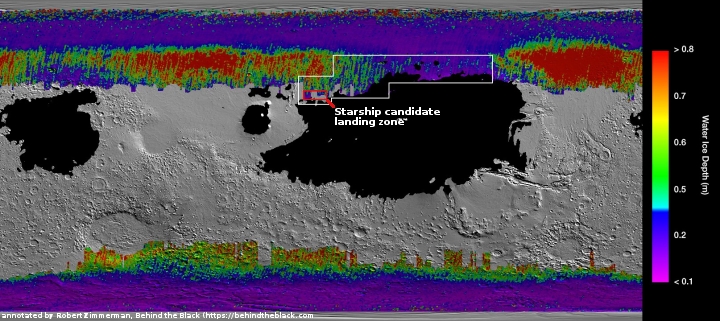 Click for full resolution image.
In a new science paper planetary scientists have produced a new global map of the water ice of Mars, based on data from Mars Reconnaissance Orbiter (MRO) and Mars Odyssey.
The image above is a lower resolution version of that map, annotated by me. The black areas are regions covered with a thicker layer of dust, so no good data was obtained. As you go from red to green to blue to purple the ice is thought to be closer to the surface, with the depth as small as an inch in the dark purple areas. The white rectangular represents the region best for human settlement, as it has ice near the surface and is at lower latitudes.
The red box indicates the location in Arcadia Planitia that is SpaceX's candidate landing zone for Starship. Based on this new water ice map it appears that SpaceX has chosen very well. And the scientists who wrote this paper agree, as noted in the press release: "A large portion of a region called Arcadia Planitia is the most tempting target in the northern hemisphere."
The map also confirms the existence of the 30 to 60 degree latitude bands where scientists believe a lot of buried glaciers exist. Both bands are both very evident in this new map.
To provide some further context, below is a global map of Mars labeled to show its major geographic features as well as the locations of all previous and upcoming landers/rovers, rearranged to match the water ice map above.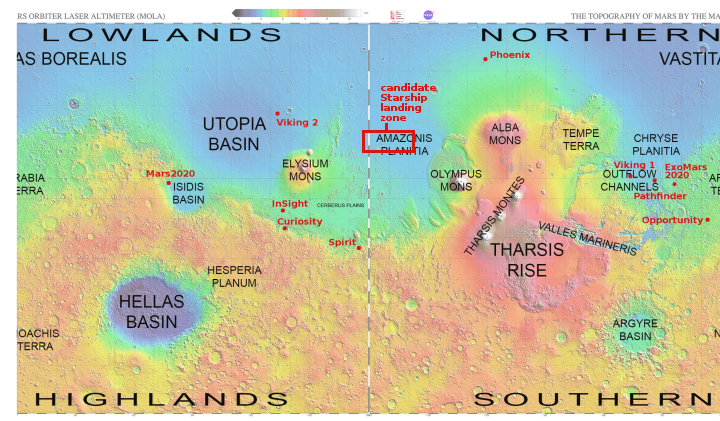 If we can avoid destroying ourselves over politics, the future in space could be very exciting.
Readers!
Please consider donating to Behind the Black, by giving either a one-time contribution or a regular subscription, as outlined in the tip jar below. Your support will allow me to continue covering science and culture as I have for the past twenty years, independent and free from any outside influence.
Your support is even more essential to me because I keep this site free from advertisements and do not participate in corrupt social media companies like Google, Twitter, and Facebook. I depend wholly on the direct support of my readers.
You can provide that support to Behind The Black with a contribution via Patreon or PayPal. To use Patreon, go to my website there and pick one of five monthly subscription amounts, or by making a one-time donation. For PayPal click one of the following buttons:

If Patreon or Paypal don't work for you, you can support Behind The Black directly by sending your donation by check, payable to Robert Zimmerman, to


Behind The Black
c/o Robert Zimmerman
P.O.Box 1262
Cortaro, AZ 85652