It might have been an accident, or maybe it was because of the events of the past three months, but earlier this year I decided to finally read William Shirer's masterpiece, The Rise and Fall of the Third Reich. Previously I had only read the first few chapters in order to learn something about Hitler's background. Now it was time to read the whole book.
I am only halfway through it but no matter. Every page has sent terror through my soul, as it appears to not be a history of the 1930s foolishness and madness that allowed a megalomaniac to become the leader of a powerful nation, intent on conquering the world while committing genocide against millions, but a news report of modern America.
What we have seen for the past three months — accelerated to madness with riots this week — has been nothing more than a return to the Nazi tactics of the 1930s, with the only difference being that the targets have not been just Jews, but all private businesses as well as anyone who dares to oppose their wanton destruction. In fact, the use of rocks to break windows and loot businesses and attack and even kill their owners this week was so reminiscent of Kristallnacht that I find it more than horrifying. From the link:

In the fall of 1938, Herschel Grynszpan (1921-45), a 17-year-old ethnically Polish Jew who had been living in France for several years, learned that the Nazis had exiled his parents to Poland from Hanover, Germany, where Herschel had been born and his family had lived for years. As retaliation, on November 7, 1938, the agitated teenager shot Ernst vom Rath (1909-38), a German diplomat in Paris. Rath died two days later from his wounds, and Hitler attended his funeral. Joseph Goebbels (1897-1945), the Nazi minister for public enlightenment and propaganda, immediately seized on the assassination to rile Hitler's supporters into an anti-Semitic frenzy.

Kristallnacht was the result of that rage. Starting in the late hours of November 9 and continuing into the next day, Nazi mobs torched or otherwise vandalized hundreds of synagogues throughout Germany and damaged, if not completely destroyed, thousands of Jewish homes, schools, businesses, hospitals and cemeteries. Nearly 100 Jews were murdered during the violence. Nazi officials ordered German police officers and firemen to do nothing as the riots raged and buildings burned, although firefighters were allowed to extinguish blazes that threatened Aryan-owned property.

In the immediate aftermath of Kristallnacht, the streets of Jewish communities were littered with broken glass from vandalized buildings, giving rise to the name Night of Broken Glass.
Sound familiar? The act of a single person was used as an excuse to violently destroy the lives of many innocent people. The result was a pogrom, pushed by mobs of young jack-booted thugs in the employ of the Nazi Party.
This past week has been much the same. The unfortunate manhandling by police that led to the death of George Floyd has been used as an excuse now to violently destroy the lives of many innocent people. Except for the lack of pitchforks and torches the rioters and looters in cities across the United States have been no different than the mobs in Germany who attacked Jews and anyone they feared out of blind hate and ignorance.
And like Nazi Germany, this violence has been wielded as a tool by those in power in the Democratic Party to further their ends. Democratic elected officials in city after city have refused to take action, letting the rioting continue, while using that rioting as a weapon to attack their political opponents. To quote Joe Biden, that party's candidate for President (at this moment),
The president of the United States must be part of the solution, not part of the problem," the former vice president said Tuesday morning. "But this president today is part of the problem and accelerates it."
Or consider the words of this Democratic Party high official:
The chairwoman of the Michigan Democratic Party dismissed every Trump supporter as "racist" and called them the "reason" black people are murdered in the United States. "If you support Donald Trump, you are a racist," Lavora Barnes said in a statement posted to the group's website. "Here is where it gets tricky and uncomfortable. Donald Trump is a racist, and if being a racist is not a dealbreaker for you, you are the reason Black people are being murdered for being Black."
Rather than call for calm, Biden and Barnes both instead use the riots to slander Trump, while inciting race hatred that can only throw fuel on the fire. One might even think they are glad the riots are occurring, as it gives them this opportunity to blame Trump for them.
Yet, it doesn't take much research to find that these rioters, many of whom have clearly claimed allegiance with the leftist terror-group Antifa, are closely tied with the Democratic Party. In fact, if you take a close look you can't help wonder if this group of thugs is no more than the Democratic Party's SS wing.
Yet, while this week has been in many ways a replay of Kristallnacht, not all things are the same. As Mark Twain noted, "History doesn't repeat, it rhymes." The differences from 1938 Nazi Germany are worth noting, as they suggest there still remains a window of hope that the decent people in America — Republican and Democrat and black and white — might still climb through in order to return to a free and just and lawful society.
First, unlike the Nazis, the Democratic Party does not now have a charismatic leader like Hitler. In fact, the entire leadership of the Democratic Party is bankrupt, made up of very old and weak incompetents who are incredibly unimpressive. This lack of a strong and coherent leader makes it difficult for them to harness the energy of their thuggish army to control events.
Second, the U.S., at least at this moment, is still a nation of laws. When Kristallnacht occurred in 1938, Germany was no longer a nation of laws. The Nazi Party was in full totalitarian control, with Hitler having sole power to unilaterally write, rewrite, and nullify any laws he wished. Thus, the looters and rioters who attacked Jewish businesses and killed Jews knew they would face no legal consequences for their violence. Hitler and the Nazi Party would protect them.
Today in the U.S. however the legal framework still exists to punish these thugs. We can still do it, and we had better do it, hard, or that legal framework will quickly fall like a house of cards.
Third, we are also still a democracy, for at least a little while. The election in 2020 will be a referendum on the events of the past three months, where Democratic leaders worked hard to oppress ordinary citizens while strongly supporting rioters, murderers, criminals, and looters. Will the voters take the proper action, and fire them all? They better, or this nation of laws will quickly fall to these fascist thugs, as it did in Germany in the early 1930s.
The responsibility for fixing this terrible situation now rests with the citizens of the United States. Will they demand a real change in government in 2020, firing the politicians who eagerly created the disaster of the past three months, or will they once again look the other way, and leave them in power?
If the former, we have a real chance for a renewal, using one of the most fundamental tools of modern civilization, the secret ballot, to reject such hateful violence. If the latter, we are now a nation that supports riots, looting, violence, oppression, and hate.
And it is that latter possibility that fills me with terror and despair. For consider the consequences of Kristallnacht in Germany:
The Nazis held the German-Jewish community responsible for the damage and imposed a collective fine of $400 million (in 1938 rates), according to the U.S. Holocaust Memorial Museum. Additionally, more than 30,000 Jewish men were arrested and sent to the Dachau, Buchenwald and Sachsenhausen concentration camps in Germany–camps that were specifically constructed to hold Jews, political prisoners and other perceived enemies of the Nazi state.
The distance between justice and genocide is never more than a short step, and needs only for people to do nothing in the face of evil.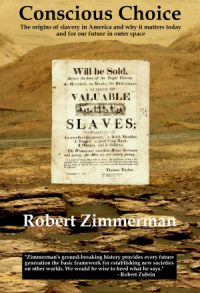 Now available in hardback and paperback as well as ebook!
From the press release: In this ground-breaking new history of early America, historian Robert Zimmerman not only exposes the lie behind The New York Times 1619 Project that falsely claims slavery is central to the history of the United States, he also provides profound lessons about the nature of human societies, lessons important for Americans today as well as for all future settlers on Mars and elsewhere in space.
Conscious Choice: The origins of slavery in America and why it matters today and for our future in outer space
, is a riveting page-turning story that documents how slavery slowly became pervasive in the southern British colonies of North America, colonies founded by a people and culture that not only did not allow slavery but in every way were hostile to the practice.
Conscious Choice
does more however. In telling the tragic history of the Virginia colony and the rise of slavery there, Zimmerman lays out the proper path for creating healthy societies in places like the Moon and Mars.
"Zimmerman's ground-breaking history provides every future generation the basic framework for establishing new societies on other worlds. We would be wise to heed what he says." —Robert Zubrin, founder of founder of the Mars Society.
All editions are available at Amazon, Barnes & Noble, and all book vendors, with the ebook priced at $5.99 before discount. The ebook can also be purchased direct from my ebook publisher, ebookit, in which case you don't support the big tech companies and I get a bigger cut much sooner.
Autographed printed copies are also available at discount directly from me (hardback $24.95; paperback $14.95; Shipping cost for either: $5.00). Just email me at zimmerman @ nasw dot org.