They're coming for you next: Much has been made of the onerousness gun control laws passed by the Democrats in the Virginia state legislature this past week.
When it became clear that the Democrats were going to pass such laws, having gained control of both the legislature and the governorship, 95 counties and cities in the state made it publicly clear they would not enforce these laws, announcing that they were now second amendment sanctuary counties. Then, more than 22,000 Virginians gathered in protest at the statehouse, peacefully but forcefully declaring their opposition to these proposed laws.
None of that mattered to the modern Democrats now in charge in Virginia. They passed the laws, one of which gives the state "the authority to confiscate certain types of magazines that are considered 'high capacity.'" I don't know how they think they will enforce that confiscation right, but since they think it appropriate and just, don't be surprised if they impose new laws to strengthen their ability to do so, including the right to do house-to-house searches.
Most of the the discussion about this story has been focused on the opposition to the laws themselves. I want to focus on what it tells us about the modern Democratic Party. You see, these fascist actions — which do nothing to reduce violence or crime while making law-abiding citizens criminals — are being planned by practically every local Democratic Party operation across the nation. All they require to make them law is to obtain power, as they have in Virginia.
My proof? Consider the comparable gun control law proposed yesterday by the Democrats in the Arizona state legislature:

Arizona Democrats have filed yet another "assault weapon" ban bill. This one is Senate Bill 1625. At first glance, with two notable stand-outs, it's pretty much par for the gun-grabbing course; a ban on assaulty-looking guns with grandfathering.

But the first notable item is just how inclusive this bill is. All semiautomatic rifles that take detachable magazines would become "assault weapons." And almost all rifles with fixed magazines of greater than 10-round capacity; that includes your .22LR plinker.
The second notable item would be a ban on all "large capacity" magazines, written so vaguely that it might ban almost all rifles.
At the moment the Democrats are not in total control in Arizona, and so the chances of this proposed bill becoming law is very slim. But only for the moment. Give these Democrats a single legislative session where they run the show, and they are now telling us what they plan to do.
Nor is this an outlier. We've seen similar odious laws passed in New York, California, Maryland, and in practically every state where the Democrats run the government. They are blatant about what they want to do. No one should have any doubts about it.
More important, they are giving us a clear warning about their long term plans. They not only want to deny ordinary citizens the right to defend themselves, they have made it clear they have utter contempt for those citizens, and will move to destroy all their freedoms if given the chance. Like the socialists in Venezuela, as soon as they have power they will use it to shut down all opposition, ending any semblance of democracy and freedom.
We saw a clear example of this tyrannical behavior these past three years in the FBI, Department of Justice, and the Democratically-controlled House. The Democrats and their allies in the executive branch teamed up to manufacture a scandal against Donald Trump, without any evidence, merely so they could attempt to overturn a legal election that they had lost.
The public must wake up. We have a bunch of power-hungry tyrants among us, and sadly they have all gravitated to the power structure within the Democratic Party, where they can efficiently organize to obtain power.
As I written before, they're coming for you next And they are no longer hiding that fact. If we let them we will have no one to blame but ourselves.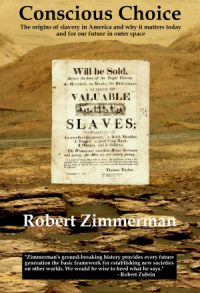 Now available in hardback and paperback as well as ebook!
From the press release: In this ground-breaking new history of early America, historian Robert Zimmerman not only exposes the lie behind The New York Times 1619 Project that falsely claims slavery is central to the history of the United States, he also provides profound lessons about the nature of human societies, lessons important for Americans today as well as for all future settlers on Mars and elsewhere in space.
Conscious Choice: The origins of slavery in America and why it matters today and for our future in outer space
, is a riveting page-turning story that documents how slavery slowly became pervasive in the southern British colonies of North America, colonies founded by a people and culture that not only did not allow slavery but in every way were hostile to the practice.
Conscious Choice
does more however. In telling the tragic history of the Virginia colony and the rise of slavery there, Zimmerman lays out the proper path for creating healthy societies in places like the Moon and Mars.
"Zimmerman's ground-breaking history provides every future generation the basic framework for establishing new societies on other worlds. We would be wise to heed what he says." —Robert Zubrin, founder of founder of the Mars Society.
All editions are available at Amazon, Barnes & Noble, and all book vendors, with the ebook priced at $5.99 before discount. The ebook can also be purchased direct from my ebook publisher, ebookit, in which case you don't support the big tech companies and I get a bigger cut much sooner.
Autographed printed copies are also available at discount directly from me (hardback $24.95; paperback $14.95). Just email me at zimmerman @ nasw dot org.