It has all been lies upon lies upon lies: According to an editorial written by Kristin Held, president of the Association of American Physicians and Surgeons (AAPS), the case counts, hospitalization numbers, and death counts published by government agencies across the United States are "meaningless" and "manipulated."
From her full editorial [pdf]:
The COVID-19 case counts, hospitalization numbers, and death counts are meaningless in their current fluid form. Their malleability primarily serves those who seek to distort reality.

The morphable numbers are reported, then manipulated by federal, state, county, city, and hospital authorities and agencies. The manipulation is driven by power and money and fueled by fearmongering, panic stoking, and promise of monetary and political gain. All this is bought and paid for under the guise of trying to save the world from the COVID-19 pandemic.
Read it all. She carefully documents the changes imposed by the CDC around June 14-16 that ballooned the numbers, often for entirely unjustified reasons. For example, hospitals get a lot of federal money for labeling a hospitalization from the coronavirus. The result?

Because of expanding the definition of a new COVID-19 case to include exposure to a COVID-positive patient and a self-reported fever, lowering admission thresholds, and requiring testing on every admission, it is easy to code a hospital admission as "with COVID." A colleague reported to me that her scheduled Caesarian section patient was asymptomatic but tested positive on the required admission COVID test, so she too became a hospitalization "with COVID." The army of hospital billers and coders is no doubt hard at work scouring EMRs and community contact-tracing data to find any links that could raise their bounty. This may also explain why the average hospital stay for COVID-19 was around 1.4 days last time I checked—just long enough to go beyond a 24-hour emergency room observation status to count as an actual hospital admission.
This article also maybe explains some of the strange numbers that have come out of New Jersey (on June 25th) and Arizona (beginning on July 25th). On those dates both states showed sudden and unrealistic spikes in their death or hospitalization counts. Could it be that the new definitions imposed by the CDC just prior to these dates encouraged a redefining of many deaths and hospitalizations as COVID-19, in order to cash in on government money?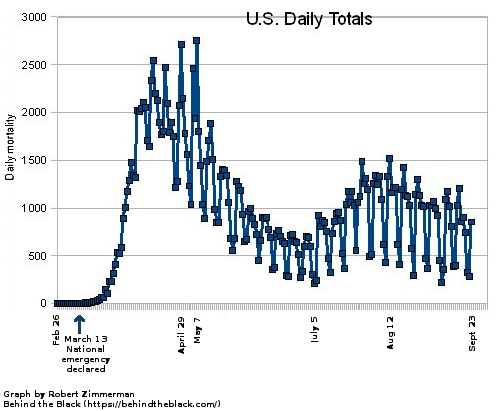 The numbers might also explain the rise of deaths from COVID-19 nationwide in the beginning of July, as shown in the graph on the right.
The editorial has a lot more information. If you want to educate yourself on the uncertainties and corruption surrounding this epidemic, all caused by government interference, you especially need to read it. They lied to us initially about why we needed to social distance and lockdown ("Flatten the curve!" "It's only for a few weeks!". They lied to us about the use of masks ("Don't use them!" to "You must use them!") .
And though rumored for months, it is now clear they are lying to us about the numbers of people in the hospital because of COVID-19, as well as the number who have died from it.
And if you refuse to consider the facts she describes, you are sticking your fingers in your ears and yelling "la-la-la-la-la-la!" Some of you will also likely be yelling "Trump is bad!" as you hide from reality.
Readers!
Please consider donating to Behind the Black, by giving either a one-time contribution or a regular subscription, as outlined in the tip jar below. Your support will allow me to continue covering science and culture as I have for the past twenty years, independent and free from any outside influence.
Regular readers can support Behind The Black with a contribution via Patreon or PayPal. To use Patreon, go to my website there and pick one of five monthly subscription amounts, or by making a one-time donation. For PayPal click one of the following buttons:

If Patreon or Paypal don't work for you, you can support Behind The Black directly by sending your donation by check, payable to Robert Zimmerman, to


Behind The Black
c/o Robert Zimmerman
P.O.Box 1262
Cortaro, AZ 85652