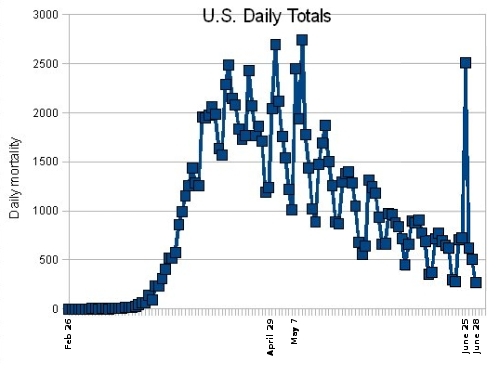 They just won't stop lying: On June 26 there was a strange and unbelievable jump in the number of deaths from COVID-19. The graph to the right (source here), up-to-date through June 28, illustrates this. Compare it to the graph I posted on June 25 (in an essay that makes a nice bookmark with this essay). All of a sudden there were 2,500 deaths from the Wuhan flu the very next day, when we had seen no numbers like that since early May and the totals had been steadily and very consistently declining for weeks. In fact, the decline continued along the same exact trend, following this strange uptick in deaths.
Was it a sign of the coming second wave that so many Chicken Littles have been predicting with the partial reopening of the economy, allowing people to leave house arrest? Or was it a sign of some shenanigans by some government officials to manipulate the numbers because they didn't like how consistently the death totals were dropping, thus giving Americans some hope and the ability to put aside their fears of a coming plague and go back to normal.
Which would you pick?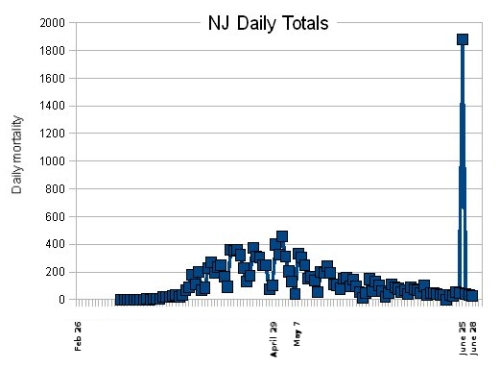 If you chose the latter you win, buckos! To the right is the graph of day-by-day deaths from the state of New Jersey. On June 26 state health officials decided to add almost 2,000 earlier deaths to their COVID-19 total, thus causing the jump in the nationwide totals. And where did these previously unknown COVID-19 deaths come from?
New Jersey's official count of coronavirus-related deaths surged by nearly 2,000 overnight as the state began counting "probable" fatalities toward its overall tally. Health officials said the new data point will give a clearer picture of the impact the COVID-19 pandemic has had on the state by not simply counting deaths that were confirmed by a mainstream lab test.

…Department of Health Communicable Disease Service medical director Ed Lifshitz said health officials reached the number of probable deaths by counting those who died as part of known outbreaks and had symptoms of the virus but were never tested as well as those who may have had a less specific test for COVID-19. He added that investigators also reviewed death certificates to find other likely cases of coronavirus infection. [emphasis mine]
In other words, they combed the records to find any death that had even the slightest chance of being from COVID-19, and used this very unscientific method to inflate their totals unjustifiably.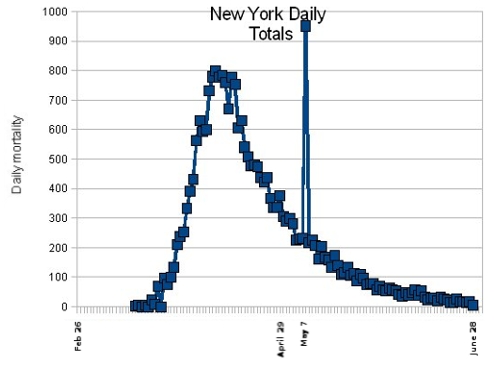 This is very similar to the corrupt practices of health officials in neighboring New York, as shown by the updated graph to the right. New York did the same thing, adding in a large number of presumed COVID-19 deaths on May 7, none of which were truly proved to be caused by the disease at all.
Both states are largely or entirely controlled by the Democratic party. Both states have Democratic governors heavily invested in justifying their nullification of the Constitution and Bill of Rights by their imposition of lock downs which have bankrupted their economies, while squelching speech they don't like.
Neither politician was benefiting from the drop in total deaths in their states. In New York the numbers have been tiny in the past eight days, averaging only about 16 deaths per day. In New Jersey the numbers have been slightly higher, averaging about 36 deaths per day for the past two weeks, if you exclude the extra deaths added in on June 26. You can't instill fear and panic in your serfs over this disease if almost no one is dying from it.
The solution? Fudge the numbers! Make the epidemic seem far worse than it is, so that the public will remain fearful and cowed, and thus easy to manipulate.
The Wuhan flu however has not been anything like that. It really is nothing more than a slightly worse seasonal flu (as the early data had suggested it would be). To hide this fact, the politicians from these states have worked hard to tamper with the numbers to inflate them, while also making some egregious political decisions that actually caused more Wuhan flu deaths, such as requiring nursing homes to take in infected patients and thus make even more people sick, unnecessarily.
I doubt however that Americans will recognize these facts and let go of their fear. They have been successfully captured by that fear, and to accept data that defuses it is too difficult. It appears they would rather live wallowing in fear, wearing masks and afraid of their neighbors and friends, so that they are wholly in the power of such evil politicians as the governors of New York and New Jersey.
Woe to us all.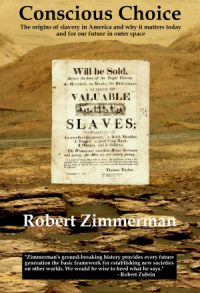 Now available in hardback and paperback as well as ebook!
From the press release: In this ground-breaking new history of early America, historian Robert Zimmerman not only exposes the lie behind The New York Times 1619 Project that falsely claims slavery is central to the history of the United States, he also provides profound lessons about the nature of human societies, lessons important for Americans today as well as for all future settlers on Mars and elsewhere in space.
Conscious Choice: The origins of slavery in America and why it matters today and for our future in outer space
, is a riveting page-turning story that documents how slavery slowly became pervasive in the southern British colonies of North America, colonies founded by a people and culture that not only did not allow slavery but in every way were hostile to the practice.
Conscious Choice
does more however. In telling the tragic history of the Virginia colony and the rise of slavery there, Zimmerman lays out the proper path for creating healthy societies in places like the Moon and Mars.
"Zimmerman's ground-breaking history provides every future generation the basic framework for establishing new societies on other worlds. We would be wise to heed what he says." —Robert Zubrin, founder of founder of the Mars Society.
All editions are available at Amazon, Barnes & Noble, and all book vendors, with the ebook priced at $5.99 before discount. The ebook can also be purchased direct from my ebook publisher, ebookit, in which case you don't support the big tech companies and I get a bigger cut much sooner.
Autographed printed copies are also available at discount directly from me (hardback $24.95; paperback $14.95; Shipping cost for either: $5.00). Just email me at zimmerman @ nasw dot org.