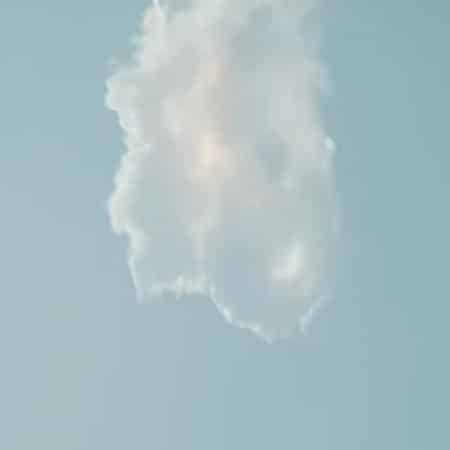 Starship/Superheavy at T+4:02, just after the self-destruct command
was issued on April 20, 2023. It also appears to be the fate of SpaceX's
entire Boca Chica operation, if the environmental radicals get their way.
A group of environmental groups as well as a non-profit corporation calling itself the Carrizo/Comecrudo Nation of Texas, Inc, today filed a lawsuit against the Federal Aviation Administration FAA), demanding it shut down SpaceX's Boca Chica facility and block all further Superheavy/Starship launches.
You can read the lawsuit here [pdf]. Its essence is contained in these two paragraphs:
The area surrounding the SpaceX facility at Boca Chica is a biologically diverse and essential habitat area for many species, including federally protected wildlife and animals that are considered sacred to the Carrizo/Comecrudo People, such as the critically endangered ocelot. The SpaceX facility is smack in the middle of publicly owned conservation, park, and recreation lands, including a National Wildlife Refuge, two State Parks, a State Wildlife Management Area, and a State Coastal Preserve. These lands are of extraordinary conservation value for a range of federally and state lists wildlife and other protected species such as migratory birds. Bird species from both the Central and Mississippi flyways converge there, making it an essential wintering and stopover area for migratory birds as they move north and south each year.

SpaceX activities authorized in the FONSI/ROD [the environmental reassessment issued last year] have and will adversely affect the surrounding wildlife habitat and communities. In addition to harm from construction activities and increased vehicle traffic, rocket launches result in intense heat, noise, and light pollution. Furthermore, the rocket launches and testing result in explosions which spread debris across surrounding habitat and cause brush/forest fires — including one that recently burned 68 acres of adjacent National Wildlife Refuge. The FAA calls these explosions "anomalies," but in fact they occur frequently, with at least 8 over the past 5 years. FAA acknowledged that many more such "anomalies" are expected over the next 5 years. The U.S. Fish and Wildlife Service has found that prior SpaceX rocket explosions harmed protected wildlife and designated habitat in violation of the Endangered Species Act (ESA).
In other words, rockets and launch sites should never be placed inside wildlife refuges, because such activity is detrimental to wildlife.
A more false statement cannot be made. Under this conclusion the launch facilities at Cape Canaveral, which have been operating in the middle of a wildlife refuge now for more than six decades, should be shut down immediately. All the wildlife there must certainly be dead!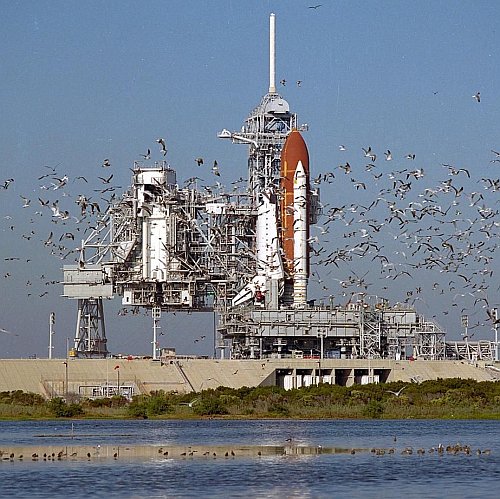 The thriving wildlife at Cape Canaveral
This is of course not the case. In fact, the wildlife refuge at Cape Canaveral has been thriving since day one. The rocket launches, including many "explosions" of rockets using far more toxic fuels that Superheavy/Starship, have done nothing to harm that environment or wildlife. We have more than a half century of empirical data to prove it.
Moreover, the need for spaceports to have a large undeveloped area around them has done wonders for that wildlife. The Kennedy launch center's existence has created this refuge, and protected it from development. The same will happen at Boca Chica, should SpaceX's facility be allowed to expand as it wishes.
This lawsuit is filled with many such lies or other distortions of fact. In another example, it names a handful of specific of individual "visitors" to this region, saying that the launches are preventing them from enjoying the region. Tell that to the hundreds of thousands who came out to see the Starship/Superheavy launch, as well as the entire communities of Brownsville and the entire Rio Grande Valley who are seeing the first economic prosperity in decades because of SpaceX's arrival. These people, who comprise the vast majority of the population, know that what little they are losing in access to these recreational areas — temporarily — is far outweighed by what they are getting in return.
Though I expect this lawsuit will fail in court, its existence is going to force the FAA to hold up any future launch permits until the case is settled or dismissed. Even then, it is likely that no launch permits will be issued because it appears those permits now require a sign-off from Fish & Wildlife, and that agency appears hand-in-glove with this suit. Right after the launch it issued a statement claiming the launch caused vast damage, even while admitting it could find no evidence of debris outside SpaceX property, or any harm to any wildlife.
Thus, even though SpaceX will likely be ready to launch in two months, as Elon Musk says, I expect it will be forced to sit on its hands, either in court or in the swamp in Washington. Such delays will make impossible the development of Starship/Superheavy in a timely manner. It might even make it impossible altogether, as long as SpaceX plans to continue testing it at Boca Chica.
Don't believe me? Take a look at the history of the Thirty Meter Telescope in Hawaii, now blocked for years because of similar legal maneuvers by local indigenous Hawaiian activists and environmentalists. That telescope was supposed to begin construction in 2015 and be completed by around 2021. Today, in 2023, that construction has still not started, and appears permanently stalled.
Expect the same result now in Boca Chica, especially because the Democrats running the executive branch for Joe Biden will want that result. There might be a lot of people in the FAA on the side of SpaceX, but they will not be in charge.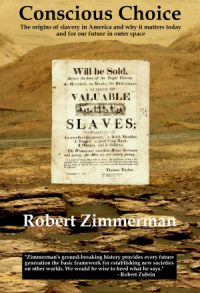 Now available in hardback and paperback as well as ebook!
From the press release: In this ground-breaking new history of early America, historian Robert Zimmerman not only exposes the lie behind The New York Times 1619 Project that falsely claims slavery is central to the history of the United States, he also provides profound lessons about the nature of human societies, lessons important for Americans today as well as for all future settlers on Mars and elsewhere in space.
Conscious Choice: The origins of slavery in America and why it matters today and for our future in outer space
, is a riveting page-turning story that documents how slavery slowly became pervasive in the southern British colonies of North America, colonies founded by a people and culture that not only did not allow slavery but in every way were hostile to the practice.
Conscious Choice
does more however. In telling the tragic history of the Virginia colony and the rise of slavery there, Zimmerman lays out the proper path for creating healthy societies in places like the Moon and Mars.
"Zimmerman's ground-breaking history provides every future generation the basic framework for establishing new societies on other worlds. We would be wise to heed what he says." —Robert Zubrin, founder of founder of the Mars Society.
All editions are available at Amazon, Barnes & Noble, and all book vendors, with the ebook priced at $5.99 before discount. The ebook can also be purchased direct from my ebook publisher, ebookit, in which case you don't support the big tech companies and I get a bigger cut much sooner.
Autographed printed copies are also available at discount directly from me (hardback $24.95; paperback $14.95; Shipping cost for either: $5.00). Just email me at zimmerman @ nasw dot org.