Two stories yesterday suggested that there might be hope that a revolt might be brewing in California against the fascist Democratic one-party rule that presently dominates the state:
In the first story, a Republican defeated a leftist Democratic — who favored the socialist New Green Deal put forth by Congresswoman Alexandria Ocasio-Cortez (D-New York) — for a seat on the Los Angeles City Council.
In the second story it appears that Trump is actually raising more money in California than most of the Democratic candidates for president, and he is doing it with mostly small donations.
I wouldn't get your hopes up. In Los Angeles the victor won but only narrowly. As for California's campaign donations, Trump's totals ($3.2 million) pale in comparison to the more than $26 million Californians have donated to all the Democratic candidates total.
Meanwhile, the state's Department of Education has accepted an anti-Semitic and ethnic studies curriculum fashioned by academics and politicians blatantly hostile to both Israel and Jews.
The proposed curriculum section on "Arab American Studies Course Outline" contains a number of passages concerning the Israeli-Palestinian conflict, such as "Direct Action Front for Palestine and Black Lives Matter," "Call to Boycott, Divest, and Sanction Israel" and "Comparative Border Studies: Palestine and Mexico." It also includes studying national figures such as Rep. Ilhan Omar (D-Minn.), Rep. Rashida Tlaib (D-Mich.), the late Columbia University professor Edward Said, Women's March leader Linda Sarsour, the late radio personality Casey Kasem, actress Alia Shawkat and the late White House correspondent Helen Thomas—all of whom are associated with anti-Semitic and anti-Israel rhetoric, and in the case of the congresswomen, a push to enact legislation punishing Israel.
As for the Holocaust and past oppression against Jews, the curriculum considers these irrelevant, and leaves them out completely.
Nor is this the only example of California's growing totalitarian culture. In 2018 the one-party Democratic legislature passed a law that requires

…publicly-held corporations headquartered in California to have at least one director "who self-identifies her gender as a woman" on their boards by December 31, 2019. Up to three such persons are required by December 31, 2021, depending on the size of the board.
Judicial Watch has now sued the state to block implementation of this unconstitutional law.
Both stories by the way are perfect examples for why my use of the word "fascist" to describe California is very apt and accurate. Here is Merriam-Webster's definition:
A political philosophy, movement, or regime (such as that of the Fascisti) that exalts nation and often race above the individual and that stands for a centralized autocratic government headed by a dictatorial leader, severe economic and social regimentation, and forcible suppression of opposition
Race-based? Check. Economic and social regimentation? Check. Autocratic government? Check. As for the forcible suppression of opposition, consider the following collection of stories from only the past two years, all from California:
These are only a small selection. I could make a list hundreds of stories long, all illustrating the fascist and totalitarian culture that now dominates California politics.
And of course, there is UC-Berkeley, the place where the Free Speech Movement began in the 1960s, now fully in support of censorship and the violent suppression of dissent:
Since the riots in 2017 against conservative speakers at Berkeley, the campus has successfully shut down any further such invites. If you want to live in a leftist bubble where no opposition or dissent is tolerated, then UC-Berkeley is the place for you!
In fact, this pervasive tyrannical culture now dominates all the coastal cities of California, which control its state legislature and hold all political power. Worse, a majority of the general public in these cities appear to enthusiastically support this culture.
Prepare for worse. This intolerance will not back down. I fully expect California to go into full revolt against the United States should Trump win the 2020 election, possibly even pushing for secession. When that happens the question will then be whether the U.S., led by Trump, will be willing to do the bloody work of enforcing the results of a popular election while keeping itself as a union (as was wisely chosen by Lincoln in 1861), or allow California to leave.
Sadly, right now I think we don't have the courage to do the former, which in the long run will be very bad, not only of the people of U.S. but for Californians especially.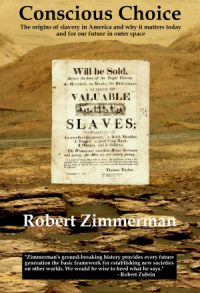 Now available in hardback and paperback as well as ebook!
From the press release: In this ground-breaking new history of early America, historian Robert Zimmerman not only exposes the lie behind The New York Times 1619 Project that falsely claims slavery is central to the history of the United States, he also provides profound lessons about the nature of human societies, lessons important for Americans today as well as for all future settlers on Mars and elsewhere in space.
Conscious Choice: The origins of slavery in America and why it matters today and for our future in outer space
, is a riveting page-turning story that documents how slavery slowly became pervasive in the southern British colonies of North America, colonies founded by a people and culture that not only did not allow slavery but in every way were hostile to the practice.
Conscious Choice
does more however. In telling the tragic history of the Virginia colony and the rise of slavery there, Zimmerman lays out the proper path for creating healthy societies in places like the Moon and Mars.
"Zimmerman's ground-breaking history provides every future generation the basic framework for establishing new societies on other worlds. We would be wise to heed what he says." —Robert Zubrin, founder of founder of the Mars Society.
All editions are available at Amazon, Barnes & Noble, and all book vendors, with the ebook priced at $5.99 before discount. The ebook can also be purchased direct from my ebook publisher, ebookit, in which case you don't support the big tech companies and I get a bigger cut much sooner.
Autographed printed copies are also available at discount directly from me (hardback $24.95; paperback $14.95; Shipping cost for either: $5.00). Just email me at zimmerman @ nasw dot org.