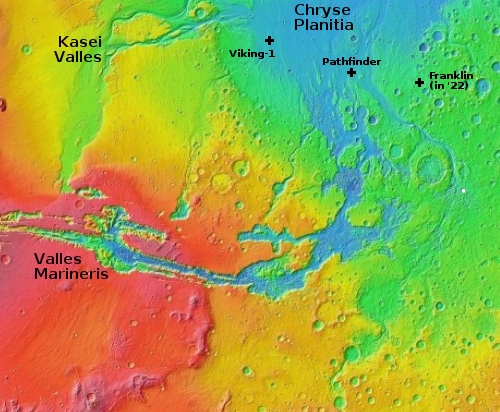 Today's cool image will do something a little different. We are going to begin in orbit, and by step-by-step zooming in we will hopefully illustrate the great challenge of finding cool geological features on the surface of Mars.
The first image to the right is an overview map of the Valles Marineris region. To its east, centered at the white dot, is a vast region of chaos terrain, endless small buttes and mesas and criss-crossing canyons. Travel in this region will always be difficult, and will likely always require some form of helicopter to get from point to point.
What is hidden in that terrain? Well, to find out you need to take a global survey from orbit with a good enough resolution to reveal some details. Below is a mosaic made from two wide angle context camera pictures taken by Mars Reconnaissance Orbiter (MRO).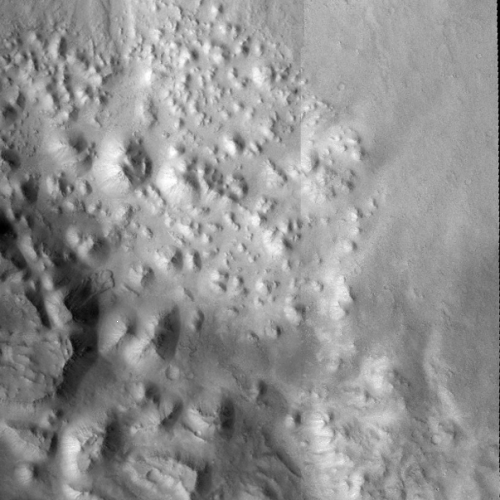 For full images go here and here.
This mosaic, rotated, cropped, and reduced to post here, only captures a small section of the long north-south strips taken by MRO. The orbiter has taken tens of thousands of these strips, in its effort to produce a global map of Mars that shows some reasonable detail.
Do you see anything in this mosaic that looks interesting? Scientists need to pore over such images, one by one, searching for geology that is both puzzling and revealing. Sometimes the features are obvious, such as a single blobby crater in the flat relatively featureless northern lowlands.
Sometimes however the search can be slow and time-consuming because the terrain is complex, as is the example to the right. The many mesas and canyons can hide many interesting features. Since MRO can't possibly take high resolution photos of everything, scientists have to pick and choose.
The planetary scientists who use MRO did find something here worth looking at in high resolution. Can you find it? Normally I'd provide a box to indicate it, but this time I'd thought I'd challenge my readers. Before you click below to see the feature, see if you can find it yourself in this mosaic. What would you want to photograph in high resolution?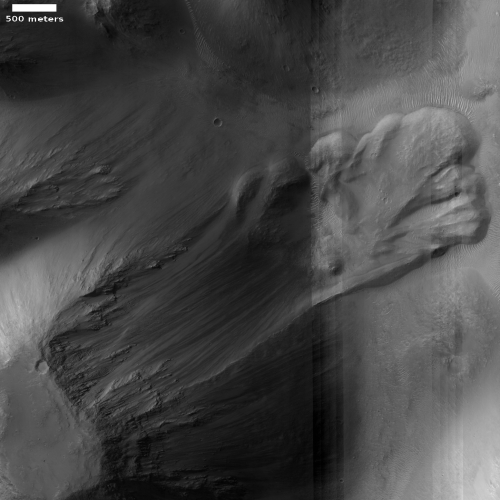 Click for full image.
This landslide, rotated, cropped, and reduced to post here, was taken on July 23, 2021 by MRO's high resolution camera. It is located in the center left of the context mosaic above, flowing off the dark cliff.
The slide reveals a number of interesting Martian phenomenon. First, the length of the flow compared to its source cliff illustrates the fast nature of such flows in the low Martian gravity. They appear to go farther on Mars than on Earth. The fluid look of this flow also suggests ice might have been involved. As this feature is practically on the Martian equator, there is no visible ice here or near the surface, so that suggests the flow is very ancient.
The look of the flow should also look very familiar to those who have been following the journey of Perseverance in Jezero Crater. Look at the MRO photo of the crater at this July 2020 post. The delta that flows into Jezero crater looks remarkably like the flow here. The similarity suggests that when Perseverance begins climbing onto that delta its data will help tell scientists something about the flow here, located almost halfway across Mars.
My point with this post however is to show that to find these cool images, scientists have to do a lot of work. The man hours involved are hidden to the general public, making it seem that the discoveries are easy. They are not.
Finding something new or exploring the unknown is always challenging. It always requires a bigger commitment of time and effort than anyone expects. Fortunately, there are many who are willing to dedicate themselves to the task.
Readers!
In order to remain completely independent and honest in my writing, I accept no sponsorships from big space companies or any political organizations. Nor do I depend on ads.
Instead, I rely entirely on the generosity of readers to keep Behind the Black running. You can either make a one time donation for whatever amount you wish, or you sign up for a monthly subscription ranging from $2 to $15 through Paypal, or $3 to $50 through Patreon, or any amount through Zelle.
The best method to donate or subscribe is by using Zelle through your internet bank account, since it charges no fees to you or I. You will need to give my name and email address (found at the bottom of the "About" page). What you donate is what I get.
To use Patreon, go to my website there and pick one of five monthly subscription amounts, or by making a one-time donation.

For PayPal click one of the following buttons:

If these electronic payment methods don't work for you, you can support Behind The Black directly by sending your donation by check, payable to Robert Zimmerman, to


Behind The Black
c/o Robert Zimmerman
P.O.Box 1262
Cortaro, AZ 85652