When the table of contents of the most recent issue of the American Geophysical Union's (AGU) Geophysical Research Letters was released on August 16, 2023, I could not help noticing it contained a string of papers repeatedly showing that the models used to prove the coming fire of global warming continue to remain untrustworthy and unreliable. All of the following papers indicated biases and uncertainties of both climate models as well as the data they used, and each did so in their titles:
All of these papers considered the models valid for future research, and were instead focused on refining and increasing the accuracy of the models. All however showed once again how little we should trust these models.
What makes the publication of these papers significant is that it was the AGU that published them, even though the AGU has a decidedly biased editorial policy in favor of global warming. Despite the AGU's insistence that "realistic and continually improving computer simulations of the global climate predict that global temperatures will continue to rise as a result of past and future greenhouse gas emissions," it still cannot avoid publishing papers that repeatedly disprove that conclusion.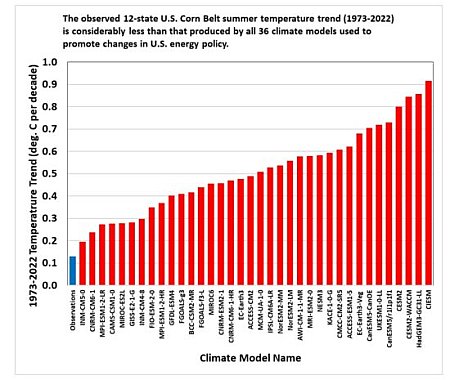 The science of modeling the climate, and using those models to predict global warming, is still quite unsettled and not to be trusted. As has been noted over and over again by honest scientists, none of these so-called "continually improving computer simulations" has ever successfully predicted anything, as indicated so eloquently by the graph to the right, published by climate scientist Roy Spencer in June. All thirty-six of the most trusted climate models failed to predict the actual temperature change from 1973 to 2022, with most failing quite badly.
More to the point is the greater problem caused by journals like the AGU giving the analysis of these models equal billing with research papers dealing with actual data. While computer models have some value in helping climate scientists understand how the climate functions, the models are not research. Each is simply a computer programmer's attempt to create a model that simulates the atmosphere. The data in these models is by nature incomplete and often reduced significantly in resolution in order to allow the simulations to work within limited computer capabilities. And as the graph shows, as tools to predict the future they remain only slightly more useful than astrology.
By giving these papers the same exposure as research that describes the acquisition of actual climate data devalues that actual data, and makes it appear as if the computer models are real research as well.
Would it not make more sense to limit the publication of any climate model papers to their own journal, in order to emphasize their uncertainty and less-than-real nature? Putting them instead in their own less prominent publication would do nothing to stop this software research, but lower its status in the eyes of the public and other scientists. It would place it in its proper place: of some use but of a very limited kind.
Sadly, I do not expect the AGU, or any major science journal today, such as Science or Nature, to do this, because all have been captured and are controlled by global warming activists, who work hard to squelch any debate or dissent from their positions. Giving the climate models an overstated status helps that cause, even if it distorts science, making objective analysis of the data more difficult.
I make this suggestion simply to emphasize the difference between real research and playing with computer models, in the hope that other journalists as well as the public will begin to see this distinction as well. It is certainly long past time for journalists to stop reporting every prediction made by these models as gospel requiring big headlines. The reality is that the predictions are not much better than throwing darts at a wall, sometimes with blindfolds on.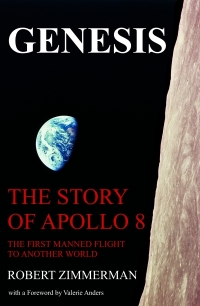 On Christmas Eve 1968 three Americans became the first humans to visit another world. What they did to celebrate was unexpected and profound, and will be remembered throughout all human history. Genesis: the Story of Apollo 8, Robert Zimmerman's classic history of humanity's first journey to another world, tells that story, and it is now available as both an ebook and an audiobook, both with a foreword by Valerie Anders and a new introduction by Robert Zimmerman.
The ebook is available everywhere for $5.99 (before discount) at
amazon
, or direct from my ebook publisher,
ebookit
. If you buy it from
ebookit
you don't support the big tech companies and the author gets a bigger cut much sooner.
The audiobook is also available at all these vendors, and is also
free with a 30-day trial membership to Audible.
"Not simply about one mission, [Genesis] is also the history of America's quest for the moon... Zimmerman has done a masterful job of tying disparate events together into a solid account of one of America's greatest human triumphs."--San Antonio Express-News