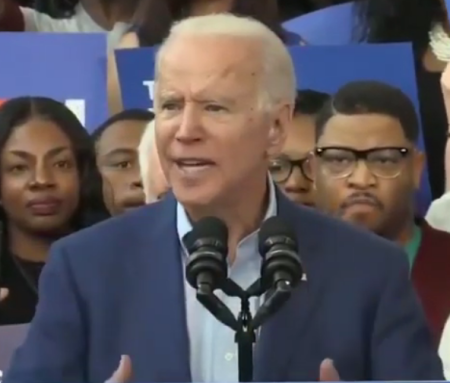 Biden as he forgets what truths we hold as self-evident.
I have previously argued that people should vote for Trump and Republicans across the board for two reasons:
Today I want to take a look at Joe Biden himself, to show that the man is simply not qualified to be president. I will not be arguing however that this lack of qualification is because his policies are wrong, despite ample evidence that they are.
Nor am I going to point to the recent pay-for-play scandal surrounding Biden and his family. The evidence is quite clear that Biden has used his position of power in government to exhort money from foreign governments while working against American interests in foreign policy.
I am also not going to talk about Biden's past proven dishonesty, illustrated best by his first failed effort to run for president, an effort that was quashed because he was found to be a serial plagiarist (something that it appears he still does).
No, my argument is simpler. Joe Biden is exhibiting clear symptoms of failing mental health. It is increasingly obvious he really is unaware of what is going on around him, and this condition appears to be worsening at a frightening pace.

The other day he forgot he was running against Trump, referring instead to "George," as in George Bush.
Earlier he forgot the president he had worked under while vice president.
Another time he started quoting the most famous line from the Declaration of Independence, and lost his way in the middle.
Then there was the time he actually removed his mask during a speech in order to cough.
He has repeatedly made the mistake of saying he is running for "the Senate,", has claimed 200 million have died from COVID-19 in the U.S., and forgotten the name of the Republican candidate for President in the 2012 election.
The list of these strange gaffes is quite long. Normally I do not pay much attention to such errors, as every candidate makes these kind of verbal mistakes during the campaign. It is the number that is disturbing, and the fact that they seem to be happening more and more often, almost on a daily basis.
Worse, the increasing number of Biden's gaffes, errors, and apparent confusion have been accompanied by what seems an increasing requirement that he be guided closely in whatever he does. While he definitely has periods of lucidity, such as during both debates, Biden more and more seems incapable of doing anything without a teleprompter or a script or guidance from his staff or wife.
All of this appears further confirmed by the number of times the Biden campaign has shut down early, ending all campaign activities early in the morning, or canceling them for days. The joke by Trump that Biden is hiding in his basement rings very true, because that is what Biden has been doing, as if he literally no longer has the capability of being seen in public.
More important, this is not how normal candidates for president behave. If Biden can't run an aggressive campaign, how can he be president for four years?
The presidency of the United States is probably the most powerful and important political position in the world. What that president does can affect the lives of millions, for years long after that person's term in office. To vote for someone for that position who is incompetent, corrupt, or power-hungry is a mortal error. To also pick a person who is incompetent mentally is beyond rational.
Why the Democrats chose Biden is their problem. Americans must not make it our problem. They must reject Biden unequivocally on November 3rd. If they do not, the consequences worldwide are literally unfathomable.
Readers!
In order to remain completely independent and honest in my writing, I accept no sponsorships from big space companies or any political organizations. Nor do I depend on ads.
Instead, I rely entirely on the generosity of readers to keep Behind the Black running. You can either make a one time donation for whatever amount you wish, or you sign up for a monthly subscription ranging from $2 to $15 through Paypal, or $3 to $50 through Patreon, or any amount through Zelle.
The best method to donate or subscribe is by using Zelle through your internet bank account, since it charges no fees to you or I. You will need to give my name and email address (found at the bottom of the "About" page). What you donate is what I get.
To use Patreon, go to my website there and pick one of five monthly subscription amounts, or by making a one-time donation.

For PayPal click one of the following buttons:

If these electronic payment methods don't work for you, you can support Behind The Black directly by sending your donation by check, payable to Robert Zimmerman, to


Behind The Black
c/o Robert Zimmerman
P.O.Box 1262
Cortaro, AZ 85652