First we were told that it was necessary to impose "social distancing rules" and shut down the economy for a few weeks in order to prevent the healthcare system from being overwhelmed by a sudden influx of COVID-19 cases, predicted to possibly be in the millions. From a typical panicked news report on March 16:
Health officials take for granted that COVID-19 will continue to infect millions of people around the world over the coming weeks and months. However, as the outbreak in Italy shows, the rate at which a population becomes infected makes all the difference in whether there are enough hospital beds (and doctors, and resources) to treat the sick.

In epidemiology, the idea of slowing a virus' spread so that fewer people need to seek treatment at any given time is known as "flattening the curve." It explains why so many countries are implementing "social distancing" guidelines — including a "shelter in place" order that affects 6.7 million people in Northern California, even though COVID-19 outbreaks there might not yet seem severe.
Fortunately, the prediction that millions would become sick was so wrong it is now considered a joke. Moreover, it was quickly obvious that the healthcare system was not going to be overwhelmed.
So of course, we can now end these stringent social distancing rules and the lock downs, right?
Hah. Now we are being told that the new social rules and the government-imposed economic shut downs are necessary to stop the spread of the disease, to protect us from further infection, to make us all safe from coronavirus, forever. And if we do have to ease the lock downs at all, we have to do it as slowly as possible, and to change our behaviors forever. Masks must be worn, businesses can no longer serve as many at a time, and we must change and limit our freedoms, just because we might possibly save one life!
Consider the fascist Democratic governor of Pennsylvania and his demand that the state remain locked down for as long as possible.

In a letter to the Legislature sent last week, Secretary of Health Rachel Levine [of Pennsylvania] advised lawmakers against broadening guidelines for what constitutes an essential business, and said it would have a "devastating impact" on public health in the state.

"Encouraging increased social movement of Pennsylvanians at this time by reopening a significant amount of businesses would be reckless and irresponsible," Dr. Levine said in the letter. "The decision to shutter non-life sustaining businesses that support families across this commonwealth was a painful one, but before we can save livelihoods we must save lives." [emphasis mine]
Just like the first set of lies to justify these new fascist rules, these new lies are as self-serving, and as dishonest. As admitted in the first quote above, we cannot stop the spread of the Wuhan flu. Any claim that says the lock down will do so is a lie.
It now seems however that the lock downs can't even slow the disease or flatten the curve. The evidence:
The last link is especially horrifying, as it outlines the many people who have died because they could not get normal medical treatment because their hospitals were forbidden to treat anyone but Wuhan flu patients.
[T]he surge in hospitalizations never materialized in most places; most other procedures were shut down by edict; and the remaining emergency care plummeted by 40 percent in most states because people were so terrified to go out, thanks to the over-exaggeration of the case fatality rate of COVID-19. Hospitals were left with the worst of all worlds, both financially and for the health of their patients.

It's therefore no mystery as to why Oregon had twice as many excess deaths this past month as deaths from COVID-19. While the article's author gropes in the dark to discover the culprit, he lets the cat out of the bag when he reports, "Nearly all the above-average deaths occurred at home, among Oregonians both receiving and not receiving hospice care."

With Oregon's hospital system at a 40 percent reduced capacity, it doesn't mean that there has miraculously been a 40 percent reduction in any health problem – from cancer and stroke to heart attacks and hypertension – other than from car accidents. It means that, as Dr. Scott Atlas of Stanford warned on my podcast last week, many cancer surgeries, transplants, and heart procedures are being delayed, and many people experiencing emergent health conditions are too scared to go to the emergency room. That is likely why they are dying at home.

The New York Times actually reported this earlier in the week. "Emergency rooms have about half the normal number of patients, and heart and stroke units are nearly empty, according to doctors at many urban medical centers," reported the Times. "Some medical experts fear more people are dying from untreated emergencies than from the coronavirus." The new Oregon data corroborates this theory.
I know that some will argue that the number of deaths from COVID-19 would have been far higher without the extreme measures taken in the past two months. They might be right, but they will be basing their argument not on data but what they feel is the case. The evidence above suggests otherwise.
What is clear however, and what I am going to note with some anger, is that there is no doubt that the lock downs have destroyed millions of lives, and appear now likely to have caused far more hardship and death, across the entire population, than COVID-19 could ever have done.
The shut downs must end, now. People and businesses must be allowed to resume their lives, now. And we must let freedom and individual liberty determine the best way to respond to this disease, now.
Arbitrary edicts from petty dictators, either in the bureaucracy in Washington or in the governors' offices nationwide, are not the answer. In America they never have been.
In America, we have always left such decisions to the people, for the people, and by the people.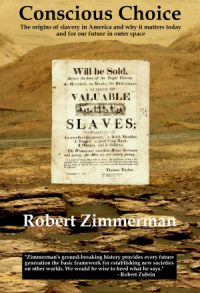 Now available in hardback and paperback as well as ebook!
From the press release: In this ground-breaking new history of early America, historian Robert Zimmerman not only exposes the lie behind The New York Times 1619 Project that falsely claims slavery is central to the history of the United States, he also provides profound lessons about the nature of human societies, lessons important for Americans today as well as for all future settlers on Mars and elsewhere in space.
Conscious Choice: The origins of slavery in America and why it matters today and for our future in outer space
, is a riveting page-turning story that documents how slavery slowly became pervasive in the southern British colonies of North America, colonies founded by a people and culture that not only did not allow slavery but in every way were hostile to the practice.
Conscious Choice
does more however. In telling the tragic history of the Virginia colony and the rise of slavery there, Zimmerman lays out the proper path for creating healthy societies in places like the Moon and Mars.
"Zimmerman's ground-breaking history provides every future generation the basic framework for establishing new societies on other worlds. We would be wise to heed what he says." —Robert Zubrin, founder of founder of the Mars Society.
All editions are available at Amazon, Barnes & Noble, and all book vendors, with the ebook priced at $5.99 before discount. The ebook can also be purchased direct from my ebook publisher, ebookit, in which case you don't support the big tech companies and I get a bigger cut much sooner.
Autographed printed copies are also available at discount directly from me (hardback $24.95; paperback $14.95; Shipping cost for either: $5.00). Just email me at zimmerman @ nasw dot org.