While many state governors across the United States dawdle and hesitate about lifting their panic-induced lock downs on their states out of fear it might cause a few more Wuhan virus deaths, the real devastation from their panic is propagating uncontrolled across the landscape, and will in the end kill far far more people.
Their actions have caused the entire economy to collapse, destroyed entire industrial sectors, prevented untold numbers from getting the proper healthcare when needed, and put millions of people out of work. In the end, this government-imposed depression will do far more harm that the Wuhan flu ever could, and do it for a much longer time spell.
Don't believe me? Well let me count the ways, citing the numerous stories I have posted here on Behind the Black in only the past week.

First there is the entire restaurant business. So far more than eight million people have lost their jobs, and it is expected that at least 1 in 5 restaurants will close down. Nor is there much hope for the survivors, since state governments appear insistent that they must limit customers within their restaurants, maintaining social distancing rules that will make these venues unprofitable. Overall loses are expected to exceed $240 billion.
By the way, do you remember why we were originally told to social distance? Why the lock downs were supposedly first imposed? Both were meant as a very very temporary efforts, lasting no more than a few weeks, to simply slow the onset of the virus so the healthcare system would not be overrun. Instead, our government and media have morphed both into a permanent requirement in the vain belief it will stop the virus from spreading.
Then we have the housing market. In March home sales plunged 8.5%, is expected to get worse, and appears to be hitting the entry-level market the most. On top of this the home-building market has crashed, with new housing starts plunging 22% in the past month, the worse such drop in almost forty years.
Meanwhile, the rental market is crashing, with wholesale evictions expected because the now-unemployed renters are unable to pay their rents.
Next we have the energy industry. Not only has the demand for oil plummeted, sending the energy markets into a tailspin, the entire clean energy industry is losing a half million jobs, with more job losses in March then were created in all of 2019.
What about the airlines? The government restrictions on travel as well as the demand for social distancing has essentially destroyed this entire industry. No one is flying, with a 96% decline in passengers this year. Nor will any of this change until people are reassured that they won't die if they get on an airplane.
By the way, you wouldn't die. All evidence so far indicates that the Wuhan flu appears to mimic the flu, in that it is relatively harmless to the bulk of the healthy population. If you fly and are young and healthy, the worst it will likely do is make you sick for a short time, though it is more likely you will get infected and not even know it. Afterward you will have antibodies to the disease and will act to hinder its spread.
Then we have the healthcare industry itself. Many of the government lock downs have included edicts that prevent hospitals and doctors from doing what the government considers non-essential procedures. No one asked any doctors it appears, because these edicts are resulting in the deaths of heart and cancer patients because they cannot get the care they desperately need.
The edicts are also threatening hospitals with bankruptcy. Banned from treating anyone except COVID-19 patients, hospitals have no income, and have been forced to shorten hours and cut staff — in the middle of an epidemic— with some hospitals on the verge of closure forever.
Meanwhile the retail industries are getting wiped out. The clothing industry is shutting down. The flower and events industry is shutting down. The department store industry is shutting down. The theme-park industry is shutting down. The beer and pub industry is shutting down.
In fact, the entire economy is shutting down. New business starts have basically ceased, with the index of leading economic indicators experiencing its biggest crash in March in its entire sixty year history.
And we thought breadlines and soup kitchens were bad during the Great Depression in the 1930s? It is going to be far worse now, because these government edicts requiring social distancing will make it impossible to even go to a breadline or soup kitchen.
Why is this happening? It is happening because our government leaders, mostly at the state level, decided they knew better than anyone else, and required it to happen.
I don't want to mince any words here. This Great Wuhan Depression was ordered by the governors of our fifty states. It is their economic collapse, through and through. They knew that if they shut down everything for a month or more the economy would collapse, and yet they did it anyway. And sadly, President Trump aided them in this effort by publicly activating the National Guard when requested by them in order to enforce these lock down edicts.
Moreover, I fear that this economic crash will be exacerbated by the accompanying loss of freedom. You can't turn an economy around on a dime, but if freedom is allowed you raise the odds that things can recover faster.
Sadly, the government edicts, many of which literally nullified the Bill of Rights, have set a precedent that is very hostile to freedom, and one that our governments now appear to be following with enthusiasm. The so-called "plans" being announced by various state governments, many following federal guidelines developed by the Trump administration, all dictate which businesses can operate, when businesses shall reopen, and how people will behave. The idea of letting freedom do the job seems quite quaint to our modern rulers. They would much rather rule as dictators, setting the rules without referring to law or legislation.
If you don't believe me, watch this interview of Democratic New Jersey Governor Phil Murphy. He is asked repeatedly what legal authority did he have to nullify the Bill of Rights by arresting people in churches and synagogues, and repeatedly provides no answer. Murphy simply decided that he thought arresting religious people was in the best interests of society, and went ahead and had it done.
Meanwhile, the facts on the ground continue to suggest that the Wuhan flu is not the deadly plague that many politicians and health experts have claimed. With the rate of new cases apparently peaking, we can now make a reasonable prediction of how many the virus will eventually kill (recognizing that for many political reasons some of these numbers have been padded), and find that the numbers will likely end up comparable to a high flu season, and far less than many other causes of death that we routinely take for granted. In addition, there is clear evidence that the lock downs were unnecessary and that our health system was not going to be overrun. In fact, though the data remains incomplete at this moment, the overall mortality rate is actually low this year, when compared to recent years.
Thus, this virus did not warrant the panic that ensued, the destruction of the economy, and the nullification of the Bill of Rights. But yet that is exactly what our elected officials have done, destroyed the economy and nullified our freedoms.
Unless we as citizens take action to oppose this, our country will never be the same, and millions more will suffer as the economy continues its crash, hindered from recovering because we are now no different than socialist Venezuela or communist Russia.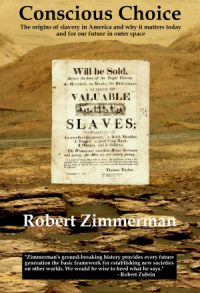 Now available in hardback and paperback as well as ebook!
From the press release: In this ground-breaking new history of early America, historian Robert Zimmerman not only exposes the lie behind The New York Times 1619 Project that falsely claims slavery is central to the history of the United States, he also provides profound lessons about the nature of human societies, lessons important for Americans today as well as for all future settlers on Mars and elsewhere in space.
Conscious Choice: The origins of slavery in America and why it matters today and for our future in outer space
, is a riveting page-turning story that documents how slavery slowly became pervasive in the southern British colonies of North America, colonies founded by a people and culture that not only did not allow slavery but in every way were hostile to the practice.
Conscious Choice
does more however. In telling the tragic history of the Virginia colony and the rise of slavery there, Zimmerman lays out the proper path for creating healthy societies in places like the Moon and Mars.
"Zimmerman's ground-breaking history provides every future generation the basic framework for establishing new societies on other worlds. We would be wise to heed what he says." —Robert Zubrin, founder of founder of the Mars Society.
All editions are available at Amazon, Barnes & Noble, and all book vendors, with the ebook priced at $5.99 before discount. The ebook can also be purchased direct from my ebook publisher, ebookit, in which case you don't support the big tech companies and I get a bigger cut much sooner.
Autographed printed copies are also available at discount directly from me (hardback $24.95; paperback $14.95; Shipping cost for either: $5.00). Just email me at zimmerman @ nasw dot org.