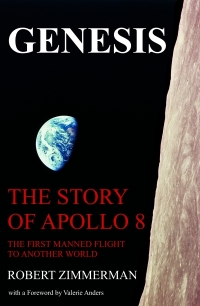 On Christmas Eve 1968 three Americans became the first humans to visit another world. What they did to celebrate was unexpected and profound, and will be remembered throughout all human history. Genesis: the Story of Apollo 8, Robert Zimmerman's classic history of humanity's first journey to another world, tells that story, and it is now available as both an ebook and an audiobook, both with a foreword by Valerie Anders and a new introduction by Robert Zimmerman.
The ebook is available everywhere for $5.99 (before discount) at
amazon
, or direct from my ebook publisher,
ebookit
.
The audiobook is also available at all these vendors, and is also
free with a 30-day trial membership to Audible.
"Not simply about one mission, [Genesis] is also the history of America's quest for the moon... Zimmerman has done a masterful job of tying disparate events together into a solid account of one of America's greatest human triumphs." --San Antonio Express-News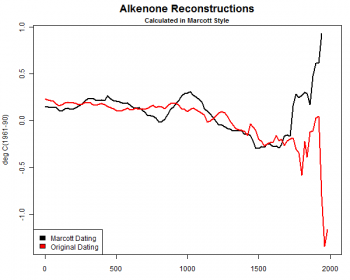 Steve McIntyre, the man who had demonstrated that Michael Mann's hockey stick graph was a fraud, has now demonstrated that the work of a group of climate scientists attempting to resurrect it is even more fraudulent. It seems that in order to recreate the illusion of warming in the past four hundred years, the scientists, led by geologist Shaun Marcott, changed the dates on a series of ocean cores in order to get the results they wanted.
McIntyre found that Marcott and his colleagues used previously published ocean core data, but have altered the dates represented by the cores, in some cases by as much as 1,000 years.
Most significantly, the scientists made no explanation for changing these dates. It is as if they wanted to hide this decline, y'know?
The chart on the right, by McIntyre, illustrates the fraud. The black line shows the temperature numbers of the ocean cores used by Marcott. The red line shows the temperature numbers, as originally published in the scientific literature, for these ocean cores.
The discrepancy here is so egregious that it screams at you. More important, as John Hinderaker says,

The publicly available evidence suggests that alarmist scientists have repeatedly committed fraud in research conducted and papers published that were paid for by United States taxpayers. It seems inconceivable that felonies have not been committed in connection with those frauds. Are there not criminal statutes that prohibit the publication of fraudulent data in taxpayer-supported research?
To my mind, the best way to correct this situation is for climate scientists to come forward and demand an explanation, and if they don't get it, to ostracize these scientific frauds. Up to now, unfortunately, that has not been the attitude of most climate scientists. Instead, they have circled the wagons and acted to protect these hacks, producing investigations that were nothing more than whitewashes and using the power of their community to attack the skeptics.
Until the climate science community begins to clean up its act, no one is going to believe anything they say. Worse, we will be faced with an inability to really find out what is going on with the Earth's climate.
Some additional thoughts: The red line in the graph does not prove that the climate has been cooling the last 400 years. What it does indicate is that this particular proxy that scientists have been using to estimate the global temperature in the past is not very reliable.
In addition, the Marcott paper was published in a peer-reviewed journal, illustrating once again that peer review is not a guarantee of quality scientific work.
Readers!
My July fund-raiser for Behind the Black is now over. The support from my readers was unprecedented, making this July campaign the best ever, twice over. What a marvelous way to celebrate the website's tenth anniversary!

Thank you! The number of donations in July, and continuing now at the beginning of August, is too many for me to thank you all personally. Please forgive me by accepting my thank you here, in public, on the website.

If you did not donate or subscribe in July and still wish to, note that the tip jar remains available year round.
Regular readers can support Behind The Black with a contribution via paypal:
If Paypal doesn't work for you, you can support Behind The Black directly by sending your donation by check, payable to Robert Zimmerman, to

Behind The Black
c/o Robert Zimmerman
P.O.Box 1262
Cortaro, AZ 85652