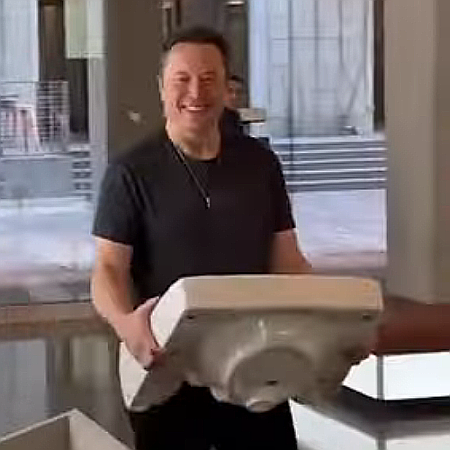 Musk arrives at Twitter, ready to clean house
While the buzz about Elon Musk's takeover of Twitter has mostly focused on his effort to end censorship and the banning of conservatives, none of this constitutes his most important accomplishment there.
Yes, mandating freedom of speech at Twitter is a good thing. And yes, ending the banning of tens of thousands of conservative voices demonstrates Musk's unwavering commitment to freedom and open debate.
However, it is his action to house-clean — to fearlessly remove from power the thugs and goons at Twitter who created these oppressive policies — that matters the most. By firing the Twitter apparatchiks who had installed that system of censorship and blacklisting, Musk has guaranteed that this censorship and blacklisting will not return easily to Twitter should his other business interests force him to pay less attention in the future.

The house-cleaning is literally changing the culture at Twitter, allowing the supporters of freedom to run the show while kicking from power the authoritarians and blacklisters. The change is beyond refreshing, and practically unprecedented in the past half century.
More important, Musk's unapologetic and almost enthusiastic firings of the worst abusers of power at Twitter has sent a signal throughout the entire culture. It is possible for CEOs to remove these people without harming the bottom line. In fact, the evidence so far suggests this kind of drastic but courageous action will help that bottom line significantly. The surge in new sign-ups at Twitter after Musk's takeover indicates this strongly. That the new head of Disney immediately signaled that the company would retreat from promoting the queer agenda, even though he had instigated that campaign when he was previously in charge, indicates Musk's actions — along with an aggressive anti-Disney campaign by parents and politicians — are having an impact elsewhere.
Musk's actions also tell us that our culture can also fight these thugs. In schools, in colleges, in the entertainment industry, in politics, in industry, and in the corporate world, there is no need to kow-tow to them out of fear. They are simply bullies, and if you have the simple courage to stand up to them, they will back down.
Fundamentally, Elon Musk is showing Republicans their only possible path forward should they ever regain even the slightest amount of power. Compromise will not work with those in the executive branch who were so willing to conspire to overthrown a sitting president, and then work hand-in-glove with the next administration to blatantly violate the Constitutional rights of many American citizens. These corrupt government employees must be removed, and removed as thoroughly and as quickly as possible, in the same manner as Musk is doing at Twitter.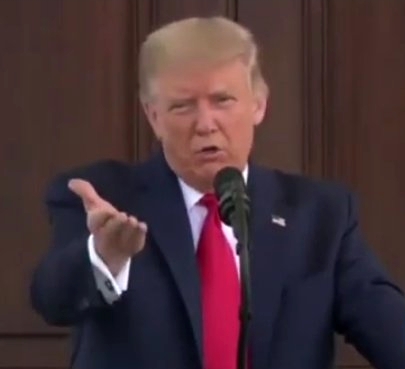 He failed to house-clean, and we have all paid the price
for that failure.
Musk's actions at Twitter also illustrates forcefully the greatest failure of Donald Trump while he was president. Though I have noted with admiration the way Trump was the first president in my lifetime to actually carry out his campaign promises, the one promise Trump failed to fulfill in any way was his promise to "drain the swamp." For four years he allowed the federal bureaucracy that he legally controlled in every way according to the Constitution, our nation's fundamental document, to run rampant.
Central to the bureaucracy's abuse of power were the actions of the Department of Justice and the intelligence community, including the FBI, the CIA, and the NSA. These agencies conspired with the leftist press and the Democrats in Congress to manufacture the Russian collusion hoax, claiming with no evidence that somehow Donald Trump was a stooge of Putin.
During this fake investigation Trump did nothing. When his own appointed attorney general, Jeff Sessions, recused himself from the investigation for utterly bogus reasons, Trump did nothing. When the investigation itself was finally forced to exonerate Trump entirely, admitting that no Russian collusion ever existed, Trump still did nothing.
Almost no one in these agencies were fired. Instead, Trump left office with their entire partisan and Democratic Party infrastructure intact, allowing them to immediately begin working with the Biden administration to use their power to harass, arrest, and persecute conservatives nationwide.
Musk at Twitter is demonstrating to all that a total house-cleaning can be done, without fear. It is doable, and any Republican politician who runs in fear from doing it once gaining power reveals him- or herself to be a quisling of the Democrats, mouthing lies in order to maintain the corrupt status quo.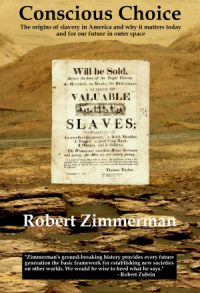 Now available in hardback and paperback as well as ebook!
From the press release: In this ground-breaking new history of early America, historian Robert Zimmerman not only exposes the lie behind The New York Times 1619 Project that falsely claims slavery is central to the history of the United States, he also provides profound lessons about the nature of human societies, lessons important for Americans today as well as for all future settlers on Mars and elsewhere in space.
Conscious Choice: The origins of slavery in America and why it matters today and for our future in outer space
, is a riveting page-turning story that documents how slavery slowly became pervasive in the southern British colonies of North America, colonies founded by a people and culture that not only did not allow slavery but in every way were hostile to the practice.
Conscious Choice
does more however. In telling the tragic history of the Virginia colony and the rise of slavery there, Zimmerman lays out the proper path for creating healthy societies in places like the Moon and Mars.
"Zimmerman's ground-breaking history provides every future generation the basic framework for establishing new societies on other worlds. We would be wise to heed what he says." —Robert Zubrin, founder of founder of the Mars Society.
All editions are available at Amazon, Barnes & Noble, and all book vendors, with the ebook priced at $5.99 before discount. The ebook can also be purchased direct from my ebook publisher, ebookit, in which case you don't support the big tech companies and I get a bigger cut much sooner.
Autographed printed copies are also available at discount directly from me (hardback $24.95; paperback $14.95; Shipping cost for either: $5.00). Just email me at zimmerman @ nasw dot org.