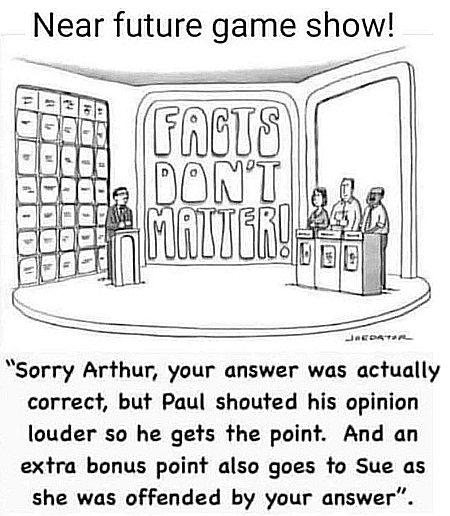 How modern politicians apply science!
Three new studies have once again confirmed what common sense and a hundred-plus years of medical research has consistently shown, that the measures mandated by foolish governments and health officials last year to supposedly "stop" or "slow" the spread of COVID-19 did nothing of the sort, and instead likely accomplished the exact opposite.
The studies specifically looked at three of the most popular and imposing actions mandated by either governments or corporations, the installation of plexiglass everywhere, the mandating of mask use, and the draconian lockdowns that shut down whole states for almost a year. In all three cases, the studies found them worse than useless.
First, the plexiglass barriers: Not only has there never been any research documenting the usefulness of the plexiglass barriers that restaurants, convenience stores, and almost all businesses have installed to isolate their workers and customers from each other and thus supposedly prevent the spread of COVID-19, a new study from Boston found that the plexiglass barriers likely increased the risk of infection, because it hampered the flow of air circulation.

Wellesley Pubic Schools (WPS), the Health Department, and Facilities Management Department joined forces on an investigation into a recent cluster of COVID-19 cases at the high school and determined that changes are needed in the main office space. WPS and the Health Department said in a joint statement that: "The team concluded that the origin of the transmission of a large number of cases was the main office area and recommended a number of additional mitigation measures, including reducing the density of individuals in this area, better defining one-way entrance/egress, increasing air circulation, and modifying the use of plexiglass dividers. This last finding was both surprising and important for us, as our test of air circulation in this area using smoke devices clearly showed that in several cases, plexiglass dividers, when coupled with side panels, significantly impeded air circulation." [emphasis mine]
In other words, you want to put your self in a COVID-19 hotbox and increase your chances of exposure, put yourself in a cubical surrounded by plexiglass barriers. Upon seeing this data, these Boston schools are looking at removing many of the barriers it installed.
Then there are those wonderful masks. Got yours? Is your face properly sealed by cloth? Well, a group of parents in Gainesville, Florida, decided to submit six face masks that their children (and one adult) had worn during the previous school day.

The resulting report found that five masks were contaminated with bacteria, parasites, and fungi, including three with dangerous pathogenic and pneumonia-causing bacteria. No viruses were detected on the masks, although the test is capable of detecting viruses. The analysis detected the following 11 alarmingly dangerous pathogens on the masks:

Streptococcus pneumoniae (pneumonia)
Mycobacterium tuberculosis (tuberculosis)
Neisseria meningitidis (meningitis, sepsis)
Acanthamoeba polyphaga (keratitis and granulomatous amebic encephalitis)
Acinetobacter baumanni (pneumonia, blood stream infections, meningitis, UTIs— resistant to antibiotics)
Escherichia coli (food poisoning)
Borrelia burgdorferi (causes Lyme disease)
Corynebacterium diphtheriae (diphtheria)
Legionella pneumophila (Legionnaires' disease)
Staphylococcus pyogenes serotype M3 (severe infections—high morbidity rates)
Staphylococcus aureus (meningitis, sepsis)

Half of the masks were contaminated with one or more strains of pneumonia-causing bacteria. One-third were contaminated with one or more strains of meningitis-causing bacteria. One-third were contaminated with dangerous, antibiotic-resistant bacterial pathogens. In addition, less dangerous pathogens were identified, including pathogens that can cause fever, ulcers, acne, yeast infections, strep throat, periodontal disease, Rocky Mountain Spotted Fever, and more.
Notice how the tests found no viruses, including COVID-19, even though it could have. What this tells us is that if the virus was present, the mask was transparent to it, providing no protection at all. Previously I had thought the mask might become a trap for the COVID-19 virus, but no, it is not. Masks do nothing to stop it.
Masks do however act as great collectors of a lot of other very bad pathogens, and in doing so put them at the very place you breath. Isn't that reassuring?
Thus, masks are not just a pointless act of virtue signaling, they are downright unhealthy. Take them off, and burn them if you can, because a used mask is not something you should handle nonchalantly.
Finally, the lockdowns: A study published in the Proceedings of the National Academies of Sciences found the lockdowns were generally useless at reducing the spread of COVID-19.
Previous studies have claimed that shelter-in-place orders saved thousands of lives, but we reassess these analyses and show that they are not reliable. We find that shelter-in-place orders had no detectable health benefits, only modest effects on behavior, and small but adverse effects on the economy.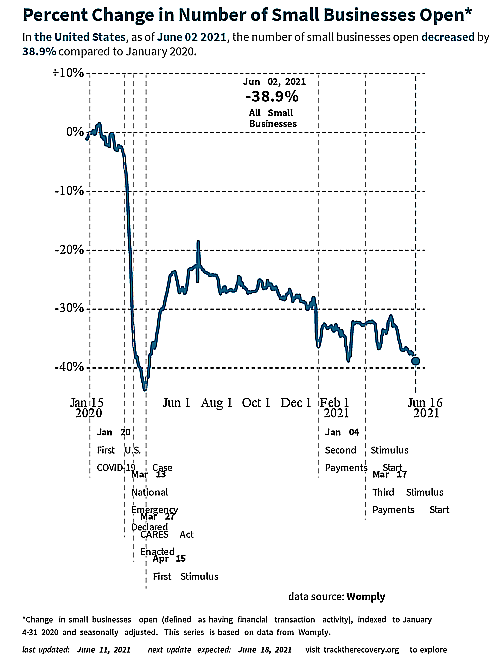 Click to see original chart.
The last conclusion, that the lockdown had only a "small" negative effect on the economy however is quite wrong. Data in April of 2020 showed that the lockdowns were disastrous for small businesses, and the data now proves this, unequivocally. The graph to the right, taken from this study [pdf] shows that almost 40% of all small businesses were bankrupted by the lockdowns, which conveniently allowed the big box corporate stores to stay open but forced all family-owned business to shutter, and thus die forever.
Our government and so-called "experts" in both the health and scientific fields failed the American people horribly during the Wuhan panic. They choose badly (often doing the worst possible thing), favored big companies, did harm to children and families, acted to destroy our liberties and Constitutional rights, and generally worsened the situation terribly.
The American people however are not innocent. Too many acquiesced meekly to these government mandates, as if they were the word of God handed down from Mt. Sinai. Americans acted not as educated citizens in a free society, who insist on being treated as mature adults who make their own decisions, but as mindless and fearful children lacking the independence of mind to think at all.
Consider that the next time you see someone riding in their car alone, with their mask on.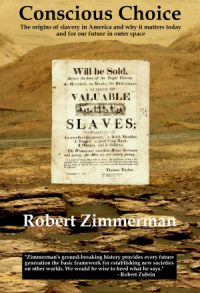 Now available in hardback and paperback as well as ebook!
From the press release: In this ground-breaking new history of early America, historian Robert Zimmerman not only exposes the lie behind The New York Times 1619 Project that falsely claims slavery is central to the history of the United States, he also provides profound lessons about the nature of human societies, lessons important for Americans today as well as for all future settlers on Mars and elsewhere in space.
Conscious Choice: The origins of slavery in America and why it matters today and for our future in outer space
, is a riveting page-turning story that documents how slavery slowly became pervasive in the southern British colonies of North America, colonies founded by a people and culture that not only did not allow slavery but in every way were hostile to the practice.
Conscious Choice
does more however. In telling the tragic history of the Virginia colony and the rise of slavery there, Zimmerman lays out the proper path for creating healthy societies in places like the Moon and Mars.
"Zimmerman's ground-breaking history provides every future generation the basic framework for establishing new societies on other worlds. We would be wise to heed what he says." —Robert Zubrin, founder of founder of the Mars Society.
All editions are available at Amazon, Barnes & Noble, and all book vendors, with the ebook priced at $5.99 before discount. The ebook can also be purchased direct from my ebook publisher, ebookit, in which case you don't support the big tech companies and I get a bigger cut much sooner.
Autographed printed copies are also available at discount directly from me (hardback $24.95; paperback $14.95; Shipping cost for either: $5.00). Just email me at zimmerman @ nasw dot org.