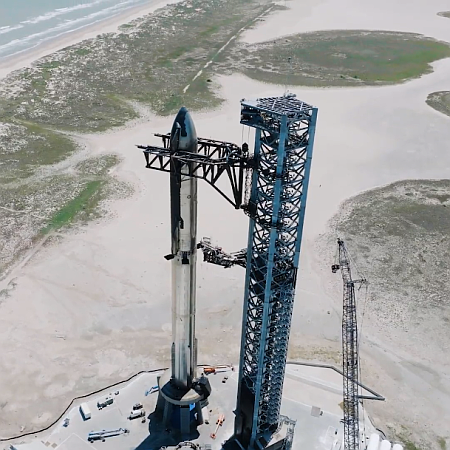 Elon Musk yesterday tweeted a short video showing Starship prototype #25 as it was stacked on top of Superheavy prototype #9, stating that both were now ready for their orbital test launch, the second attempt by SpaceX to launch this new rocket.
The image to the right is a screen capture from that movie, showing the full rocket ready to go. When it will go however remains a complete unknown, as Musk himself noted in the tweet: "Starship is ready to launch, awaiting FAA license approval."
In May I predicted that though Musk predicted at that time that SpaceX would be ready to do this launch in August, it would not happen then or likely for months afterward, because the FAA under the Biden administration is slow-walking all launch approvals for SpaceX, as I showed in detail in a later June essay.
It is now September. SpaceX didn't meet Musk's original August ready date for launch, but it only missed that target by about five days. And as I predicted, the FAA has also not yet approved the launch license.

On August 16, 2023 SpaceX submitted its final report of its investigation into the failures and corrections following the April test launch failure. The FAA took it, and has been sitting on it since. It must be emphasized again and again that there is no one at the FAA or anywhere in the federal government qualified to really analyze and investigate that first test launch of SpaceX. All these paper-pushers can do is guess and niggle about what they read. Only the engineers at SpaceX, who are building this totally revolutionary and experimental rocket, can have any understanding of it, both of what works and what doesn't.
And even if the officials at the FAA are eager to approve the launch license, the decision I guarantee is no longer theirs. Without question higher ups in the Biden administration have called them and demanded a copy of SpaceX's report, and have said that no launch license will be approved until they give the okay. The launch license application and the report are likely sitting on some desk in the White House, being reviewed quite slowly and carefully by the leftist Democrat apparatchiks there, who now see Elon Musk as a political enemy whom they must squelch in every way possible.
I know I am speculating, but I worked for three years in the FAA, and know how the regulatory process works. As long as there isn't any political component, or the party in power has no objections, the FAA bureaucrats do their job as quick as they can so as to do no harm to the operations of private companies. Add politics, or have an anti-business President in power, and none of that good will matters. All higher officials have to do to slow things down is to insert themselves in the process. The bureaucrats have no choice but to cede responsibility and the decision making to their political bosses.
Furthermore, the full court press by the left against Musk is not limited to the FAA. Environmentalists have already filed a lawsuit against the FAA and SpaceX, claiming the April test launch did great environmental harm (it did not) and that the FAA should issue no more launch licenses. Though SpaceX and the FAA have responded to this suit, calling for its dismissal, from what I can tell the Biden administration and its attorney general has shown in little interest in fighting this suit. Meanwhile, the Justice Department itself has filed its own suit against SpaceX, for different but equally absurd reasons, claiming SpaceX discriminated against non-Americans and illegal immigrants by refusing to hire them, a hiring practice forced on SpaceX by another federal agency, the State Department, which generally forbids rocket companies from hiring non-citizens in order to protect U.S. technology from foreign spies.
All these actions tell me that this very leftist Biden administration has no intentions of allowing SpaceX to launch Starship/Superheavy anytime soon. I fully expect the launch license to be significantly delayed, possibly for the rest of this year.
I also continue to fervently wish I am utterly wrong in this pessimistic appraisal. I also believe strongly that by stating it publicly, I might put some pressure on the Biden administration to do the right thing and get out of the way so that a free American company can do what free American companies have traditionally done, create new things without interference from an oppressive tyrannical government.
Sadly, I also recognize that my influence in these matters is quite inconsequential.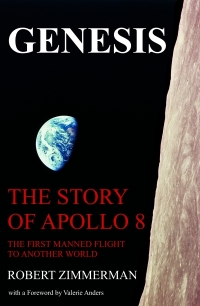 On Christmas Eve 1968 three Americans became the first humans to visit another world. What they did to celebrate was unexpected and profound, and will be remembered throughout all human history. Genesis: the Story of Apollo 8, Robert Zimmerman's classic history of humanity's first journey to another world, tells that story, and it is now available as both an ebook and an audiobook, both with a foreword by Valerie Anders and a new introduction by Robert Zimmerman.
The ebook is available everywhere for $5.99 (before discount) at
amazon
, or direct from my ebook publisher,
ebookit
. If you buy it from
ebookit
you don't support the big tech companies and the author gets a bigger cut much sooner.
The audiobook is also available at all these vendors, and is also
free with a 30-day trial membership to Audible.
"Not simply about one mission, [Genesis] is also the history of America's quest for the moon... Zimmerman has done a masterful job of tying disparate events together into a solid account of one of America's greatest human triumphs."--San Antonio Express-News