It is time for another sunspot update! On June 1 NOAA released its monthly update of its graph tracking the number of sunspots on the Sun's Earth-facing hemisphere. As I do every month, I have posted it below, having added some addition details to provide a larger context.
In May the sunspot activity on the Sun almost literally exploded, producing some of the strongest solar flares in years as well as the most sunspots since the previous solar maximum in 2014. On several days there were as many as eight sunspot groups on the Sun, with one so large that it was visible to the naked eye on Earth (if viewed properly with a protective filter).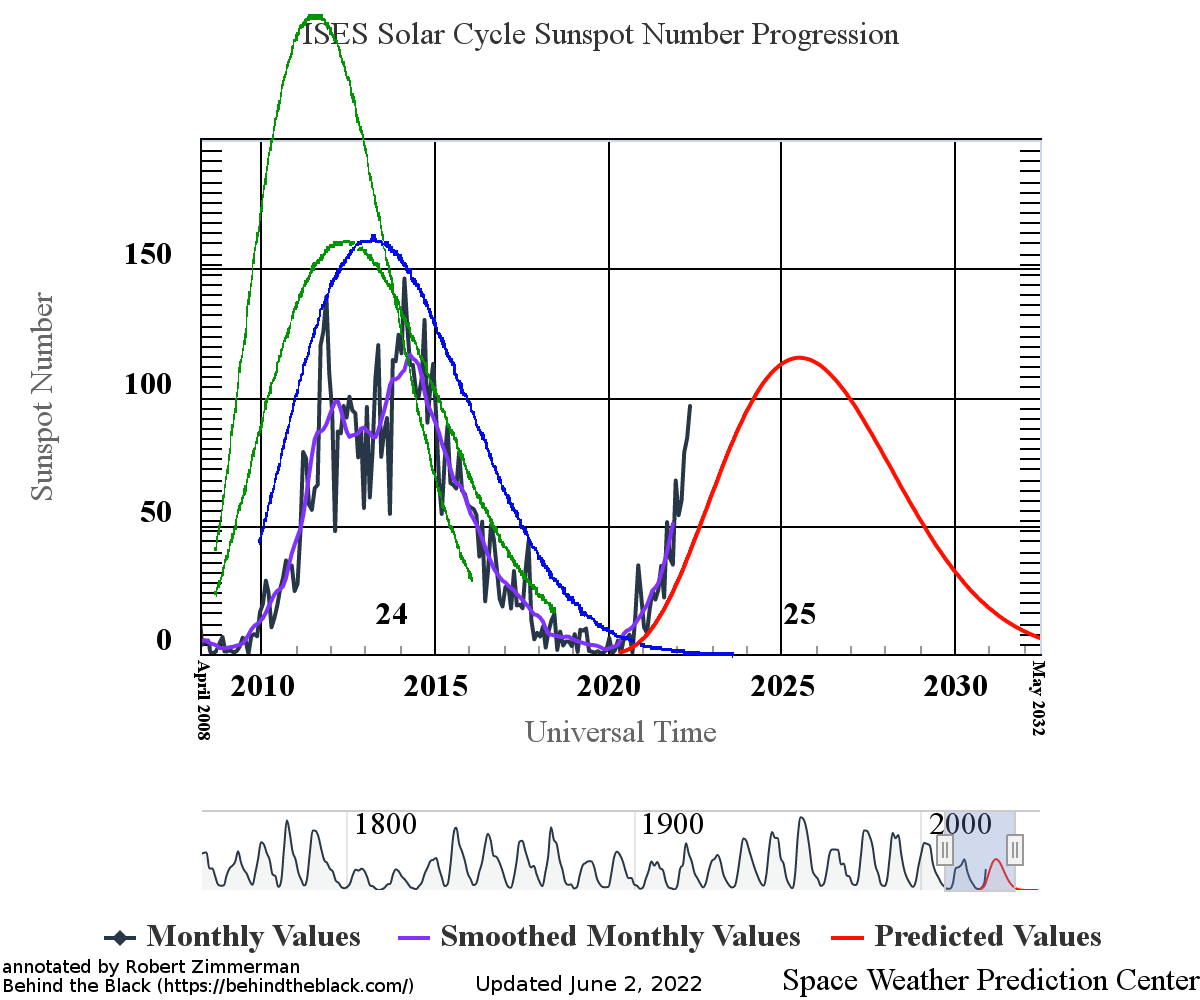 The graph above has been modified to show the predictions of the solar science community for the previous solar maximum. The green curves show the community's two original predictions from April 2007 for the previous maximum, with half the scientists predicting a very strong maximum and half predicting a weak one. The blue curve is their revised May 2009 prediction. The red curve is the new prediction, first posted by NOAA in April 2020.
As you can see from the graph, the number of sunspots in May actually exceeded the sunspot count for many months during the middle of the last solar maximum in 2014. As you can also see, solar activity has also rocketed upward since the solar minimum in 2019, far exceeding the pace forecast in the April 2020 prediction. Based on these numbers, it would not be surprising if solar activity tops the peak of that prediction in the next few months, arriving three years earlier than expected.
Moreover, the Sun's Earth-facing hemisphere has not been blank of sunspots since December 11, 2021. At the present levels of activity, it appears that we will not see another blank day for years.
Finally, the rapid ramp up in activity since solar minimum continues to suggest the next maximum will be much much higher than that consensus April 2020 prediction, making the outlier prediction of a handful of solar scientists — that this maximum will be a very strong one — to be the right one.
The Sun continues to prove the foolishness of relying on consensus in science. As I noted in last month's update,
Scientific results are not determined by democracy, by who gets the most votes. They are instead determined solely by who gets it right, even if only one person does so and everyone else disagrees. Copernicus proved that. So did Galileo.
Sadly, because the Sun's high activity is likely going to act to warm the Earth's climate somewhat in the next decade — based on data over the last few centuries that correlates high activity with increased temperatures — the global warming crowd of activists who pose as scientists are going to claim that their consensus prediction is right, that fossil fuels are warming the Earth. This claim however will still be a consensus opinion, not based on proven data, with so many uncertainties that any good scientist should dismiss it.
Unfortunately, there are very few good scientists left, and those remaining have no power and realize if they speak out the blacklisting culture of today will squash them. Dissent in science on the subject of global warming is simply not allowed.
Nor will there be many dissenters. The present generation of scientists has been well indoctrinated. They all believe global warming is coming, and that warming can only be caused by human activity. They will not question that claim, but instead will be easily convinced that any new climate warming proves it right.
And that certainty will mean they will ignore the Sun. Thus the real mystery — far more complex than any consensus can ever imagine — will remain unsolved.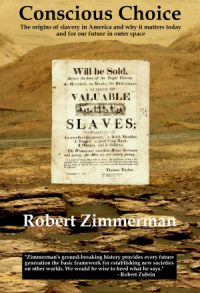 Now available in hardback and paperback as well as ebook!
From the press release: In this ground-breaking new history of early America, historian Robert Zimmerman not only exposes the lie behind The New York Times 1619 Project that falsely claims slavery is central to the history of the United States, he also provides profound lessons about the nature of human societies, lessons important for Americans today as well as for all future settlers on Mars and elsewhere in space.
Conscious Choice: The origins of slavery in America and why it matters today and for our future in outer space
, is a riveting page-turning story that documents how slavery slowly became pervasive in the southern British colonies of North America, colonies founded by a people and culture that not only did not allow slavery but in every way were hostile to the practice.
Conscious Choice
does more however. In telling the tragic history of the Virginia colony and the rise of slavery there, Zimmerman lays out the proper path for creating healthy societies in places like the Moon and Mars.
"Zimmerman's ground-breaking history provides every future generation the basic framework for establishing new societies on other worlds. We would be wise to heed what he says." —Robert Zubrin, founder of founder of the Mars Society.
All editions are available at Amazon, Barnes & Noble, and all book vendors, with the ebook priced at $5.99 before discount. The ebook can also be purchased direct from my ebook publisher, ebookit, in which case you don't support the big tech companies and I get a bigger cut much sooner.
Autographed printed copies are also available at discount directly from me (hardback $24.95; paperback $14.95; Shipping cost for either: $5.00). Just email me at zimmerman @ nasw dot org.