The May update of NOAA's monthly graph is now available, once again showing the Sun's sunspot activity during this ramp up to solar maximum far exceeding the predictions. That graph is below, annotated by me with additional data to provide some context.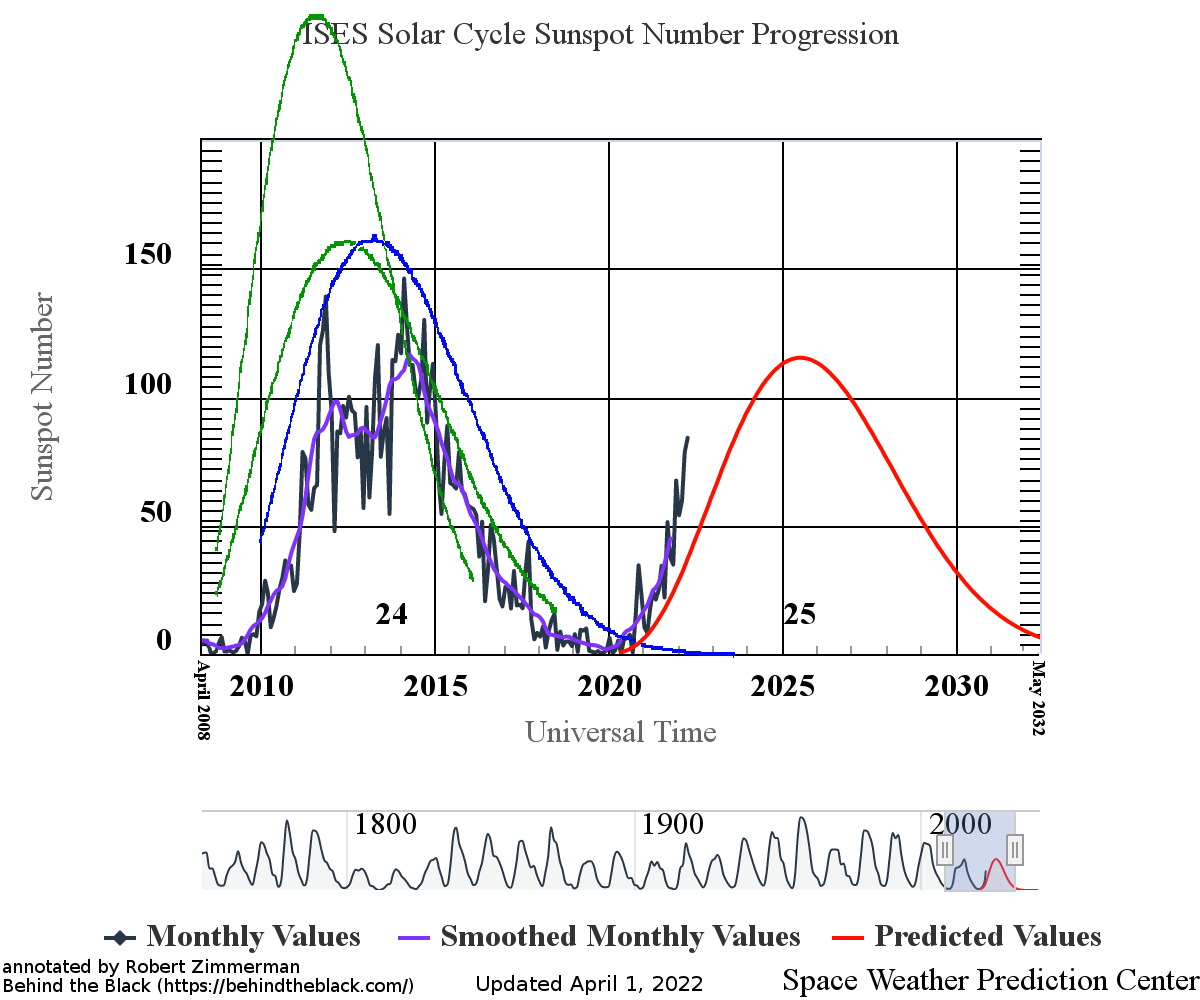 The graph above has been modified to show the predictions of the solar science community for the previous solar maximum. The green curves show the community's two original predictions from April 2007 for the previous maximum, with half the scientists predicting a very strong maximum and half predicting a weak one. The blue curve is their revised May 2009 prediction. The red curve is the new prediction, first posted by NOAA in April 2020.
The continuing high activity is somewhat startling, when compared to the prediction. The NOAA panel of solar scientists had predicted that the sunspot number for April 2022 would be 37.1. Instead, the actual number was 84.1, more than twice as high. Nor is this an outlier. Last month for example the prediction had been 34.1 but the actual sunspot count had been 78.5. Thus, while the March number had been 44.5 higher than predicted, in April the number was 47 higher. The excess above the prediction had increased.
This has been the consistent pattern since the end of the solar minimum and the start of increased sunspot activity in 2020.
The very steep rise in sunspots since the start of '21 continues to suggest that the next maximum will both come early and be far more powerful than predicted by NOAA's panel of solar scientists. This pattern also suggests now strongly that the outlier prediction of a handful of solar scientists that this maximum will be a very strong one will be the correct one.
If the solar maximum does end up as powerful as presently indicated, it will mean that for the second solar cycle in a row the consensus predictions of the solar scientist community were wrong. This is not a criticism of these scientists, since they are all somewhat guessing as they do not yet fully understand the processes in the Sun's dynamo that produce the solar cycle.
Instead, these failed predictions prove clearly the foolishness of relying on any consensus in science. Scientific results are not determined by democracy, by who gets the most votes. They are instead determined solely by who gets it right, even if only one person does so and everyone else disagrees.
Copernicus proved that. So did Galileo. As physicist Richard Feynmann once explained,
It doesn't make a difference how beautiful your guess is, it doesn't make a difference how smart you are, who made the guess, or what his name is. If it disagrees with experiment, it's wrong.
Watch this full clip from his lecture. It is definitely worth it.
The Sun has now for more than two decades shown how little the community of solar scientists know about it. What is fascinating to me is that the solar scientists know this. When I have interviewed them about the Sun's unexpected behavior they have almost all been routinely humble about their understanding. They recognize that they are "guessing," as Feynman puts it.
It has instead been the general public and reporters who assume these scientists know, and that their predictions are certain to be right. Modern society now treats scientists almost like as if they are witch doctors: What they say must be true. If Anthony Fauci says we must wear one mask, we must. If the next day he says we must wear two or three, then we must. If a week later he says masks won't help and we should not use them, then we must stop using them.
It no longer matters that no research of any kind justified any of Fauci's statements. He said it, he is a scientist, and therefore he must be right!
The entire Wuhan debacle resulted from this blind faith in scientists. It gave them a power over society they did not warrant. Worse, too many of them, like Fauci, abused that power.
It is time we stopped worshiping these human beings and begin treating them with the normal skepticism a healthy rational society affords everyone.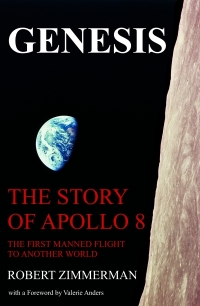 On Christmas Eve 1968 three Americans became the first humans to visit another world. What they did to celebrate was unexpected and profound, and will be remembered throughout all human history. Genesis: the Story of Apollo 8, Robert Zimmerman's classic history of humanity's first journey to another world, tells that story, and it is now available as both an ebook and an audiobook, both with a foreword by Valerie Anders and a new introduction by Robert Zimmerman.
The ebook is available everywhere for $5.99 (before discount) at
amazon
, or direct from my ebook publisher,
ebookit
. If you buy it from
ebookit
you don't support the big tech companies and the author gets a bigger cut much sooner.
The audiobook is also available at all these vendors, and is also
free with a 30-day trial membership to Audible.
"Not simply about one mission, [Genesis] is also the history of America's quest for the moon... Zimmerman has done a masterful job of tying disparate events together into a solid account of one of America's greatest human triumphs."--San Antonio Express-News