The May update of NOAA's monthly graph is now available, once again showing the Sun's sunspot activity during this ramp up to solar maximum far exceeding the predictions. That graph is below, annotated by me with additional data to provide some context.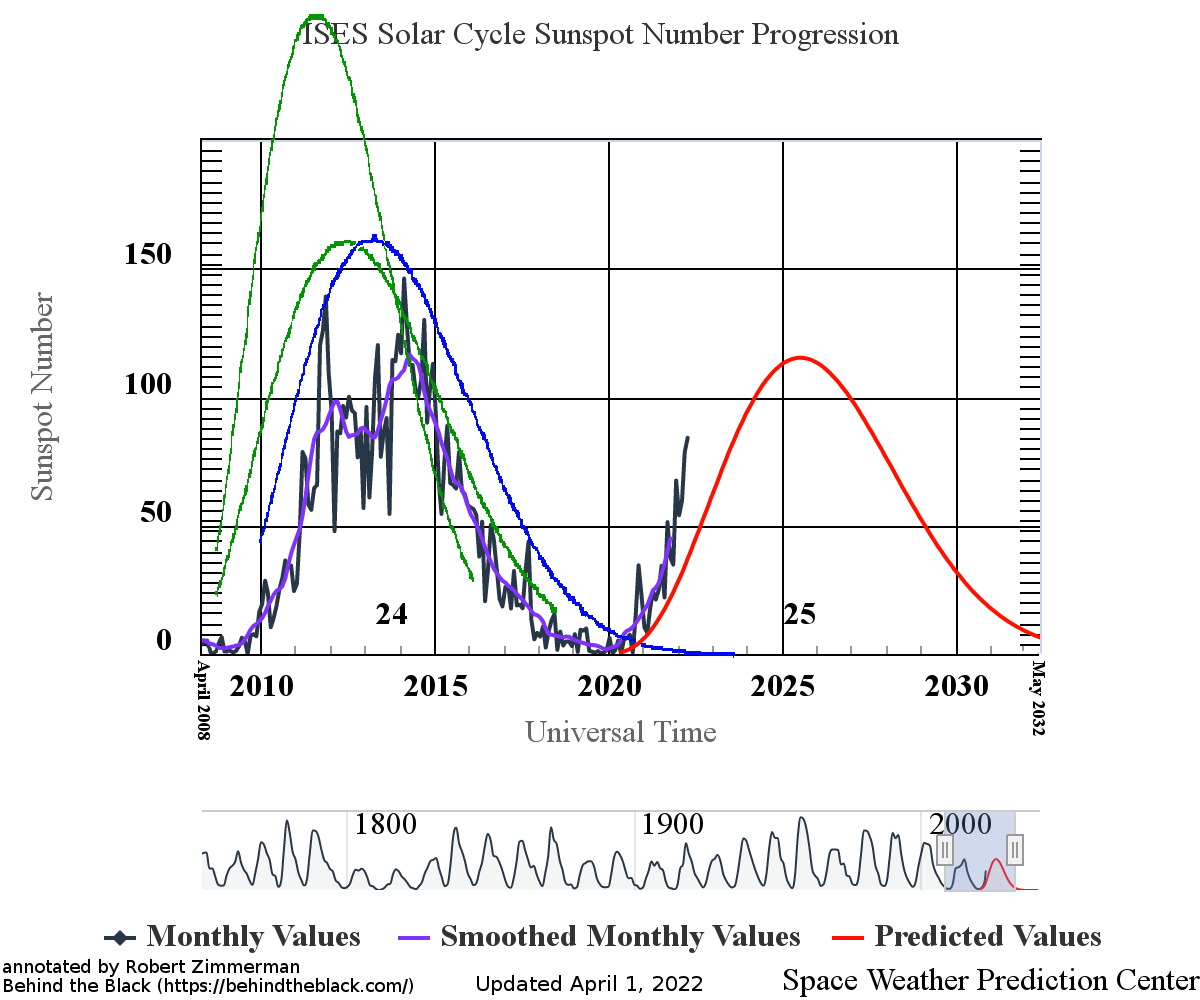 The graph above has been modified to show the predictions of the solar science community for the previous solar maximum. The green curves show the community's two original predictions from April 2007 for the previous maximum, with half the scientists predicting a very strong maximum and half predicting a weak one. The blue curve is their revised May 2009 prediction. The red curve is the new prediction, first posted by NOAA in April 2020.
The continuing high activity is somewhat startling, when compared to the prediction. The NOAA panel of solar scientists had predicted that the sunspot number for April 2022 would be 37.1. Instead, the actual number was 84.1, more than twice as high. Nor is this an outlier. Last month for example the prediction had been 34.1 but the actual sunspot count had been 78.5. Thus, while the March number had been 44.5 higher than predicted, in April the number was 47 higher. The excess above the prediction had increased.
This has been the consistent pattern since the end of the solar minimum and the start of increased sunspot activity in 2020.
The very steep rise in sunspots since the start of '21 continues to suggest that the next maximum will both come early and be far more powerful than predicted by NOAA's panel of solar scientists. This pattern also suggests now strongly that the outlier prediction of a handful of solar scientists that this maximum will be a very strong one will be the correct one.
If the solar maximum does end up as powerful as presently indicated, it will mean that for the second solar cycle in a row the consensus predictions of the solar scientist community were wrong. This is not a criticism of these scientists, since they are all somewhat guessing as they do not yet fully understand the processes in the Sun's dynamo that produce the solar cycle.
Instead, these failed predictions prove clearly the foolishness of relying on any consensus in science. Scientific results are not determined by democracy, by who gets the most votes. They are instead determined solely by who gets it right, even if only one person does so and everyone else disagrees.
Copernicus proved that. So did Galileo. As physicist Richard Feynmann once explained,
It doesn't make a difference how beautiful your guess is, it doesn't make a difference how smart you are, who made the guess, or what his name is. If it disagrees with experiment, it's wrong.
Watch this full clip from his lecture. It is definitely worth it.
The Sun has now for more than two decades shown how little the community of solar scientists know about it. What is fascinating to me is that the solar scientists know this. When I have interviewed them about the Sun's unexpected behavior they have almost all been routinely humble about their understanding. They recognize that they are "guessing," as Feynman puts it.
It has instead been the general public and reporters who assume these scientists know, and that their predictions are certain to be right. Modern society now treats scientists almost like as if they are witch doctors: What they say must be true. If Anthony Fauci says we must wear one mask, we must. If the next day he says we must wear two or three, then we must. If a week later he says masks won't help and we should not use them, then we must stop using them.
It no longer matters that no research of any kind justified any of Fauci's statements. He said it, he is a scientist, and therefore he must be right!
The entire Wuhan debacle resulted from this blind faith in scientists. It gave them a power over society they did not warrant. Worse, too many of them, like Fauci, abused that power.
It is time we stopped worshiping these human beings and begin treating them with the normal skepticism a healthy rational society affords everyone.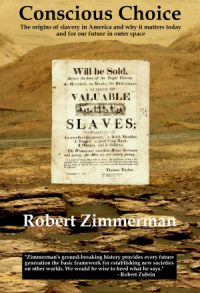 Now available in hardback and paperback as well as ebook!
From the press release: In this ground-breaking new history of early America, historian Robert Zimmerman not only exposes the lie behind The New York Times 1619 Project that falsely claims slavery is central to the history of the United States, he also provides profound lessons about the nature of human societies, lessons important for Americans today as well as for all future settlers on Mars and elsewhere in space.
Conscious Choice: The origins of slavery in America and why it matters today and for our future in outer space
, is a riveting page-turning story that documents how slavery slowly became pervasive in the southern British colonies of North America, colonies founded by a people and culture that not only did not allow slavery but in every way were hostile to the practice.
Conscious Choice
does more however. In telling the tragic history of the Virginia colony and the rise of slavery there, Zimmerman lays out the proper path for creating healthy societies in places like the Moon and Mars.
"Zimmerman's ground-breaking history provides every future generation the basic framework for establishing new societies on other worlds. We would be wise to heed what he says." —Robert Zubrin, founder of founder of the Mars Society.
All editions are available at Amazon, Barnes & Noble, and all book vendors, with the ebook priced at $5.99 before discount. The ebook can also be purchased direct from my ebook publisher, ebookit, in which case you don't support the big tech companies and I get a bigger cut much sooner.
Autographed printed copies are also available at discount directly from me (hardback $24.95; paperback $14.95; Shipping cost for either: $5.00). Just email me at zimmerman @ nasw dot org.