Even though we are now deep into the beginning of what might become the first grand minimum in sunspot activity since the invention of the telescope, that does not mean the Sun has as yet stopped producing sunspots. Yesterday NOAA released its the monthly update of its tracking of the solar cycle, adding sunspot activity for March 2019 to its graph. Below is that graph, annotated by me to give it some context.
It shows the Sun with a slight burst in activity in March, suggesting that though we are now in the solar minimum that minimum still has the ability to produce sunspots.
At the same time, for me to say that we might be heading to a grand minimum, a time period lasting many decades where no sunspots are visible and the sunspot cycle essentially ceases, is not click bait or hyperbole. It is instead based on what I now think the solar science community is thinking, based on this very graph.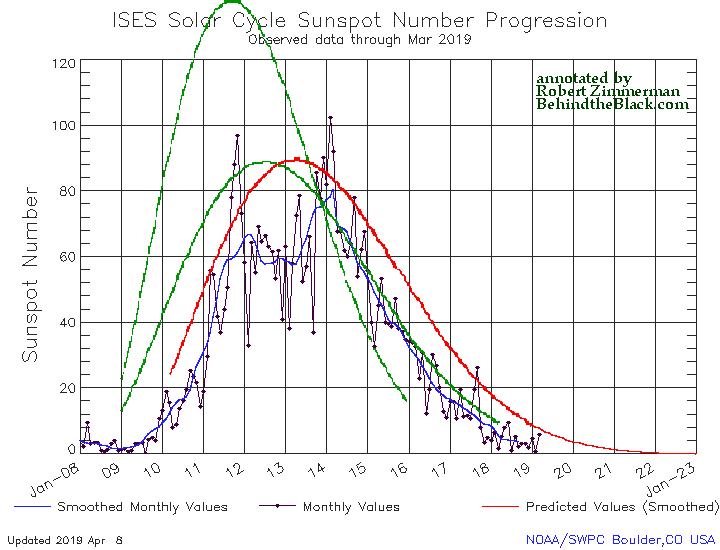 The graph above has been modified to show the predictions of the solar science community for the previous solar maximum. The green curves show the community's two original predictions from April 2007, with half the scientists predicting a very strong maximum and half predicting a weak one. The red curve is their revised May 2009 prediction, extended in November 2018 four years into the future.
For past half dozen or so cycles the solar science community had issued its prediction for the upcoming solar maximum at about this stage in the overall cycle, during the final ramp down to minimum when it was clear that the Sun had entered that minimum.
This cycle's prediction however has not yet happened, and in fact appears to be late. In fact, the extension of the May 2009 red curve that was made in November 2018 might very well be the only prediction we see. That extension is shown by the differences between the green 2007 prediction and the red 2009 prediction in the graph. Before November 2018 both curves ended at the same place, the end of 2018.
The extension of that red curve is important. As I noted in my December 2018 sunspot update,

If you look at that curve it drops to zero and then flatlines for the entire year of 2022.

If this is what the solar science community now expects for this upcoming minimum, it means that community is now expecting a record-breaking minimum, lasting far longer than any previous minimum, two to three years at least. It also means that they have not dismissed the possibility that the Sun is about to enter a Grand Minimum, where no significant sunspot activity is seen for literally decades.
At the time I wrote that, I fully expected a new prediction for the next cycle to be issued soon. Half a year later no such prediction has been made, and I now think this has not yet happened because the solar science community is sincerely unsure what is going to happen. Though some scientists have stated publicly their belief that this upcoming minimum will either be significantly deep, or part of a Grand Minimum, others have predicted that the next maximum will be stronger than the last, and will start this very year.
Because of these disagreements and the large uncertainties they now face, I think that rather than commit to a prediction that is likely to turn out badly wrong, they have decided to wait a bit until they have a better feel for what is happening.
The extension to the red curve above however reveals a great deal about the overall sense of that solar science community. While they do not yet wish to make a public splash announcing a new prediction, the bulk of that community appears to favor a very very long and weak minimum. That red curve predicts a minimum that is at least twice as long as any previously recorded minimum, with no indication when that minimum will end.
In other words, solar scientists are now seriously considering the possibility that we are at the start of a Grand Minimum.
The consequences of this possibility will be profound. First, it will afford scientists a golden opportunity to study the Sun as it behaves in a manner unprecedented since the advent of the space age. They now have the right tools to conduct this research, and what they will learn will hopefully help explain why a star like the Sun behaves as it does.
Second, and as important, experiencing a grand minimum will finally help confirm the Sun's influence on the climate. Past data strongly suggests a global cooling of the climate during past grand minimums, followed by warming during times of high sunspot activity. This data however is somewhat uncertain. If the climate cools during a new grand minimum, as many scientists predict and as much recent data appears to confirm, this will help clarify this fact.
More importantly , it will also force the climate science community to stop focusing solely on atmospheric carbon dioxide as the only factor influencing the Earth's climate temperature. In recent years, for numerous political reasons, they have become obsessed with carbon dioxide to the exclusion of all else, to a point that some are even tampering with data to make it fit their theories.
Yet, carbon dioxide remains a trace gas in the atmosphere, despite its increase in recent years. In fact, of all the players that produce global warming it is a minor player. By far water in the atmosphere does almost all the work, and if it wasn't there the climate would be ten to twenty degrees cooler.
Every single one of the global warming models admit this. Those models don't call for the increased CO2 to directly warm the atmosphere. Instead, they claim that it will cause "feedback" with the atmosphere's water, causing it to act to warm the climate.
None of these models have so far worked. All have failed to predict the climate's fluctuations in the past two decades. The differences so far have not been enough however to force climate scientists to rethink their theories.
Should a grand minimum happen and be accompanied by a significant cooling, however, it will shatter these models entirely, and it will expose the data tampering for all to see. This in turn will hopefully result in a house-cleaning and shake-up within that climate science community, resulting in a refreshing new look at the Earth's climate, less influenced by the politics that have been warping it.
Thus, a grand minimum will not only teach us a lot about the Sun and the climate. It might very well allow for a new renaissance within the scientific community, forcing out the religious believers in human-caused global warming who for the past three decades have squelched all debate.
Instead, a grand minimum will allow the real scientists, open to the actual data and not shackled to their pet theories, to shine, to put them in a position to once again run the show.
UPDATE: one of my readers today pointed me to this announcement from several days ago on April 5, 2019, in which a prediction for the next solar cycle was announced.
Solar Cycle 25 Prediction Panel experts said Solar Cycle 25 may have a slow start, but is anticipated to peak with solar maximum occurring between 2023 and 2026, and a sunspot range of 95 to 130. This is well below the average number of sunspots, which typically ranges from 140 to 220 sunspots per solar cycle. The panel has high confidence that the coming cycle should break the trend of weakening solar activity seen over the past four cycles.

"We expect Solar Cycle 25 will be very similar to Cycle 24: another fairly weak cycle, preceded by a long, deep minimum," said panel co-chair Lisa Upton, Ph.D., solar physicist with Space Systems Research Corp. "The expectation that Cycle 25 will be comparable in size to Cycle 24 means that the steady decline in solar cycle amplitude, seen from cycles 21-24, has come to an end and that there is no indication that we are currently approaching a Maunder-type minimum in solar activity." [emphasis mine]
According to this announcement, my guess above that some in the solar science community think a grand minimum is coming is incorrect. I will have to disagree. That I missed this announcement (even though I try to keep a close eye on what happens in this field) and that it was accompanied by no major press release, suggests that the panel does not have the full support of that community. Moreover, that they are delaying the release of their official prediction curve until later this year suggests that I am right when I say they wish to wait a bit before announcing any firm prediction.
Finally, the highlighted sentence above reveals a strong dishonest bias in this panel. The previous four cycles had not shown a weakening trend. If anything the three previous cycles, prior to the most recent weak one, had shown an increase in activity, illustrated by the high 2007 prediction. Many solar scientists at the time thought that rising trend was going to continue.
I suspect there remains considerable disagreement among solar scientists about what is going to happen, and like the field of climate science this announcement is merely the opinions of some in that community taking advantage of government largess to push their perspective.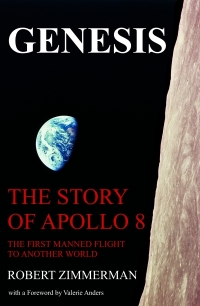 On Christmas Eve 1968 three Americans became the first humans to visit another world. What they did to celebrate was unexpected and profound, and will be remembered throughout all human history. Genesis: the Story of Apollo 8, Robert Zimmerman's classic history of humanity's first journey to another world, tells that story, and it is now available as both an ebook and an audiobook, both with a foreword by Valerie Anders and a new introduction by Robert Zimmerman.
The ebook is available everywhere for $5.99 (before discount) at
amazon
, or direct from my ebook publisher,
ebookit
. If you buy it from
ebookit
you don't support the big tech companies and the author gets a bigger cut much sooner.
The audiobook is also available at all these vendors, and is also
free with a 30-day trial membership to Audible.
"Not simply about one mission, [Genesis] is also the history of America's quest for the moon... Zimmerman has done a masterful job of tying disparate events together into a solid account of one of America's greatest human triumphs."--San Antonio Express-News