This analysis by Eric Berger at Ars Technica of the political situation surrounding SLS, Orion, Gateway, and the Trump administration's desire to quickly get back to the Moon is quite cogent and worth reading in full. It suggests that it will be very difficult for Trump to get his lunar landing, for several reasons. First, the Democrats in the House will likely not fund it. Second, because to get it done by 2024 will likely require switching to private rockets, and that action will be opposed by Senator Richard Shelby (R-Alabama). And third because there are factions in the NASA bureaucracy that are in love with SLS and Gateway and will work to save it.
This quote is most telling:
At NASA headquarters, [human spaceflight chief Bill] Gerstenmaier and this team that plays a central role in developing policy for the space agency are likely content to play a waiting game. Without an increased budget he can continue to spend money on developing the SLS rocket for some future launch date and begin procuring elements of the Lunar Gateway. He can make some small investments in a lunar lander but doesn't have to commit to its development before the end of next year, which may bring a new president and new priorities.
In other words, Bill Gerstenmaier, an unelected bureaucrat at NASA, has more power to determine U.S. space policy than elected lawmakers.
I ask, how does Gerstenmaier have the right to "develop policy for the space agency?" What legislative authority gives him the right to "play a waiting game" while continuing to "spend money on developing the SLS rocket… and procuring elements of Lunar Gateway?" These are policy decisions that belong solely to Congress and the President, not some hired government bureaucrat.
In a sense this story is only another reflection of the entire Russian collusion scandal. Hired government officials with no legal authority decide that they really know best, and this hubris allows them to supplant the decisions of lawmakers, and even attempt to overthrow them if necessary.
I reluctantly predicted this behavior back in June 2016 when I visited Washington and wrote this essay: The think tank culture of Washington:
What will this elite community do should Trump win the presidency and start demanding that they do things differently? Will they recognize that we are a democracy and work with him, the elected choice of the American people, or will they resist because he isn't the politician they wanted and wants to institute policies they disagree with?

…I fear that the culture of Washington is becoming increasingly hostile to and insulated against the choices of the American electorate. I fear that they will one day soon decide to team up with the politicians they like to use the concentrated power we have given them in Washington to reject those choices, even to the extent of tossing out the Constitution and the democratic legal system that made the United States once the freest and wealthiest nation in the history of the human race.

I hope I am wrong. I pray that I am wrong. I think we might very well find out in the coming year.
Sadly, what we have learned in the past three years is that this Washington think tank culture is quite willing to overthrow the Constitution and the law, to get what they want. The situation at NASA only gives us another example of this terrible reality.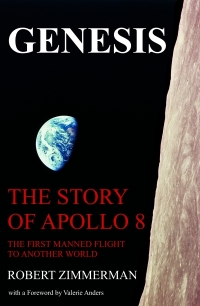 On Christmas Eve 1968 three Americans became the first humans to visit another world. What they did to celebrate was unexpected and profound, and will be remembered throughout all human history. Genesis: the Story of Apollo 8, Robert Zimmerman's classic history of humanity's first journey to another world, tells that story, and it is now available as both an ebook and an audiobook, both with a foreword by Valerie Anders and a new introduction by Robert Zimmerman.
The ebook is available everywhere for $5.99 (before discount) at
amazon
, or direct from my ebook publisher,
ebookit
. If you buy it from
ebookit
you don't support the big tech companies and the author gets a bigger cut much sooner.
The audiobook is also available at all these vendors, and is also
free with a 30-day trial membership to Audible.
"Not simply about one mission, [Genesis] is also the history of America's quest for the moon... Zimmerman has done a masterful job of tying disparate events together into a solid account of one of America's greatest human triumphs."--San Antonio Express-News