The new civility: Watch the numerous videos at this link of masked Antifa/Black Lives Matter rioters in Portland as they attack and abuse an old woman using a walker, who simply wants to protect a police precinct building from being vandalized and burnt to the ground.
Remember these facts about what you watch:
1. Democrat Jerry Nadler (D-New York) claims these hateful rioters are "a myth." Nadler is also typical of most Democratic politicians, who have for the past four years, since Trump was elected, treated these Antifa rioters (now joined by the Marxist, white-hating BLM crowd) as the SS wing of the Democratic Party. While they will sometimes disavow their violence, they do nothing to stop it, since it instills fear and submission among their opponents.
2. Watch and listen. These rioters epitomize hate in every way, in their dress, in their behavior, in their irrational violence, in their bigotry (assuming all who disagree with them are evil). And we are somehow supposed to let them do as they wish, because of the First Amendment?
3. Speaking of the First Amendment, since when did free speech morph into allowing a mob to rampantly loot, burn, and destroy whatever they want? Since when did it include the right to attack cars and even threaten to kill people?
4. Note how our politicians, mostly Democrats but helped by numerous weasel Republicans, have now normalized the wearing of masks, based not on any science but on irrational fear. We have now all been forced to adopt the garb of these hateful thugs. It is as if some mustached national leader required us all to wear armbands carrying the symbol of his political movement, with the threat of arrest if we dare to dissent.
Other than these minor details, everything these Portland "protesters" are doing is wonderful and perfect and must be defended blindly, forever. And don't dare say otherwise, or you will be doxed and they will come to your home to accost your family and your children.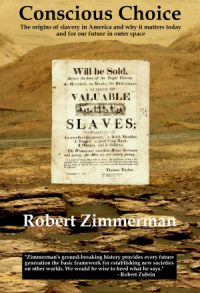 Now available in hardback and paperback as well as ebook!
From the press release: In this ground-breaking new history of early America, historian Robert Zimmerman not only exposes the lie behind The New York Times 1619 Project that falsely claims slavery is central to the history of the United States, he also provides profound lessons about the nature of human societies, lessons important for Americans today as well as for all future settlers on Mars and elsewhere in space.
Conscious Choice: The origins of slavery in America and why it matters today and for our future in outer space
, is a riveting page-turning story that documents how slavery slowly became pervasive in the southern British colonies of North America, colonies founded by a people and culture that not only did not allow slavery but in every way were hostile to the practice.
Conscious Choice
does more however. In telling the tragic history of the Virginia colony and the rise of slavery there, Zimmerman lays out the proper path for creating healthy societies in places like the Moon and Mars.
"Zimmerman's ground-breaking history provides every future generation the basic framework for establishing new societies on other worlds. We would be wise to heed what he says." —Robert Zubrin, founder of founder of the Mars Society.
All editions available at Amazon, Barnes & Noble, and all book vendors. The ebook can be purchased direct from my ebook publisher, ebookit, in which case you don't support the big tech companies and I get a bigger cut much sooner. Note that the price for the ebook, $3.99, goes up to $5.99 on September 1, 2022.
Autographed printed copies are also available at discount directly from me (hardback $24.95; paperback $14.95). Just email me at zimmerman @ nasw dot org.