Click for full resolution. The highest mountain on the right is about 450 feet high.
Even as the rover Perseverance is beginning its first science campaign on the floor of Jezero Crater, the rover Curiosity about 3,000 miles to the east has begun its climb into the mountains of Mars that surround the central peak of Gale Crater, Mount Sharp.
The mosaic above, made from two images taken by the rover's right navigation camera (here and here), shows what Curiosity sees ahead. Since my last update on June 4th describing Curiosity's future travels, the rover's science team has pushed forward directly uphill towards the entrance to the canyon Gediz Vallis, visible as the gap between the mountains to the right and left in the above mosaic.
The overview map below shows the rover's approximate present position, with the yellow lines indicating what the above photo is looking at.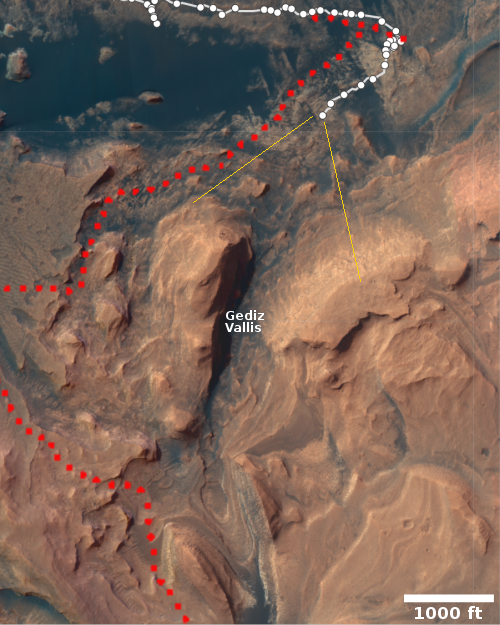 Click for original.
The dotted red line marks the original route the scientists had planned. It right now appears that instead of heading around the high mountains to the west to enter Gediz Vallis farther south, they are heading directly into the canyon. Though they will likely simply dip the rover's toe into the canyon, then back off and circle around as planned, this is not guaranteed. The rover's wheels are not in great shape, and the terrain they are traversing is quite rough. They may have decided it is more important to climb as high as they can as quickly as they can, to get to the sulfate unit of rocks indicated by the brightest tan layers on the overview map.
If they do as I am guessing, they will push into the canyon a short distance, then skirt very close to the base of the high butte forming the canyon's western wall as they head back to their planned route. This will give them excellent terrain to study the sulfate unit as soon as possible, while also affording them (and us!) some breath-taking views of the biggest Martian mountains ever viewed from ground-level.
I intend to post those images, as they occur, so stay tuned. The best part of Curiosity's Martian journey is now beginning.
Readers!
Please consider donating to Behind the Black, by giving either a one-time contribution or a regular subscription, as outlined in the tip jar below. Your support will allow me to continue covering science and culture as I have for the past twenty years, independent and free from any outside influence.
Your support is even more essential to me because I keep this site free from advertisements and do not participate in corrupt social media companies like Google, Twitter, and Facebook. I depend wholly on the direct support of my readers.
You can provide that support to Behind The Black with a contribution via Patreon or PayPal. To use Patreon, go to my website there and pick one of five monthly subscription amounts, or by making a one-time donation. For PayPal click one of the following buttons:

If Patreon or Paypal don't work for you, you can support Behind The Black directly by sending your donation by check, payable to Robert Zimmerman, to


Behind The Black
c/o Robert Zimmerman
P.O.Box 1262
Cortaro, AZ 85652