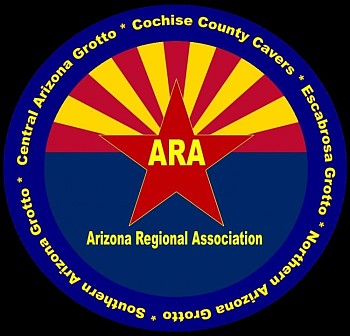 The ARA: An organization run by bullies
This past Saturday, January 28, 2023, another chapter in my own personal blacklisting saga took place. On that day the Arizona Regional Association (ARA), a division of the National Speleological Society, the country's national organization for cavers, held its annual winter technical meeting at Kartchner Caverns in Arizona.
It is this same organization had blacklisted me and two other individuals in November 2021 because they did not like our opinions about COVID. Its leadership therefore assumed that it also the right to eject us from the public event on Saturday. It was our intention to show them they were wrong.
The goal of the winter technical, which has been occurring annually for about a half century, is to allow southwest cavers to present papers highlighting their research and projects during the past year. While intended mostly for Arizona cavers, it has not been unusual for others from other parts of the country to present, especially if their work has some connection with Arizona. Consider it a very informal kind of scientific conference.
Thus, this event has always been open to the public, and in fact has always been designed as a form of outreach.
The Wuhan panic had unfortunately caused the winter technical to be canceled in 2021 and 2022. Thus, the January 2023 event was to be the first in-person winter technical since 2020.
It was also going to be the first in-person winter technical since this organization had blacklisted myself and two others. The history of that blacklisting all relates to the Wuhan panic. In the fall of 2021 the ARA leadership had finally decided to come out of their basements and hold a caving campout where cavers could socialize and go caving, but in doing so insisted that everyone who attended reveal whether they had gotten the jab, and if not, demanded they get tested for COVID 72 hours before.
I and about eight other people refused. We saw these rules as discriminatory. It also was was none of their business to demand we get the jab, or to demand we get tested. Nor was the jab going to protect anyone from COVID, since by the summer of 2021 there was already ample research showing its relative ineffectiveness.
Furthermore, this was an outdoor camping event. If anyone was scared of getting COVID, they could either easily stay away from others, or not come at all. Such people had no right to dictate what others had to do to ease their irrational fears.
When they realized that (1) they could not enforce their mandates, and (2) those mandates made no sense, the organizers cancelled the campout, and then decided to make three of us — the most outspoken — the scapegoats for that cancellation. In blacklisting us, however, the leaders of the ARA violated of their own constitution and bylaws. They held a show trial without obtaining the proper approval from the membership, and then outlawed us from the ARA for two years, even though those same rules gave them no power or right to do any such thing. Similarly, the leadership of one of the local southern Arizona clubs, Southern Arizona Grotto (SAG), banned me as well, and also did so in violation of its own constitution and bylaws.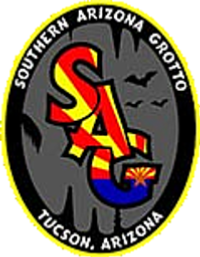 Southern Arizona Grotto: Also
run by bullies
Because their actions were fundamentally illegal by their organizations' own rules, I and Henry Schneiker (one of the others blacklisted) have made it a point to ignore their blacklist orders. In November 2022 we attended a public meeting of SAG, where the club's president, David Vidonic, and another member, Sarah Truebe, tried to order us to leave. Since it was a public event in a public place open to the public, we told them to go jump in a lake (I describe what happened that evening in detail here). Since then these bullies have moved all SAG meetings to private homes, hiding from us. What cowards.
The ARA winter technical this past weekend however was being held in a public place, open to the public. Henry and I once again decided to go, even though we had been told through friendly sources that the ARA officers were going to call security to get us ejected if we showed up.
Though attendees of the event did not have to pay the state's park entrance fee, when we arrived I insisted on paying the $7. I wanted that receipt to prove I was a legitimate paying member of the general public. When we entered the Kartchner Caverns visitor center, we immediately saw at the information desk a big poster outlining the program of the ARA winter technical event, being held in the auditorium. I asked the person behind the information desk if we could go in, and she said yes, of course, it is open to the public.
We went in and sat down, sitting next to another caver who immediately reached out to shake my hand in greeting. The second talk had just ended (we had purposely arrived fashionably late), and the third talk then proceeded. At the end of this talk a security guard came over with one of the event organizers, David Vidonic, and asked us to step outside. We did so.
The guard explained that, according to Vidonic, he and the ARA officers (Steve Smith, Ray Keeler, and Scott King) had requested the park remove us. I immediately showed my entrance receipt, explained that both I and Henry were members of the general public, the event was open to all, and that we had been quietly listening and causing no disturbance. "Can I please go back inside? I came to listen to the talks and am now missing them."
This wasn't good enough for Vidonic, who by the way had also been the SAG president who tried and failed to throw me out of that club's November meeting. After making more fruitless demands that we be thrown out, the guard noted bluntly but politely that I was legally correct, and that unless Vidonic and the ARA had a court order documenting the ban, we could not be ejected.
Since the ban had been instituted illegally, we all knew the ARA could never get any judge to issue such a thing. Henry quipped, "I love to see them try to get such an order."
I reiterated my request to go back inside. The guard then asked, "You promise to cause no disturbance?"
I said, "Of course. I came to hear the talks. However, if we go back inside I can't help worrying about some others there, some of which have been — how can I put this — somewhat aggressive. I am worried they might approach and threaten us, thus causing a disturbance."
The guard then offered to remain in the event for the entire day, to which Henry and I heartily agreed.
We then went back inside. Before we did so Vidonic demanded (that word again) I answer yes or no to this question: "Do you ever want to one day rejoin the caving community and be embraced by it?"
Though the proper answer was to tell him I was not there to be interrogated, this was not the time to say this. My focus was to demonstrate to the security guard my good will. I simply answered, "I can't answer that question now."
He then puffed himself up. "Well, if you do want to rejoin this community, you are going about it in the wrong way. Your behavior is getting people angry with you."
The hubris by this person was mind-blowing. Despite these people treating me like scum for the past fourteen months, he somehow had the insane expectation that I would of course want to be their pals again.
What he didn't realize was that his question could be reversed. If he and the other officers of the ARA wanted me to rejoin their little community, they were going about it in the wrong way. Their thuggish behavior, repeatedly harassing Henry and myself, was certainly not a way to win friends.
In fact, what sane person would ever want to associate with such power-hungry goons? Not me. I have now closed the door forever on some individuals. As I wrote in November, I had once considered some of these individuals as close friends, people with whom I would have laid down my life for. I have now discovered they don't know the meaning of friendship, and cannot be trusted.
Henry and I then sat through the rest of the event, chatting during breaks with a number of other cavers who held no ill will to us and actually wanted this whole drama to end. After the presentations, the ARA then held its annual business meeting, as it traditionally did at the end of the winter technical. By then, just about everyone had left except the ARA officers, a few local club officers, and Henry and I. Interest in the ARA among ordinary cavers was clearly nil. People might not want to be part of this battle, but they also don't want to be part of an organization that initiates it.
When shortly thereafter Henry and I left, the security guard followed us out and immediately thanked us for doing what we promised, causing no disturbance. Though he was obviously relieved he hadn't faced a more serious crisis, it also appeared he had realized we were not the true cause of this conflict.
The small victory against our blackballing hardly changes anything. We are still being subjected to a steady effort to harass us whenever we attempt to participate in any public caving event in Arizona. So far they tried twice (and failed) to throw us out of public meetings. Several clubs have switched their meetings from public venues to private ones in what appears to be an obvious effort to keep us out. I have also been told that one ARA officer is going to try to get me expelled from the one Arizona grotto that I have rejoined since last year's blacklisting, even though that club has no rules allowing such an action. I also expect that if we show up at any major ARA campout this year, they will try again to have us removed.
Outsiders must be asking: Why are these people so obsessed with making Henry and I non-persons? Did we really do something so terrible that requires this never-ending blacklisting campaign?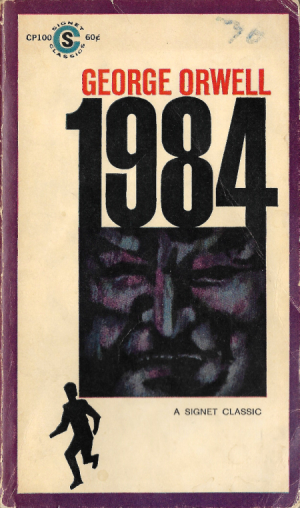 The instruction manual followed by the leaders
of these caving organizations
Well, this is what we did: For three years we boldly refused to bow to their COVID demands. They demanded all caving trips be canceled during the lockdown. We told them that was foolish, that getting together to go caving was perfectly safe, that the Wuhan flu was nothing more than a variation of the flu that did not merit such madness, and that getting together for social events was perfectly reasonable, even during the height of the panic. Therefore, as they huddled in their homes in terror, we continued to go caving and have a good time. We even enthusiastically and repeatedly invited them to join us!
They demanded we wear masks on cave trips. We told them that was absurd and refused to do it.
They insisted that all club meetings be held only by zoom. We told them that made no sense, and continued to get together in social groups without them.
They demanded anyone who was not jabbed was a leper who should be banned from every event. We told them that was discriminatory and irrational.
Did we die because we defied their demands? No, of course not. As I said, COVID was really nothing more than a variation of the flu, and such draconian measures were never appropriate or necessary. More important, it is now in retrospect common knowledge that the endless overbearing demands by these people were utterly wrong. They were wrong about lockdowns. They were wrong about masks. They were wrong about social distancing. They were wrong about the COVID shots.
Fundamentally, this is why these people keep trying to ban Henry and I. Our very presence infuriates them, because it makes it plain to their face how wrong they were. Rather than admit error — something any rational civilized adult should always be willing to do — they have decided that any evidence of their errors must be banned from existence.
We however will not be banned. The only way these control freaks can really control anyone is if we consent to their bullying. Well, neither Henry nor I will ever consent to bullying, and we will continue to tell them so, whenever we can.
Sadly, it appears that the two of us are mostly alone in this particular battle. I could get almost no one else to come to the ARA winter technical to support us. Nor was anyone who did attend willing, as a member in good-standing, to speak up on our behalf. Instead, as I mentioned, they all walked away.
This unwillingness of most Americans to resist bullies bodes very badly for the future. Bullies win when people run in fear from them. It appears most Americans are afraid and are eager to run.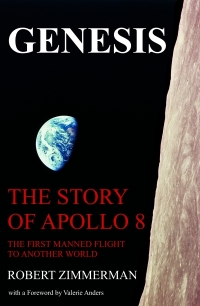 On Christmas Eve 1968 three Americans became the first humans to visit another world. What they did to celebrate was unexpected and profound, and will be remembered throughout all human history. Genesis: the Story of Apollo 8, Robert Zimmerman's classic history of humanity's first journey to another world, tells that story, and it is now available as both an ebook and an audiobook, both with a foreword by Valerie Anders and a new introduction by Robert Zimmerman.
The ebook is available everywhere for $5.99 (before discount) at
amazon
, or direct from my ebook publisher,
ebookit
. If you buy it from
ebookit
you don't support the big tech companies and the author gets a bigger cut much sooner.
The audiobook is also available at all these vendors, and is also
free with a 30-day trial membership to Audible.
"Not simply about one mission, [Genesis] is also the history of America's quest for the moon... Zimmerman has done a masterful job of tying disparate events together into a solid account of one of America's greatest human triumphs."--San Antonio Express-News