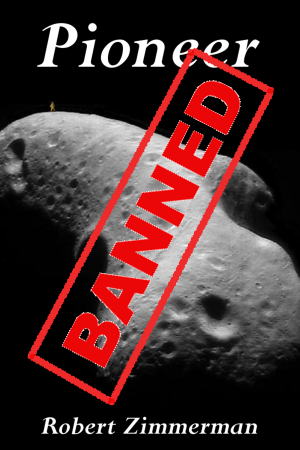 Banned because the author expressed an opinion.
After a year of daily reporting the blacklisting of hundreds of innocent Americans for merely expressing dissenting opinions, I am sad to say that the new leftist McCarthyism has finally come after me.
In December I was blackballed by most of the Arizona caving community because I had disagreed with their decisions to discriminate against anyone who had not gotten a COVID shot. One of the local clubs was going run an outdoor camping/caving event and had decided to require everyone who attended to either prove they had gotten the jabs or could show they were tested negative for the Wuhan flu in the past two days. I objected, first because this was discriminatory and was demanding private medical information from people that by law was forbidden, and second because the policy made no sense because the shots provided no certain protection against the virus.
Realizing that their policy was not going to do anything to protect anyone from COVID, the organizers cancelled the event out of fear, and then made both me and one other protesting caver scapegoats for their decision, demanding we be banned from all caving organizations. What made this particular action especially hurtful was that it was pushed and imposed by a number of people who I thought had been close friends. I instead discovered that they really didn't give a damn about me, and if I didn't bow to their political will they were most eager to make me a non-person.
So much for friendship, eh?
I hadn't reported this at length in public because it was essentially a personal matter. Now however this new fad of blacklisting anyone who disagrees with the new fascists and their medical mandates has reached out to try to hurt me and others professionally.

As I had announced on December 7, 2021, a kickstarter campaign will begin in one week, on January 18, 2022, to finance the creation of a video game based on my science fiction novel, Pioneer. You can read about it in detail at PioneerSpaceGame.com.
In promoting the campaign and the game, its producer Aaron Jenkin did what he usually does for all the video games he has produced. He contacted a variety of game journalists and game licensing companies to let them know. One site for game journalists immediately picked up the announcement and published it so that journalists would know about it and could choose to review it.
That's the good news. The bad news however is just another example of the intolerance of our times, and the fear that this intolerance is generating. When Aaron contacted a game licensor who had in the past routinely plugged his games, he was flatly turned down. As he emailed me,
Their endorsement could have been a huge help in funding the budget, but they declined because of concerns over Mr. Zimmerman's anti-vaccine rhetoric. Ridiculous, but it does shows that we really do need liberty lovers to step up.
The irony of this licensor's position is that it is fundamentally wrong. I am not "anti-vaccine." In fact, I don't think I have ever written anything expressly in opposition to getting the COVID shots. What I have written repeatedly is my unwavering opposition to mandates that force someone to get the shots. No one should ever be forced to take this experimental medicine. It should be up to the free choice of each individual.
Regardless, this licensor's hostility to any opinion questioning COVID shots, or possibly the fear of their own blackballing should it be discovered that they did not blackball Aaron's project, has denied the project its proper publicity.
When Aaron emailed me this bad news last night, I immediately apologized for putting him in the middle of this ugliness. I also asked him if I could write about it. His courageous answer:
No need to be sorry. I'm right where I want to be in this.

But yes, I think it's good to mention since it's something we'll need help to overcome.
It is hard to describe the relief I felt when I received this email. During the effort to blackball me from caving, I was mostly horrified by the unwillingness of too many people to stand up to that effort. People would mouth support to me privately, but then do nothing to defend me in public, thus allowing the bullies to win and cancel me.
Aaron however is not doing that. He is facing the onslaught, and going ahead with the game. He is doing this even though the action of this single licensor is not the only blacklisting he has experienced. He has had enormous trouble casting his voice actors because too many have done the same thing, backing out or refusing to work with him because of my stance on political issues. This intolerant opposition has delayed the game's release by more than a year.
No matter. As he wrote, ""We really do need liberty lovers to step up."
Will you step up? I know the game is going to be a marvelously fun thing and a great adaptation of my novel. Will you help by supporting the Kickstarter campaign when it opens on January 18th? You can also express that support now by signing up for campaign alerts here.
Give as little or as much as you wish. Or you can buy my book here or at amazon, Barnes & Noble, or other ebook vendors, and find out exactly why Aaron was so eager to produce a video game based upon it.
The amount isn't that important (though larger contributions will certainly be appreciated) but the act to publicly support Aaron and myself is. It isn't sufficient for a handful of determined individuals to stand up to these bullies. They must be joined by everyone who loves freedom, everywhere.
Readers!
I must unfortunately ask you for your financial support because I do not depend on ads and rely entirely on the generosity of readers to keep Behind the Black running. You can either make a one time donation for whatever amount you wish, or you sign up for a monthly subscription ranging from $2 to $15 through Paypal or $3 to $50 through Patreon.
Your support will allow me to continue covering science and culture as I have for the past twenty years, independent and free from any outside influence.
Your support is even more essential to me because I not only keep this site free from advertisements, I do not use the corrupt social media companies like Google, Twitter, and Facebook to promote my work. I depend wholly on the direct support of my readers.
You can provide that support to Behind The Black with a contribution via Patreon or PayPal. To use Patreon, go to my website there and pick one of five monthly subscription amounts, or by making a one-time donation. For PayPal click one of the following buttons:

If Patreon or Paypal don't work for you, you can support Behind The Black directly by sending your donation by check, payable to Robert Zimmerman, to


Behind The Black
c/o Robert Zimmerman
P.O.Box 1262
Cortaro, AZ 85652


Or you can donate by using Zelle through your bank. You will need to give my name and email address (found at the bottom of the "About" page). The best part of this electronic option is that no fees will be deducted! What you donate will be what I receive.