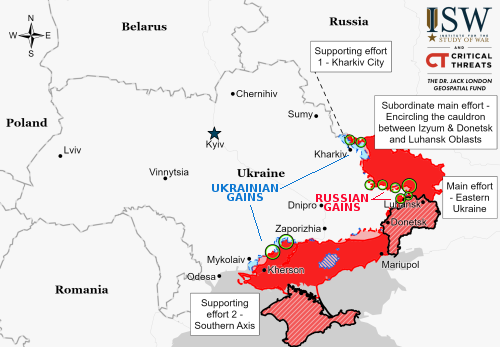 The Ukraine War as of June 6, 2022. Click for full map.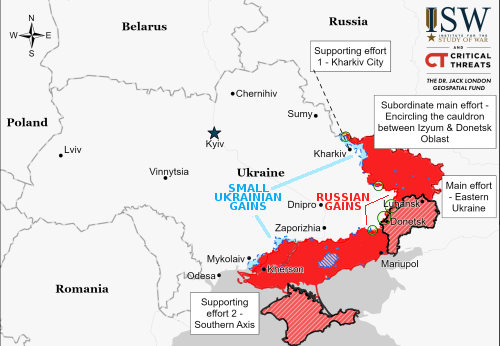 The Ukraine War as of August 30, 2022. Click for full map.
It is now more than three months since my June update on the war in the Ukraine. It is also six months since Russia first invaded.
No new updates were necessary because little had changed, as indicated by the two maps to the right, adapted from maps created by the Institute for the Study of War (ISW). For their full interactive version go here.
On both maps red indicates territory controlled by Russia, light pink areas that Russia only tentatively controlled, light blue areas recovered by the Ukraine from Russia, and blue-striped areas regions of documented Ukrainian resistance within Russian-controlled territories. The red-striped regions were regions grabbed by Russia during its 2014 invasion.
The top map is from ISW's June 6th assessment. The bottom map comes from its August 28th assessment.
Though I don't solely rely on ISW for information (it tends to favor the Ukraine in most of its analysis), its maps have repeatedly appeared reliable and accurate, which is why I use them here.
As you can see, in three months not much has changed. Russia continues to grind away in the middle regions, gaining territory slowly but steadily. The Ukraine meanwhile has either stopped any further Russian advance in the north or south, or has chipped away slightly at Russian holdings in these regions.

For weeks the Ukraine has hinted that it was about to begin a major counter-offensive in the south in an attempt to retake the city of Kherson and all territory Russia holds north of the Dnipro River. In preparation for that counter-offensive in the past few weeks Ukrainian forces have been attacking and destroying the bridges that cross this river, thus either preventing Russia from resupplying its forward troops, or limiting any retreat.
Yesterday Ukrainian officials announced that they had finally begun that offensive. At this time there is little confirmed information about how much success they are having, though rumors suggests they have made some breakthroughs. At the same time, Ukrainian officials have warned the public to expect progress to be slow.
All in all, the situation remains exactly as it was in June, a brutal stale-mate, with Russia so far showing the only real gains, though all those gains have been small, difficult, and costly. In fact, those gains have been so slow and difficult that Russia certainly won't be able to conquer the Ukraine any time soon, if at all. On August 25th Putin announced an increase in Russia's military forces by 137, 000 men, a number that is hardly enough to replace their losses, no less sufficient to fuel a more aggressive offensive.
Meanwhile, though the Ukraine has clearly shown some success at holding Russia to a standstill, it has shown little ability to retake much territory. If this new offensive in the south shows any success, it will be the first time that the Ukrainian military has actually won back territory, by its own effort. Previous Russian retreats occurred because of decisions in Moscow, not because of Ukrainian military victories.
One other factor appears to be in play. In the past few months there has appeared to be some evidence of increasing resistance to Russian occupying forces, either by Ukrainian partisans in occupied territory or by Donetsk and Luhansk forces who wanted independence from the Ukraine. These latter forces had allied with the Russians to kick the Ukrainians out, but now seem increasingly unwilling to help the Russians gain control of further Ukrainian territory. This increasing resistance in the Ukraine to Russia's invasion only adds more difficulties to Putin's effort.
From an American perspective, the utter failure of Russia to quickly win this war is a big win, no matter how it is eventually settled. Should the Ukraine manage to force Russia from further territories it will be an even bigger win for American interests. Russia's failure will have clearly demonstrated that it is no longer a significant military threat to the rest of the world. Our foreign policy strategy in Europe should thus reflect this, as it makes that strategy less challenging to implement.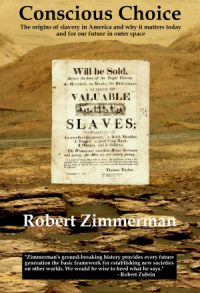 Now available in hardback and paperback as well as ebook!
From the press release: In this ground-breaking new history of early America, historian Robert Zimmerman not only exposes the lie behind The New York Times 1619 Project that falsely claims slavery is central to the history of the United States, he also provides profound lessons about the nature of human societies, lessons important for Americans today as well as for all future settlers on Mars and elsewhere in space.
Conscious Choice: The origins of slavery in America and why it matters today and for our future in outer space
, is a riveting page-turning story that documents how slavery slowly became pervasive in the southern British colonies of North America, colonies founded by a people and culture that not only did not allow slavery but in every way were hostile to the practice.
Conscious Choice
does more however. In telling the tragic history of the Virginia colony and the rise of slavery there, Zimmerman lays out the proper path for creating healthy societies in places like the Moon and Mars.
"Zimmerman's ground-breaking history provides every future generation the basic framework for establishing new societies on other worlds. We would be wise to heed what he says." —Robert Zubrin, founder of founder of the Mars Society.
All editions are available at Amazon, Barnes & Noble, and all book vendors, with the ebook priced at $5.99 before discount. The ebook can also be purchased direct from my ebook publisher, ebookit, in which case you don't support the big tech companies and I get a bigger cut much sooner.
Autographed printed copies are also available at discount directly from me (hardback $24.95; paperback $14.95; Shipping cost for either: $5.00). Just email me at zimmerman @ nasw dot org.