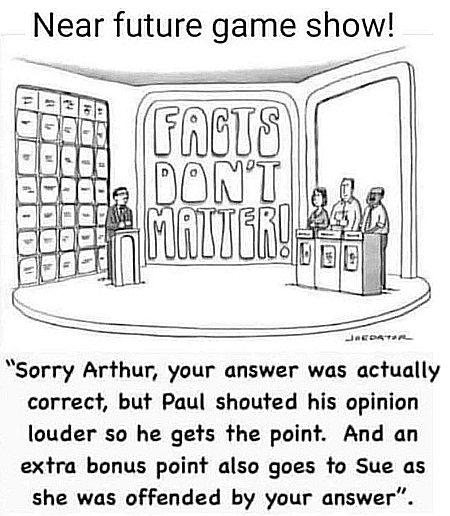 Modern science
For almost three years I have been documenting endlessly the utter failure of almost every policy imposed by politicians and government health officials in response to the COVID epidemic. From masks to social distancing to lockdowns to COVID shot mandates, none of their draconian rules have done anything to stop the spread of the Wuhan flu, which was always impossible anyway.
Even worse than these bad policies however has been the behavior of the scientific community the past three years. This community has increasingly put politics and narrative above the search for truth, a focus that signals a terrible cultural change that is so horrible its consequences can barely be measured.
To understand this tragedy we must first go back to what science and government once believed about epidemics. The traditional infectious disease policies that doctors and governments had successfully used for more than a century, based on real research and an honest appraisal of the facts by scientists, always recognized that it was impossible to "stop the spread" of a respiratory illness. What worked best was to protect the aged and sick, whom such diseases could kill, while allowing the virus to quickly spread through the rest of the healthy population in order to quickly create a herd immunity that would choke off the virus's early most virulent strains. The disease would then mutate to milder forms — essentially a cold — that the aged and weak could fight off.
The virus of COVID-19 has done exactly this, but along the way it killed many more older and sick people then necessary, because today's modern petty tyrants — encouraged by many scientists — decided instead to toss that past knowledge out. Herd immunity was delayed by the lockdown policies, and most governments did little to protect the aged and sick, with some governments even acting to introduce the virus to these threatened populations.
To underline the failure of these policies, here are just a small recent sampling of the growing research outlining the failures of masks, social distancing, and lockdowns:

These failures would be bad enough, if they were the only bad consequences of these bad policies. Unfortunately, these studies say nothing about the disaster in education and socialization to this generation's children. Nor do these studies mention anything about the unnecessary destruction of careers and businesses due to the lockdowns.
The studies above also say nothing of the deaths caused by the mandated COVID shots, a jab that we now know did little to even slow the spread of the Wuhan flu, no less stop it.
These unnecessary deaths and illnesses, caused by the jab, are horrible, but they are made even more horrible by the lies of politicians and government health officials:
Disastrous policy failures such as these however can actually become a good thing in the long run, if the policy-makers in charge are open-minded enough to recognize their mistakes and reverse course. Unfortunately, we have seen little rethinking by Democratic Party politicians. Even now, they talk of requiring people to once again wear masks, despite the evidence that masks are useless and in many cases very counter-productive.
When scientists however are close-minded, the fundamental foundation of western civilization crashes. The scientific method, requiring the honoring of truth and facts no matter where each lead, took us out of the dark ages and into the Enlightenment, making possible the greatest renaissance of human existence in several million years of existence.
That search for truth, based on facts, however appears to be dying, as indicated by two articles this week in two of the world's top science journals.
Both articles seem entirely blind to the ample evidence that show the COVID shots, of all types, are generally not very effective in limiting the spread of COVID. From the Nature article:
[T]wo studies find that the number of deaths could be reduced by giving most of the population a fourth vaccine dose, combined with a high level of adherence to masking and reimposition of temporary restrictions on social interactions when death rates surge. These measures could also ease the burden on hospitals.

"It is never too late to flatten the curve," says Xi Chen, an economist at Yale University in New Haven, Connecticut, who studies China's public-health system.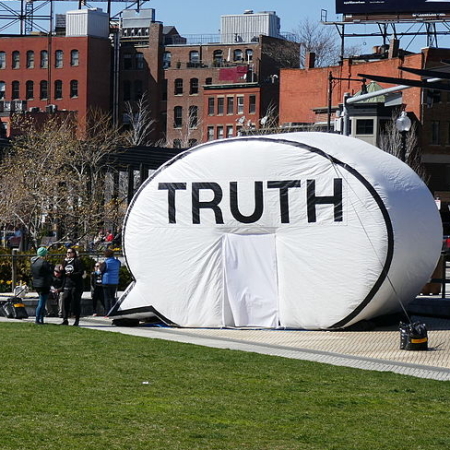 Scientists refusing to enter that door.
That Nature could publish such statements now is shameful. For example, just this week a new study of more than 50,000 people found that the more shots you got, the more times you got COVID.
Risk of COVID-19 increased with time since the most recent prior COVID-19 episode and with the number of vaccine doses previously received.
The shots are worse than useless in preventing the Wuhan flu. As are masks, social distancing, and lockdowns. That both Nature and Science seem willfully ignorant of these facts suggests the science community is no longer interested in discovering the truth.
Underlining this unwillingness to face the truth is the fact that both articles assume with remarkable naivety the reliability of these computer models predicting millions of deaths. Considering how badly written and completely wrong the original COVID computer models in 2020 were in predicting deaths, to treat such models now with such faith indicates once again a total desire by the science community, led by these two journals, to avoid reality in favor of belief.
Though I cannot get my hands on the exact quote, Newton once wrote that the biggest problem in science was too many theories. Rather than focus on data, he complained that researchers were too quick to propose explanations, even when they simply didn't have sufficient facts to back up their hypotheses.
It was this demand of Newton, Bacon, and all the other scientists of the Enlightenment to put facts first that brought us out of the dark age. To them, truth above all, even if it proved you wrong.
That modern scientists are now abandoning this standard only means that the dark age is returning.
I thank heaven that I was blessed to live during the last decades of that 500-hundred-year-long Enlightenment. It at least allowed me to see the bright and shining possibilities that an honest search for truth provides. I remain hopeful that someday future generations will once again renew that standard, and those bright and shining possibilities will illuminate humanity once again.
At the moment however we are faced with a dark future. The search for truth is being abandoned, and it will likely be generations before that search is renewed with enthusiasm.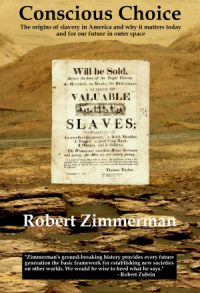 Now available in hardback and paperback as well as ebook!
From the press release: In this ground-breaking new history of early America, historian Robert Zimmerman not only exposes the lie behind The New York Times 1619 Project that falsely claims slavery is central to the history of the United States, he also provides profound lessons about the nature of human societies, lessons important for Americans today as well as for all future settlers on Mars and elsewhere in space.
Conscious Choice: The origins of slavery in America and why it matters today and for our future in outer space
, is a riveting page-turning story that documents how slavery slowly became pervasive in the southern British colonies of North America, colonies founded by a people and culture that not only did not allow slavery but in every way were hostile to the practice.
Conscious Choice
does more however. In telling the tragic history of the Virginia colony and the rise of slavery there, Zimmerman lays out the proper path for creating healthy societies in places like the Moon and Mars.
"Zimmerman's ground-breaking history provides every future generation the basic framework for establishing new societies on other worlds. We would be wise to heed what he says." —Robert Zubrin, founder of founder of the Mars Society.
All editions are available at Amazon, Barnes & Noble, and all book vendors, with the ebook priced at $5.99 before discount. The ebook can also be purchased direct from my ebook publisher, ebookit, in which case you don't support the big tech companies and I get a bigger cut much sooner.
Autographed printed copies are also available at discount directly from me (hardback $24.95; paperback $14.95; Shipping cost for either: $5.00). Just email me at zimmerman @ nasw dot org.