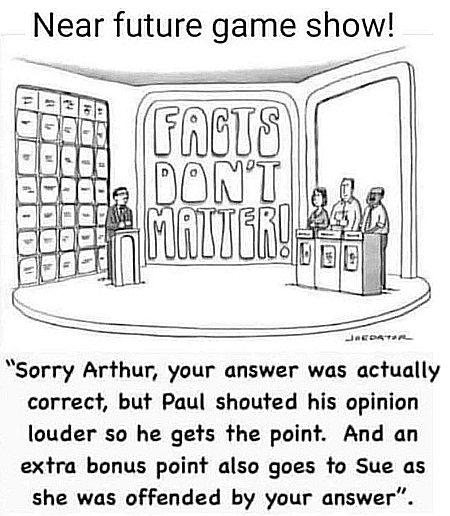 Health policy during the Wuhan panic
Since my last COVID update in June, the number of research papers has continued to show, with increasing force, the total and utter failure of every single one of the draconian edicts imposed on the pubic by leftist governments both in Democratic Party controlled states in the U.S. as well as worldwide.
Below are a small sampling of this accumulating research. Read it and weep.
My sorrow however comes from knowing that this knowledge was patently obvious from day one. This new research really isn't new, it confirms what was well known, and was confirmed quickly as early as March 2020. However, when skeptics like myself, mostly on the right, desperately tried to stem the panic, it was all to no avail. The government's edicts were always wrong, but no one wanted to listen. The data below merely confirms what all the data, before and during the Wuhan panic, was already telling us.

First and foremost, the lockdowns, mask, and social distancing mandates did not work.
In April 2020 I wrote:
Their actions have caused the entire economy to collapse, destroyed entire industrial sectors, prevented untold numbers from getting the proper healthcare when needed, and put millions of people out of work. In the end, this government-imposed depression will do far more harm that the Wuhan flu ever could, and do it for a much longer time spell.
That statement has now been proven true, over and over again.
Even as the government destroyed the economy and normal human social interaction, it also forced doctors to administer bad medical advice. During the panic the FDA and NIH both strongly rejected ivermectin as a treatment for COVID — despite ample evidence then that it worked — and encouraged hospitals and administrators to punish and blackball doctors who prescribed it to their patients.
And what have we now learned?
Meanwhile, government officials, led by Joe Biden, insisted that the COVID jab was the only way to protect yourself from the Wuhan flu, and it was so good that those who refused it were killers.
All those statements were lies.
These two stories are only a small sampling of the numerous examples in the past two months that show the jab did relatively little to stop the Wuhan flu, and could even have helped it spread. I also cited a number of other studies in my June post. The shot has only a very limited effectiveness over a very short time. It also can only work on the variant it is designed for, which is usually not the variant that is presently dominant.
And worse, there is now even evidence that the jab actually weakens the immune system, thus resulting in the patient getting COVID again. It also appears that the jab could very well be harmful.
After all this, the CDC finally in mid-August conceded that its recommendations were wrong.
Suddenly, social distancing was pointless, getting the jab provided you no advantage, masking was generally useless, and there was no need for constant testing for COVID. Like every single previous change since the arrival of COVID in 2020, these changes did not cite any new specific scientific research justifying them. The only difference now however is that these new guidelines actually conform closely to what research has taught us in the past hundred-plus years. All the other policy recommendations from the CDC since 2020 — the need for lockdowns, social distancing, and heavy use of masks — were contrary to that long-established data stream. So were the COVID shot mandates, which forced an untested experimental drug on millions, without clear evidence it was safe or effective.
Fortunately, the public has finally begun to catch on. Increasingly people have been ignoring any mask mandates imposed by Democrat politicians, to the point that those petty dictators have begun to abandon them. More important, the public has apparently had enough of the COVID jab.
Is the CDC's decision to finally revise its guidelines to match the science an indication that our government health officials can now be trusted once again? Hardly. In fact, not at all. A mere two weeks after the CDC revised those guidelines, the FDA approved a new set of COVID boosters, even though no human trials of those shots had been done.
Because the Biden administration has pushed for a fall booster campaign to begin in September, the mRNA vaccine-makers Pfizer-BioNTech and Moderna have only had time to test the reformulated shots in mice, not people. That means the Food and Drug Administration is relying on the mice trial data — plus human trial results from a similar vaccine that targets the original omicron strain, called BA.1 — to evaluate the new shots, according to a recent tweet from the FDA commissioner, Dr. Robert Califf.

That could be a potentially risky bet, experts say, if the shots don't work as well as hoped. [emphasis mine]
The real motive behind this approval was greed. The Biden administration was going to buy the boosters from Pfizer and Moderna, whether anyone used them or not. To make that purchase however required an FDA approval, and so, the health experts at the FDA, all closely linked to these big pharmaceutical companies, gave it.
Let me repeat this, since it has taken so long to get many Americans to finally consider it possible: The government and its health officials cannot be trusted. Nor should one trust your doctors or pharmacists nonchalantly.
Don't believe me still? Then listen to this phone conversation between a distraught father of a seven-year-old son and his pharmacist. The boy's mother had brought the boy in to get the jab, was not told about the jab's potential serious adverse effects, and he has now been diagnosed with a serious case of myocarditis that has reduced his life expectancy as short as five years.
The pharmacist admits they know of this risk, but won't tell parents about it because "it might scare the parents and they might not want their child vaccinated." The result is that this man's child now has a permanent heart condition that could kill him before he becomes a teenager.
The father's outrage and anger is horrifying, but entirely justified. As he says to the pharmacist, "What is wrong with you? Are you brain-dead?"
Meanwhile, I ask, what about all those skeptics like myself who never trusted the government, and got blacklisted because of this skepticism? We were right then. We are right now. Who will get us our reputations back? Who will end the ostracization and isolation that this vindictive blacklisting culture imposed on me and many others who refused to abide by the government-imposed foolishness?
No one I am sure. Those who have legal cases will likely win them with time, but in far more cases the damage is unrecoverable by the courts. Lives were damaged, and the damage cannot be fixed easily. At a minimum it would require the admission of wrong-doing by those that imposed the blacklist, but don't expect that to happen. The blacklisters remain in power, and are utterly convinced, despite the evidence, that they were right. Nothing will change their minds.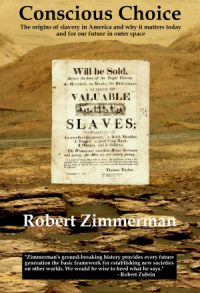 Now available in hardback and paperback as well as ebook!
From the press release: In this ground-breaking new history of early America, historian Robert Zimmerman not only exposes the lie behind The New York Times 1619 Project that falsely claims slavery is central to the history of the United States, he also provides profound lessons about the nature of human societies, lessons important for Americans today as well as for all future settlers on Mars and elsewhere in space.
Conscious Choice: The origins of slavery in America and why it matters today and for our future in outer space
, is a riveting page-turning story that documents how slavery slowly became pervasive in the southern British colonies of North America, colonies founded by a people and culture that not only did not allow slavery but in every way were hostile to the practice.
Conscious Choice
does more however. In telling the tragic history of the Virginia colony and the rise of slavery there, Zimmerman lays out the proper path for creating healthy societies in places like the Moon and Mars.
"Zimmerman's ground-breaking history provides every future generation the basic framework for establishing new societies on other worlds. We would be wise to heed what he says." —Robert Zubrin, founder of founder of the Mars Society.
All editions are available at Amazon, Barnes & Noble, and all book vendors, with the ebook priced at $5.99 before discount. The ebook can also be purchased direct from my ebook publisher, ebookit, in which case you don't support the big tech companies and I get a bigger cut much sooner.
Autographed printed copies are also available at discount directly from me (hardback $24.95; paperback $14.95; Shipping cost for either: $5.00). Just email me at zimmerman @ nasw dot org.