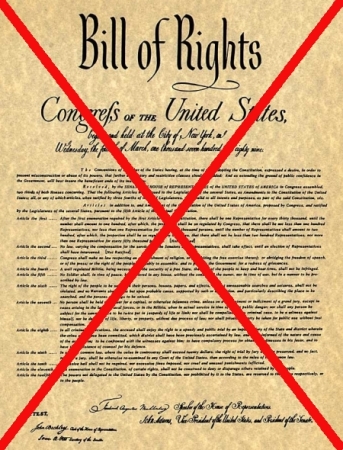 Freedom of speech cancelled at
North Carolina State University.
Fighting back: Stephen Porter, a tenured professor at North Carolina State University, has just filed a lawsuit against the university and several of its faculty for blackballing him for simply disagreeing with them on issues of politics and policy.
The introduction of the legal filing [pdf] outlines clearly the actions of the university's faculty, designed to destroy Porter's academic career:
[I]n retaliation for Professor Stephen Porter's protected expressions of opinion on important societal issues, Defendants have intentionally and systematically excluded him from departmental programs and activities that are necessary for him to fulfill his job requirements, effectively hollowing his job out from the inside. They have done this in a deliberate effort to set the stage for his eventual termination. … Defendants are gradually forcing Plaintiff into what is effectively a "rubber room" in retaliation for his criticisms of the so-called "social-justice" ideology that now prevails both in his department and in academia more broadly.
Read the whole complaint. It describes in ugly detail the efforts by his supervisors to isolate and ostracize him so it would be impossible for him to teach and maintain his job.
So, what exactly did Porter do to bring the wrath of these petty dictators down upon him? It certainly wasn't the quality of his work. According to course evaluations, which Porter sent me, his class work was consistently considered both "effective" and "excellent." Moreover, his scholarship was regularly cited by others, a sure sign that it was considered of high quality.
No, Porter's crime was daring to dissent from the leftist ideology that the administrators and many fellow teachers were trying to introduce into the program. His first sin was questioning the inclusion of a "diversity" question in the student course evaluations, thus encouraging students to evaluate their professors not on their ability to teach but on whether the teacher made subjects such as race and ethnicity a component of their courses.
The department head at the time, Penny Pasque, decided to interpret his question not as a valid example of reasoned debate but as "bullying," a tactic quite typical of the tyrannical left whenever anyone disagrees with them, no matter how civilly they do it. That false accusation was then used by Pasque to create a paper trail of lies that suggested Porter was abusive.
Porter was then condemned by Pasque because he dared criticize a university job search that ended picking as a finalist a known philander and embezzler who had been forced to resign from another university.
A faculty colleague, Alyssa Rockenbach, ran a faculty search that resulted in Terrell Strayhorn, a social justice scholar, as one of the finalists. He is widely regarded within the higher ed community as having defrauded Ohio State, slept with graduate students, and forced to resign his tenured full professorship due to his actions (you can read more about the faculty search here). Pasque wrote me up because I sent an email to a small group of faculty criticizing how Rockenbach ran the search.
From here the blackballing by Pasque and others in the school's administration accelerated. They reshaped the program in order to exclude Porter from it. They shut him out of all meetings. They denied him the opportunity to advise new students, while creating circumstances that made it impossible to properly advise the students already under his wing.
They repeatedly tried to get him to resign. Then Pasque — with the apparent approval of the department's dean — unilaterally removed him from a major component of the program while increasing his teaching load in a manner that was unprecedented for a tenured professor.
In all this, there was no hint that Porter's actual work as a professor was at fault. Instead, it appeared his students continued to approve of his work and attend his classes. More important, Porter's critics in the administration never raised questions about his work either.
Porter could have simply given up and left the university. Instead, he has decided to fight, taking a loan against his retirement funds while also refinancing his mortgage to fund the battle. (If you want to support him, you can do so by donating at his GoFundMe site here, or by donating to him directly at Paypal here.)
Though I have no idea if this lawsuit will work, I applaud Porter's courage and determination to stand up to these tyrannical bullies and to defend freedom of speech. Such courage and a willingness to fight is desperately needed in academia, as freedom is under attack there everywhere. For example, Porter's lawyer is also defending three other academics (see here, here, and here) who have also been blackballed by their universities for simply expressing dissenting opinions. I could have already devoted a blacklist column to each, but there are not enough days in the week to cover all these stories.
It seems to me that one of the best ways to exert influence on this state-financed university is for the North Carolina state legislature to take action. Unfortunately, though both houses of North Carolina's legislature are controlled by Republicans, they do not hold a veto-proof majority and the governor, Roy Cooper is Democrat. He recently vetoed a bill that would have banned the teaching of critical race theory in elementary schools.
Of course, that bill was another example of Republican failure theater. If they had simply cut the funding for schools that taught critical race theory, the Democrat governor would have had much more limited options. If he vetoed such a spending bill, he would have been vetoing all school spending. Instead, the Republican gave him an easy out, while positioning themselves to falsely claim they "fought" to stop such bigoted teaching, when they did nothing of the sort.
The legislatures of both Idaho and Iowa have proved that cutting funding works. In both cases the legislature threatened school funding, and in both cases the school administrators quickly responded by suspending or changing their programs.
This needs to happen in North Carolina. I think it would be most approprate for the citizens of this state to contact their local representatives and make this point heard, very loudly.
Similarly, both parents and students must stop attending such schools. The faculty and administrators of North Carolina State University apparently do not believe in freedom of speech or critical thinking, and instead think it right and proper to use censorship, threats, slanders, and blacklisting as debate tactics.
Is that what you go to college to learn? I think not. It seems an utter waste of time, money, and the precious brains of any student to be exposed to such a intolerant culture, even for a second.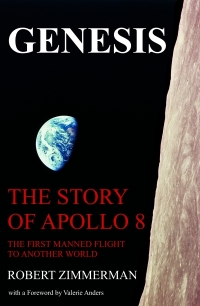 On Christmas Eve 1968 three Americans became the first humans to visit another world. What they did to celebrate was unexpected and profound, and will be remembered throughout all human history. Genesis: the Story of Apollo 8, Robert Zimmerman's classic history of humanity's first journey to another world, tells that story, and it is now available as both an ebook and an audiobook, both with a foreword by Valerie Anders and a new introduction by Robert Zimmerman.
The ebook is available everywhere for $5.99 (before discount) at
amazon
, or direct from my ebook publisher,
ebookit
. If you buy it from
ebookit
you don't support the big tech companies and the author gets a bigger cut much sooner.
The audiobook is also available at all these vendors, and is also
free with a 30-day trial membership to Audible.
"Not simply about one mission, [Genesis] is also the history of America's quest for the moon... Zimmerman has done a masterful job of tying disparate events together into a solid account of one of America's greatest human triumphs."--San Antonio Express-News