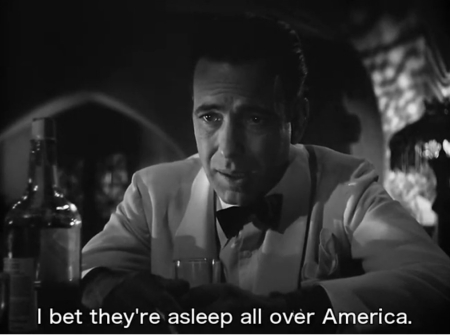 Still asleep, and tragically, they refuse to wake up.
Last week I took a break from publishing my daily "Today's blacklisted American" column. It is without doubt a depressing chore to detail day after day examples where power-hungry thugs smash their jackboots on the faces of innocent people, merely because those innocent people committed the horrible crime of disagreeing with thugs.
I found I needed that break. I also had sensed — from the overall decreasing interest by news aggregate sites in my column — that the news business, even the conservative news business, was becoming bored with these stories.
Worse, I sensed that many readers found these stories distasteful and wished to avoid them. Though I don't give a rat's ass that these ostriches (with their heads in the sand) were bothered, it was nonetheless depressing to sense such people existed, and nothing I did could ever penetrate their close-minded brains.
My post announcing this break sadly confirmed my worse fears.

First, I must note that almost all the comments to my post were supportive of my blacklist column and wanted it to continue. For that support I thank you all. It gives me some hope that there are many decent people out there.
However, there were a handful of comments which well illustrated the "It ain't my problem" attitude that really dominates our culture. You see, the people who wrote to support me I think are a self-selected minority that happens to congregate to this website because they agree with it.
To change the terrible direction we are heading, leading to more tyranny and oppression, my columns have to at some point have some impact with those who don't know or don't care. Sadly, it appears those who don't know or don't care don't wish to learn or want to remain uncaring.
For example, one person wrote this:
I skip the blacklist posts. "I'm a victim" posts don't resonate with me at all. I see them as suggestions that the designated enemy is powerful and we are weak. If we are weak, then we need to build up strength and that doesn't come from pointing at others but rather working on your own game.
This person first admits he doesn't read my blacklist posts, then proceeds to declare he knows exactly what the posts are about, and criticizes this made-up content. Talk about close-mindedness!
These columns have never really been about victimhood. Their goal has been to show everyone exactly how pervasive, powerful, and oppressive the blacklisting culture has become, in order to make people finally recognize it exists instead of making believe it is a petty problem that can be ignored.
For you see, for decades now I have watched ordinary people look the other way whenever the left commits evil acts. Either they don't want to know, or they consider such things irrelevant.
That evil however has never been irrelevant. It however now has become very powerful, because it is now beginning to impact millions, in the worst way. To look the other way now is no different than ignoring the screams of a woman during a rape. "Well, it ain't my problem, someone else will deal with it, I have things to do that interest me more."
Nor was this comment alone. Even someone who apparently is a supporter of my work said this:
I come here for the pictures and to hear what other people have to say about things. Politics has always been very boring to me.
Similarly, another regular reader added,
I must admit, I scroll past the political posts, they are mostly irrelevant to the world I live in.
Well, politics sure ain't boring or irrelevant to John Staake, owner of Your American Flag, whose business carving wood sculptures of Old Glory was not only banned by Facebook, Spotify, and PayPal, so his business was crushed, PayPal has refused to release more than $35,000 of his earnings.
And that's just one example of the more than a hundred I have documented since January, all of which were hardly boring or irrelevant to the victims.
Ignoring the obvious commission of evil because it bores you or it isn't your problem is a perfect example of Charles F. Aked's statement, "For evil to triumph good men need only do nothing." All three of these commenters are typical examples of this, and despite their small number on this webpage, it seems to me that they actually dominate modern society. And I say this from direct experience. No matter how many times I point out actual examples of horrible oppression committed by the left, I find it literally impossible to get the disinterested to believe that oppression happened, or worse, to even care.
It is just too boring for them. Or it is irrelevant. "So what they came for that conservative. I'm not conservative so why should it worry me?"
Well, to you disinterested and ignorant souls, you better start caring. As this evil grows it will begin eating everything around it. Soon, there will be nobody left for it to eat, except for you.
Meanwhile, I will go on. I dislike writing about such evil, but for good to triumph, I am forced to do it. Someday maybe that effort will finally cause the blind among us to wake up.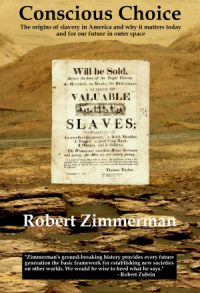 Now available in hardback and paperback as well as ebook!
From the press release: In this ground-breaking new history of early America, historian Robert Zimmerman not only exposes the lie behind The New York Times 1619 Project that falsely claims slavery is central to the history of the United States, he also provides profound lessons about the nature of human societies, lessons important for Americans today as well as for all future settlers on Mars and elsewhere in space.
Conscious Choice: The origins of slavery in America and why it matters today and for our future in outer space
, is a riveting page-turning story that documents how slavery slowly became pervasive in the southern British colonies of North America, colonies founded by a people and culture that not only did not allow slavery but in every way were hostile to the practice.
Conscious Choice
does more however. In telling the tragic history of the Virginia colony and the rise of slavery there, Zimmerman lays out the proper path for creating healthy societies in places like the Moon and Mars.
"Zimmerman's ground-breaking history provides every future generation the basic framework for establishing new societies on other worlds. We would be wise to heed what he says." —Robert Zubrin, founder of founder of the Mars Society.
All editions are available at Amazon, Barnes & Noble, and all book vendors, with the ebook priced at $5.99 before discount. The ebook can also be purchased direct from my ebook publisher, ebookit, in which case you don't support the big tech companies and I get a bigger cut much sooner.
Autographed printed copies are also available at discount directly from me (hardback $24.95; paperback $14.95; Shipping cost for either: $5.00). Just email me at zimmerman @ nasw dot org.