Joe Biden's anti-conservative rally on September 1, 2022
Blacklists are back and the Democrats have got 'em: According to pollsters, the vicious almost slanderous attacks by President Biden against Republicans and conservatives — following decades of similar harsh language from Democrats nationwide — is causing these voters to increasingly refuse to talk to pollsters about their opinions.
In a Twitter thread, Trafalgar Group chief pollster Robert C. Cahaly said that President Joe Biden's recent attacks on so-called "MAGA Republicans" will make polling supporters of former President Donald Trump even harder to poll than in previous years. Cahaly pointed out that in the last two presidential election cycles, name-calling and threats from prominent Democrats contributed to the phenomenon of the "shy Trump voter." But as the 2022 midterms have begun in earnest, Biden's escalating rhetoric against Trump supporters, accusing them of embracing "semi-fascism" and being a threat to America, will make these voters even harder to reach in polling.

"In 2016 Trump supporters were called 'Deplorables' and other unflattering names," Cahaly wrote on Twitter. "This was a major contributor to the 'shy Trump voter' phenomenon that 'most' polling missed which resulted in a major loss in public confidence for polling flowing the election."

"In 2020 people who supported Trump or espoused conservative values out of step with 'Woke' culture found themselves being 'canceled' or 'doxed,'" Cahaly continued. "This led to 'hidden voters' that 'most' polling under counted, therefore Trump support in key battleground states exceeded expectations. Now [the] Biden administration has essentially classified 'MAGA Republicans' as a threat to democracy marshaling federal law enforcement to focus on them. This move has created a new type of voter that will be even harder to poll or even estimate."

"I call this new group 'submerged voters,'" Cahaly went on. "They aren't putting stickers on their cars, signs in their yards, posting their opinions, or even answering polls. At this point I think it's fair to say that Biden's pursuit of and attacks on 'MAGA Republicans' has created an army of voters who will be virtually impossible to poll (even for us) and more difficult still to estimate."
Cahaly's conclusions were endorsed by numerous other pollsters. Essentially, what these surveyors are finding is that conservatives have become fearful of the Stalinist blacklisting culture that the Democrats have been espousing, and was epitomized by Biden's anti-Maga speech on September 1, 2022. Not only did Biden paint all his opponents as evil and fascists, he did it in front of a background that instantly invoked the many Hitler rallies in 1930s Germany. In fact, though I did not watch the speech, when I first saw images of it I couldn't believe it. I honestly thought this background was being faked by his conservative opponents, in an effort to illustrate the intolerant nature of the speech.
Instead, Biden and his administration themselves highlighted their intolerant nature, by their own choice of scenery.
Regardless, the result has been the terrified silencing of many ordinary conservatives. Rather than risk actual blacklisting to themselves or their families, Republicans are simply going quiet. They have blacklisted themselves, and are now desperately hoping that by voting strongly against this intolerant and oppressive Democratic Party in their secret ballot on election day in November, they will finally see this ugly blacklisting stopped.
The pollsters note that this silencing has essentially made it impossible to get reliable poll numbers prior to the election, especially in regions where are Democrats are presently in control. As one pollster noted in the article at the link, ""It raises the possibility that the apparent Democratic strength in Wisconsin and elsewhere is a mirage."
Robert C. Cahaly's comments above noted this pattern in the 2020 election, where the polls said Biden would easily win several states, when in fact he either lost or barely came out ahead. And in those close Biden victories — like Wisconsin and Arizona — there is ample evidence that the election results were tampered with to favor Biden, thus making the final Biden win questionable.
The reliability of the coming election of course could make the hidden Republican voter irrelevant. If the Democrats still have the ability to shift the vote illegally — which in many states it appears they still do — then it won't matter how many hidden Republican voters there are. The Democrats will shift the vote totals to guarantee a win, and will then follow up with even more vicious blacklisting, censorship, and oppression. Anyone who is so willing to cheat to win will have no reluctance to cement that fake victory with persecution.
In fact, Biden's speech and the Democrats' general behavior since 2020 strongly suggests they did cheat in that election. They certainly have not acted like they themselves believe they have the will of the people behind them. Instead, they have eagerly embraced tyranny, censorship, and persecution of their opponents.
If they should hold power after November 8th, we should expect them to ramp up exponentially their effort to smash a boot into the faces of anyone who challenges them.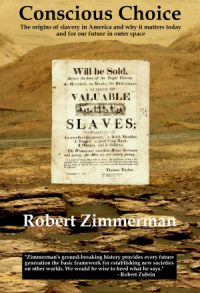 Now available in hardback and paperback as well as ebook!
From the press release: In this ground-breaking new history of early America, historian Robert Zimmerman not only exposes the lie behind The New York Times 1619 Project that falsely claims slavery is central to the history of the United States, he also provides profound lessons about the nature of human societies, lessons important for Americans today as well as for all future settlers on Mars and elsewhere in space.
Conscious Choice: The origins of slavery in America and why it matters today and for our future in outer space
, is a riveting page-turning story that documents how slavery slowly became pervasive in the southern British colonies of North America, colonies founded by a people and culture that not only did not allow slavery but in every way were hostile to the practice.
Conscious Choice
does more however. In telling the tragic history of the Virginia colony and the rise of slavery there, Zimmerman lays out the proper path for creating healthy societies in places like the Moon and Mars.
"Zimmerman's ground-breaking history provides every future generation the basic framework for establishing new societies on other worlds. We would be wise to heed what he says." —Robert Zubrin, founder of founder of the Mars Society.
All editions are available at Amazon, Barnes & Noble, and all book vendors, with the ebook priced at $5.99 before discount. The ebook can also be purchased direct from my ebook publisher, ebookit, in which case you don't support the big tech companies and I get a bigger cut much sooner.
Autographed printed copies are also available at discount directly from me (hardback $24.95; paperback $14.95; Shipping cost for either: $5.00). Just email me at zimmerman @ nasw dot org.