In the past two weeks the mainstream media, working for the Democratic Party, has blasted us with a new anti-Trump scandal, accusing the president of using his influence during a phone call with Ukrainian President Volodymyr Zelensky to pressure the Ukraine to instigate an investigation of Joe Biden.
As I usually do with big political stories such as this, I let them play out a bit before drawing some conclusions. I will admit that I immediately thought this was all balderdash, comparable to the same fake accusations against Trump in connection with Russian collusion. Those were never creditable, and after almost two years even Robert Mueller, the FBI hack chosen by DC insiders to frame Trump, found he had no evidence and came up empty.
The Trump-Ukraine accusations seemed at first glance to be the same garbage, but I decided to watch and wait, to see if they had substance.
Not surprisingly, they don't.
First we have the accusation itself, coming from an anonymous whisteblower. Not only is the accuser anonymous, so are all his or her sources. All.
Even more significant, the accusation is not based on first hand knowledge. The accuser was not witness to Trump's phone call. His claim is based entirely on hearsay and rumor, which would be laughed out of any court in the land. That anyone in the press is taking these accusations seriously based on this evidence proves they are, as Glenn Reynolds often says, merely Democratic operatives with bylines.
Second, soon after the press and the Democrats (I repeat myself) began to make a big deal about this feeble accusation, Trump went ahead and released the transcript of his conversation.
The transcript shows absolutely nothing scandalous. Trump asks the Ukraine to investigate Joe Biden's threat to cancel a billion dollar loan guarantee to Ukraine if they didn't fire the prosecutor investigating Biden's own son Hunter for corruption, a threat that Biden himself has openly bragged about. Trump isn't asking for any personal favors, he is doing his job as president. Moreover, at no time in the conversation does Trump threaten Ukraine if they don't follow through. If anything, it appears both he and Ukraine's leader Zelensky are in agreement from the start, both eager to clean out the rampant corruption that appears to be everywhere in the governments of both countries. (In fact, this was one of the central planks in Zelensky's campaign. Like Trump he was an outsider, as Zelensky himself says during the conversation, elected "to drain the swamp.")
The conversation itself makes the whistleblower's accusations [pdf] look absurd. The whistleblower accused Trump of putting pressure on Zelensky. He does not. The whistleblower says the Trump administration tried to bury the transcript. Trump instead releases it to the public. The whistleblower accuses Trump of initiating a legal attack on Biden, his political opponent. Though this last point has some truth, there is also ample evidence that such an investigation is justified, evidence that the whistleblower outlines himself in detail in his complaint.
Finally, the similarity of this story with the Russian collusion accusations convinced me it was garbage and should be dismissed. In both cases the accusations were absurd and quite flimsy. In both cases the accusations came from either anonymous or partisan sources that also appear very untrustworthy. And in both cases, as more evidence was uncovered the more untrustworthy those accusations appeared.
To escalate this story to an impeachment trial is beyond absurd. It borders on an effort by the Democrats to overturn the results of a legal election, for no cause but their desire for power. As far as they are concerned, elections and our Constitution are trash, and should be thrown out to allow them to rule unopposed, forever.
Making this story even more disturbing is what it tells us about Washington and the unelected bureaucracy there. Too many in the federal government still refuse to accept the results of the 2016 election, and too many appear aggressively willing to take any action to overturn it. The will of the majority means nothing to them.
For example, prior to this year no whistleblower could file a complaint unless they had direct knowledge of the misconduct. Hearsay was properly excluded, because that is mere rumor and gossip, and in the world of politics can too easily be abused.
However, mere weeks before the whistleblower filed his complaint, the Intelligence Community Inspector General Michael Atkinson revised the rules, allowing hearsay complaints to be filed.
This change, counter to every legal rule, allowed this hearsay accusation to be filed. Moreover, it allowed the complaint to include a large number of unsubstantiated accusations by a number of anonymous sources, all of whom work for the government and all of whom are apparently hostile to Trump and want him gone.
Some of these same people it appears tried this same tactic with the Russian collusion scam, and failed. It now appears they are trying it again with Ukraine, and the Democrats in the House are running with it to instigate impeachment proceedings. They want Trump removed from office, even though he was duly elected by the American people, according to law.
This particular story also illustrates something that to me has become very obvious: Every Democratic accusation against Trump or the Republicans is nothing more than projection. Whenever they falsely charge a conservative with some criminal or traitorous act, you can be damn sure that with only a little digging you will find that it is something they themselves have actually done.
Trump is colluding with Russia! Take a look at the Obama-Clinton deal to give Russia control of 20% of our uranium resources in exchange for cash.
Trump won't accept the results of the 2016 election! Take a look at everything Clinton and the Democrats have done to "resist" Trump since 2016.
Trump is illegally pressuring Ukraine! Take a look at Biden's threatened extortion of Ukraine, and the gobs of cash his son Hunter obtained in what appears to be a very corrupt deal.
I could go on. Time after time, when a Democrat accuses Trump or a Republican of some improper action, I guarantee if you are willing to take a look honestly you will find that it is because the Democrat has already done it.
Two points in conclusion. First, the impeachment coup now being undertaken by the Democrats in the House, based on no creditable evidence, is unfortunately something the American people voted for in 2018. The slanderous and power-hungry nature of this Democratic Party was made blatantly obvious during the Kavanaugh hearings, though that behavior had been on-going for years.
Yet, the American people rewarded the Democrats for that behavior by giving them control of the House of Representatives. No one should therefore be surprised by the Democratic impeachment effort. Too many Americans today are all for dictatorial rule, violence for the sake of power, and an end to our Constitution and the Bill of Rights. They voted for it in 2018, and the Democrats are merely giving them what they want.
Those of us who believe in freedom, the rule of law, and Constitutional government had better come to grips with this reality. We are possibly no longer the majority in this country, and might have fight hard to retain our freedom and rights.
Second, President Trump and the Republicans are only getting what they deserve, because they continue to act like wimps when faced by this bureaucratic resistance. Trump is head of the executive branch. He has the power, by law, to fire anyone working for him. Heads should have rolled in great numbers years ago. They have not.
Furthermore, while the Democrats always move fast with their fake accusations, the Republicans seem to take forever to follow through, if at all, with their own counter efforts. For example, the inspector general outlined how former FBI director James Comey broke the law in releasing classified information. The Trump administration decided not to prosecute. Similarly, in April 2018 the inspector general recommended criminal prosecution of former FBI official Andrew McCabe. So far no prosecution has taken place.
I could cite numerous other examples of Democratic malfeasance that the Republicans decided to look the other way. The list is sadly endless.
Trump's allies often say they like him because he fights. I agree. More than any other Republican in decades, Trump fights, refusing to back down to Democratic demands. At the same time, I also think he does not fight hard enough, allowing his opposition to repeatedly get away with illegalities that would put any Republican in prison in minutes.
Until this changes, expect more malfeasance and power grabs by the Democrats. They will take whatever power they can, even if it means destroying the country.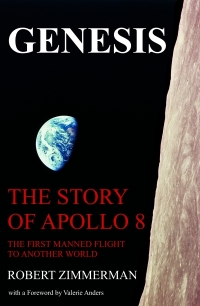 On Christmas Eve 1968 three Americans became the first humans to visit another world. What they did to celebrate was unexpected and profound, and will be remembered throughout all human history. Genesis: the Story of Apollo 8, Robert Zimmerman's classic history of humanity's first journey to another world, tells that story, and it is now available as both an ebook and an audiobook, both with a foreword by Valerie Anders and a new introduction by Robert Zimmerman.
The ebook is available everywhere for $5.99 (before discount) at
amazon
, or direct from my ebook publisher,
ebookit
. If you buy it from
ebookit
you don't support the big tech companies and the author gets a bigger cut much sooner.
The audiobook is also available at all these vendors, and is also
free with a 30-day trial membership to Audible.
"Not simply about one mission, [Genesis] is also the history of America's quest for the moon... Zimmerman has done a masterful job of tying disparate events together into a solid account of one of America's greatest human triumphs."--San Antonio Express-News