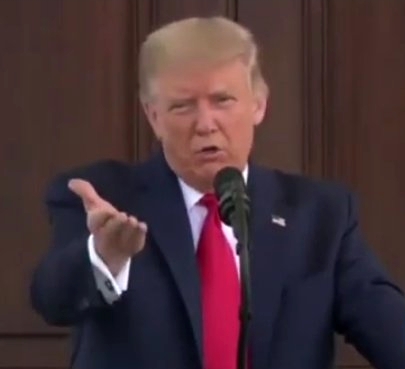 I've said it before but I will say it again. Donald Trump is the right candidate for president, and everyone who hasn't yet voted should vote for him tomorrow, both because he kept his promises and has actually done a decent job as president.
However, it is even more important to vote for Republicans across the board. If Trump is re-elected but the voters do not give him strong majorities in both houses of Congress, his ability to do what the voters want will be seriously circumscribed. And if the Democrats win control of both houses of Congress, expect that their first order of business will be to impeach Trump and then try to remove him from office. The goal will be to quickly nullify your vote for Trump, by the party of segregation, slavery, riots, looting, and stolen elections.
And on the local city and state level things are quite simple. If the public wishes to see the end of rioting and looting in their cities, they need to start voting out of office the corrupt Democrats who run those cities. Not all local politicians are up for re-election tomorrow, but any local Democrats in the big urban cities and states who are amply deserve to be run out of office on a rail. They have not only encouraged rioting and looting, using Antifa and BLM thugs as the storm-trooper wing of the Democratic Party, they have also moved simultaneously to shut down any police enforcement in those cities, while also demanding that their citizens be denied their second amendment right of self-defense.
It is time to clean house. Trump is hated so much by the political establishment from both parties because he is an outsider. And while many Republicans are as corrupt as the Democrats, it is the Democratic Party that epitomizes the insider corruption that is destroying our urban cities and our country. It is time to throw them out of office, at all levels, and to replace them with new faces, outsiders who are willing to represent ordinary Americans, from all races and creeds.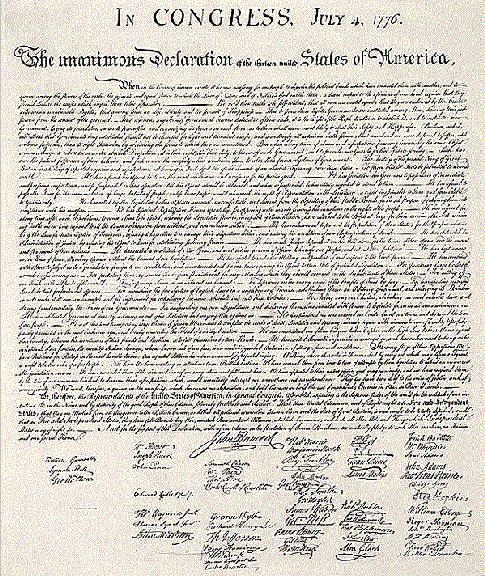 Something the Democratic Party no longer believes in.
We need to do this especially because the insiders we have been electing for so long, led by the Democratic Party, have failed at their job. Almost all urban centers in the U.S. have been ruled by Democrats for decades. And almost all have seen a rise in corruption, high debt, bad schools, drugs, crime, and poverty during those same decades. Now those same Democrats are freeing prisoners and criminals from jail, even as they place their law-abiding citizens under house arrest while bankrupting decent businesses. They do not represent the public, never have, and do not even deserve the job of dog catcher.
And most importantly, the Democratic Party has made it clear very amply in the last few years that they despise that Constitution and Bill of Rights, and have even taken actions attempting to repeal or nullify as many parts of those documents as possible, especially those parts that limit the power of politicians and protect the rights of ordinary people.
So, vote for Trump tomorrow (if you haven't already). But vote to fire all Democrats, in every election you can find, if only to send a message to these bastards that Americans find threats, slanders, violence, and storm-trooper tactics unacceptable in a free nation.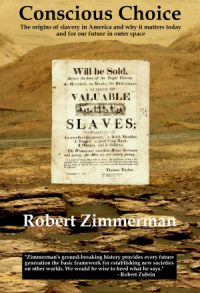 Now available in hardback and paperback as well as ebook!
From the press release: In this ground-breaking new history of early America, historian Robert Zimmerman not only exposes the lie behind The New York Times 1619 Project that falsely claims slavery is central to the history of the United States, he also provides profound lessons about the nature of human societies, lessons important for Americans today as well as for all future settlers on Mars and elsewhere in space.
Conscious Choice: The origins of slavery in America and why it matters today and for our future in outer space
, is a riveting page-turning story that documents how slavery slowly became pervasive in the southern British colonies of North America, colonies founded by a people and culture that not only did not allow slavery but in every way were hostile to the practice.
Conscious Choice
does more however. In telling the tragic history of the Virginia colony and the rise of slavery there, Zimmerman lays out the proper path for creating healthy societies in places like the Moon and Mars.
"Zimmerman's ground-breaking history provides every future generation the basic framework for establishing new societies on other worlds. We would be wise to heed what he says." —Robert Zubrin, founder of founder of the Mars Society.
All editions are available at Amazon, Barnes & Noble, and all book vendors, with the ebook priced at $5.99 before discount. The ebook can also be purchased direct from my ebook publisher, ebookit, in which case you don't support the big tech companies and I get a bigger cut much sooner.
Autographed printed copies are also available at discount directly from me (hardback $24.95; paperback $14.95; Shipping cost for either: $5.00). Just email me at zimmerman @ nasw dot org.