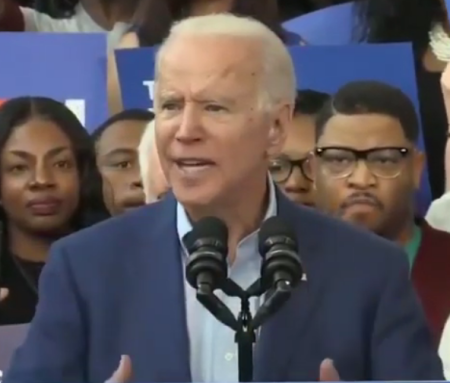 Biden as he forgets what truths we hold as self-evident in March 2020.
A Daily Mail story from last week reported on the growing concern of doctors and other health experts about the mental state of Joe Biden, the oldest American president ever.
Questions have been raised about US President Joe Biden's cognitive wellbeing after a car crash interview over his handling of the unfolding Afghanistan crisis. America's oldest president provided jumbled responses to questions and mixed up details about his son in an interview with ABC. The stumbles did not make the broadcasted version but were revealed when a full transcript of the interview was published overnight.

It revealed the President incorrectly stated his late son Beau Biden worked for the Navy in Afghanistan, before correcting himself that he served for the Army in Iraq. It follows a spate of gaffes and slips of the tongue since the 78-year-old ran his successful presidential campaign in 2019.
This story only highlights a growing slew of news stories and op-eds that have appeared recently during the ongoing debacle in Afghanistan, in both the right and leftwing press, that have noticed how President Biden appears repeatedly confused in interviews while showing signs that he does not quite understand what is going on around him.
Of course, for the press and the political class to recognize these facts now, after Biden has become president, is equivalent to closing the barn door after the animals have escaped. As I noted in October 2020, before the election, these cognitive issues have been obvious for the last two years, and had been getting steadily worse throughout 2020 during the election campaign. As I wrote then,

Joe Biden is exhibiting clear symptoms of failing mental health. It is increasingly obvious he really is unaware of what is going on around him, and this condition appears to be worsening at a frightening pace.
All of this was blatantly obvious in the summer of 2020. It was then that these facts should have been reported by the mainstream press and dealt with by politicians in the Democratic Party.
Instead, the press and Democratic Party politicians covered these facts up. The news organizations did so because they are no longer interested in reporting news, but instead are focused solely on being public relations agents for the Democratic Party. The Democrats did so because they are generally corrupt, power-hungry, and uninterested in doing the best for the nation.
Had these obvious these facts had been discussed and reported in detail before the election, or even better, during the primaries before the Democrats chose Biden as their candidate, we might not be in this situation today. But no, the interests of the Democratic Party trumped the interests of the nation.
How we shall survive the next three and a half years with Joe Biden as president I cannot fathom. Moreover, even if he is removed, his vice-president, Kamala Harris, is an even more troubling politician. When she was California attorney general she tried to use the power of her office to obtain the names of people donating to Republican candidates, with clear evidence the goal was to use that information to harass and threaten those conservatives. Then in 2018 she appeared on television and gleefully joked about killing Trump, Pence, and other Republican politicians.
As vice president she has been less than useless, often vanishing when most needed, and if found acting as if she is responsible for nothing and must not be questioned sharply by anyone on any issue.
Note again these were facts known prior to the 2020 campaign. That I could figure them out, then, but the mainstream press could not, speaks really badly of that press.
Even worse, it suggests how divorced from reality the so-called "intellectual" and mostly leftist leadership of our nation has truly become. Their failure to recognize Biden's health issues, their bankrupt policy that led to the collapse in Afghanistan, their insane response, still continuing, to COVID, all indicate their general incompetence and intellectual dishonesty. Such people should be kept as far from the reins of power as possible. Instead, we as a nation have let them hold those reins, for decades, even as they have repeatedly revealed their incompetence time after time after time.
Readers!
In order to remain completely independent and honest in my writing, I accept no sponsorships from big space companies or any political organizations. Nor do I depend on ads.
Instead, I rely entirely on the generosity of readers to keep Behind the Black running. You can either make a one time donation for whatever amount you wish, or you sign up for a monthly subscription ranging from $2 to $15 through Paypal, or $3 to $50 through Patreon, or any amount through Zelle.
The best method to donate or subscribe is by using Zelle through your internet bank account, since it charges no fees to you or I. You will need to give my name and email address (found at the bottom of the "About" page). What you donate is what I get.
To use Patreon, go to my website there and pick one of five monthly subscription amounts, or by making a one-time donation.

For PayPal click one of the following buttons:

If these electronic payment methods don't work for you, you can support Behind The Black directly by sending your donation by check, payable to Robert Zimmerman, to


Behind The Black
c/o Robert Zimmerman
P.O.Box 1262
Cortaro, AZ 85652