More glaciers and eroding gullies on Mars

echo do_shortcode( '[xyz-ihs snippet="post-header-html-snippet"]' ); ?>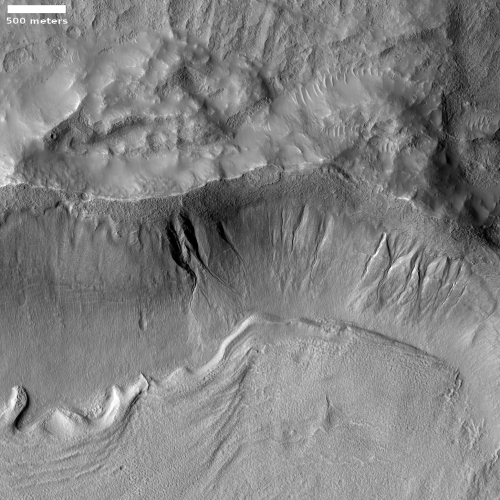 Click for full image.
Cool image time! The photo to the right, cropped and reduced to post here, shows the interior south-facing rim of a small crater in the southern cratered highlands of Mars. Taken on May 30, 2020 by the high resolution camera on Mars Reconnaissance Orbiter (MRO), the image release is merely labeled "Gullied Slope". The photo was taken as part of regular monitoring of these gullies since 2011 to see if they change from season to season. The 2011 image was captioned by planetary scientist Alfred McEwen, who wrote the following about the gullies:
These are erosional features with depositional fans. Some of the gully fans have a bluish color: these are probably quite recent deposits, less than a few tens of years old.
Since they were considered so very young, it makes great sense to look at them frequently. In making a quick comparison between the 2011 and 2020 images however I could not spot any changes, but that might be because the versions I downloaded are not at the fullest resolution.
This crater, at 39 degrees south latitude, is also worthwhile because its floor appears covered with glacial material, what scientists have dubbed concentric crater fill. As McEwen noted in his 2011 caption,
On the floor of the crater (bottom of this image) are ridges that likely formed from the flow of ice, perhaps a few million years ago.
Those glaciers, generally protected by thin layers of dust and debris, are considered inactive at this time in Martian geological history. The many ridges however hint at the many many cycles in the Martian climate, fluctuating between periods when these mid-latitude glaciers were growing while the polar ice caps were shrinking, and periods when the mid-latitude glaciers were shrinking while the polar ice caps were growing.

echo do_shortcode( '[xyz-ihs snippet="post-above-comments-html-snippet"]' ); ?>