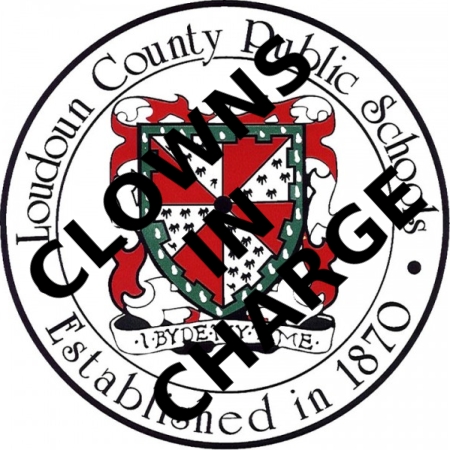 And the clowns must be fired, now!
Today's blacklist column will be a surprisingly optimistic one (though I fully admit that I might be fooling myself), based on two stories that appeared in the press yesterday.
First, there was this story out of Virginia, where a new Christian private school with an initial capacity for 500 students received in less than a week more than 2,500 applications from parents.
Loudoun County has been the subject of so much controversy, that Pastor Gary knew there would be a demand locally. What he didn't expect is to hear from parents in at least 27 states eager for their children to attend.

Cornerstone has been inundated with inquiries, and not just from parents. Teachers want out of public schools too. "By the end of the week, we had over 2,500 students pre-registered. I got over 450 emails from teachers wanting employment." [emphasis mine]
The school, Cornerstone Christian Academy, is in Loudoun County, where the local government school board has been aggressively promoting the queer and Marxist agendas while enforcing irrational mask policies on little kids.
The enthusiastic response from both parents and teachers strongly indicates that the public has finally become conscious of the leftist and queer policies of too many local school boards, and will no longer tolerate it. It also suggests that there is not only sufficient demand for the establishment of many more private schools, both religious and secular, there will be plenty of qualified teachers available to run them.
Nor is this private religious school the only one that has opened in Loudoun County. One year ago a Christian high school, dubbed Evergreen Christian School, opened in Leesburg. Though small, with only 50 students initially, it expects to grow quickly.
This movement to private schools will likely accelerate nationwide, not just because of the intransigence of leftist-dominated government school boards and the growing demand from parents for sane alternatives. It appears that state legislatures are beginning to take action to encourage it. In Arizona for example, the governor signed into law last week a bill that expands school choice to all parents, with full subsidies from the state. According to this article,

The Arizona Legislature on Friday night answered Ducey's call, passing a bill to expand eligibility for the state's Empowerment Scholarship Accounts (also known as education savings accounts or ESAs) to all K-12 students. Once signed into law, Arizona will reclaim its title as the state with the "most expansive ESA" policy in the nation.

Empowerment Scholarship Accounts empower families with the freedom and flexibility to customize their child's education. Arizona families can currently use ESAs to pay for private school tuition, tutoring, textbooks, homeschool curriculums, online courses, educational therapy, and more. The ESAs are funded with 90% of the state portion of Arizona's per-pupil funding, including the additional funds for students with special needs.
In other words, the bill levels the playing field for private schools. No longer will parents have to pay twice to send their kids to private schools — once in taxes for the public schools they no longer want to use and again for the tuition in the private schools they prefer. Now parents can take the money the government budgets for schools and choose the school on which to spend it. Guaranteed funding for government schools will cease. As attendance drops in the badly run schools, so will their funding, until they either change or go out of business.
While no state has yet passed a law as extensive as Arizona's, similar laws have been appearing more and more across the country. The new schools in Virginia described above are only going to encourage more such laws.
The second hopeful story from yesterday has to do with the political pressure to force such changes. A survey of election results halfway though this primary season has found that the number of incumbents defeated at the polls has risen 65%.
Across the 26 states that have held primaries so far, 132 incumbents—27 Democrats and 105 Republicans—have lost. This represents a 65% increase from 2020 among these states. This increase has been driven by Republican losses, which are up 98% from 53 in 2020. For Democrats, the number defeated this year remains the same.
While loyal partisan Democrats continue to blindly endorse the disastrous status quo, partisan Republicans have apparently had enough, and are throwing out Republican incumbents with enthusiasm, with most of those incumbents uni-party members, Republicans in name only who promise conservative changes but then work closely with Democrats to betray those promises once in office. Many of the victors in these races have also been Trump-endorsed, indicating that the voters see his allies as more trustworthy and likely to follow through with their campaign promises, just as Trump did.
What this trend suggests — as indicated by both stories above — is that we can expect fewer back-stabbers like Romney and Cornyn in the Republican Party. The party appears to be growing a spine, because its supporters are demanding it. If the November midterms produce as large a victory for Republicans as all polls now indicate, the newly elected members of that party will likely not be much interested in compromise or deal-making with what is now a radically communist Democratic Party. If anything, we should expect some very blunt legislation and budgets cuts, all designed to end support of programs near and dear to the hearts of Democrats, from education to climate change.
As I said earlier, however, in coming to this positive conclusion I am letting my natural optimism leak out from behind my learned pessimism. According to recent history, it is more likely the spine of these new Republicans will melt like Jello the first time some bigoted Democrat accuses them falsely of "racism" or "white supremacy."
Since such charges have been blatantly false and slanderous now for decades, the correct response should have been to laugh uproariously and ignore them. Sadly, the cowardly Republicans in office have almost never done this, until Donald Trump came along. The defeat of so many Republican incumbents this year suggests that maybe his example is energizing a new generation of Republicans, no longer willing to bow in fear of these false charges.
We can only hope.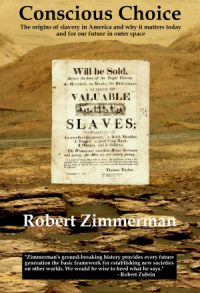 Now available in hardback and paperback as well as ebook!
From the press release: In this ground-breaking new history of early America, historian Robert Zimmerman not only exposes the lie behind The New York Times 1619 Project that falsely claims slavery is central to the history of the United States, he also provides profound lessons about the nature of human societies, lessons important for Americans today as well as for all future settlers on Mars and elsewhere in space.
Conscious Choice: The origins of slavery in America and why it matters today and for our future in outer space
, is a riveting page-turning story that documents how slavery slowly became pervasive in the southern British colonies of North America, colonies founded by a people and culture that not only did not allow slavery but in every way were hostile to the practice.
Conscious Choice
does more however. In telling the tragic history of the Virginia colony and the rise of slavery there, Zimmerman lays out the proper path for creating healthy societies in places like the Moon and Mars.
"Zimmerman's ground-breaking history provides every future generation the basic framework for establishing new societies on other worlds. We would be wise to heed what he says." —Robert Zubrin, founder of founder of the Mars Society.
All editions are available at Amazon, Barnes & Noble, and all book vendors, with the ebook priced at $5.99 before discount. The ebook can also be purchased direct from my ebook publisher, ebookit, in which case you don't support the big tech companies and I get a bigger cut much sooner.
Autographed printed copies are also available at discount directly from me (hardback $24.95; paperback $14.95; Shipping cost for either: $5.00). Just email me at zimmerman @ nasw dot org.