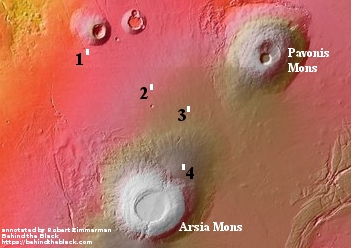 In the past year the monthly image releases from the high resolution camera on Mars Reconnaissance Orbiter (MRO) archive have frequently included newly discovered pit entrances. Each time I have written posts highlighting these new pits, in June, July, November 2018 and January 2019. In fact, this is happening so frequently I could almost label it a monthly update!
The November release imaged three pits found on the southern flanks of Arsia Mons. The January 2019 release found several north of the volcano, two of which are very close to the two middle new pits highlighted above. The February release, which is the focus of this post, included four more pits, shown above, all located north and west of Arsia Mons, as shown in the overview map to the right.
Pits 2 and 3 above appear to belong to a cluster of pits all located in the general area between Arsia and Pavonis Mons. (You can see their uncaptioned releases here and here.) Most sit alone on a flat somewhat featureless plain. Sometimes there are flow features nearby, but each pit usually seems to sit unique and unrelated to these other faint features.
Pit 1 is very intriguing in that it sits amid a very long chain of pits and canyons, all aligned, as shown in the image below and to the right.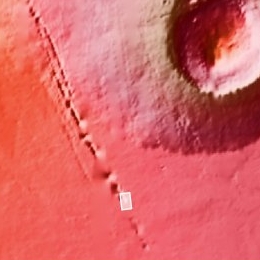 It thus reminds me of the pit I featured on February 5, 2019, though less exciting. The February 5 pit was located in an area with features suggestive of catastrophic flooding from flowing water, while today's pit is more likely the result of volcanic processes, located as it is on the flank of a large volcano.
Still, when Mars was wetter this pit, as well as the full string of pits it is part of, could have also been shaped by water erosion. Someone with better knowledge of the geology and chemistry here would have to answer this question, assuming we have the data.
Finally we have pit #4, which sits much higher on the flanks of Arsia Mons, with the slope going downhill from the southwest to the northeast. The full image reveals a second larger pit to the east, just on the edge of the frame. Unfortunately, no other images have taken by MRO anywhere near this location, so we do not know if there are more such pits here. I would however not be surprised it these are skylights into lava tubes below, and that with more high resolution images we will discover more skylights throughout this area.
Would any of these pits provide access to underground ice? Possibly. They sit high in elevation, which is a strike against. However, the evidence of past glacial activity west of Arsia Mons, as well as the clouds that seasonal form above the volcano, are both strikes in favor.
We won't really know however until we go there.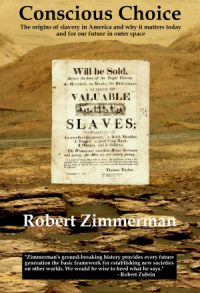 Now available in hardback and paperback as well as ebook!
From the press release: In this ground-breaking new history of early America, historian Robert Zimmerman not only exposes the lie behind The New York Times 1619 Project that falsely claims slavery is central to the history of the United States, he also provides profound lessons about the nature of human societies, lessons important for Americans today as well as for all future settlers on Mars and elsewhere in space.
Conscious Choice: The origins of slavery in America and why it matters today and for our future in outer space
, is a riveting page-turning story that documents how slavery slowly became pervasive in the southern British colonies of North America, colonies founded by a people and culture that not only did not allow slavery but in every way were hostile to the practice.
Conscious Choice
does more however. In telling the tragic history of the Virginia colony and the rise of slavery there, Zimmerman lays out the proper path for creating healthy societies in places like the Moon and Mars.
"Zimmerman's ground-breaking history provides every future generation the basic framework for establishing new societies on other worlds. We would be wise to heed what he says." —Robert Zubrin, founder of founder of the Mars Society.
All editions are available at Amazon, Barnes & Noble, and all book vendors, with the ebook priced at $5.99 before discount. All editions can also be purchased direct from the ebook publisher, ebookit, in which case you don't support the big tech companies and the author gets a bigger cut much sooner.
Autographed printed copies are also available at discount directly from me (hardback $24.95; paperback $14.95; Shipping cost for either: $5.00). Just email me at zimmerman @ nasw dot org.