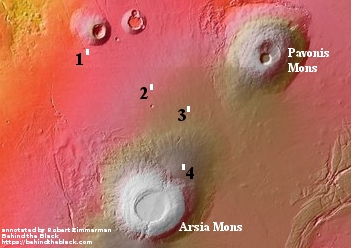 In the past year the monthly image releases from the high resolution camera on Mars Reconnaissance Orbiter (MRO) archive have frequently included newly discovered pit entrances. Each time I have written posts highlighting these new pits, in June, July, November 2018 and January 2019. In fact, this is happening so frequently I could almost label it a monthly update!
The November release imaged three pits found on the southern flanks of Arsia Mons. The January 2019 release found several north of the volcano, two of which are very close to the two middle new pits highlighted above. The February release, which is the focus of this post, included four more pits, shown above, all located north and west of Arsia Mons, as shown in the overview map to the right.
Pits 2 and 3 above appear to belong to a cluster of pits all located in the general area between Arsia and Pavonis Mons. (You can see their uncaptioned releases here and here.) Most sit alone on a flat somewhat featureless plain. Sometimes there are flow features nearby, but each pit usually seems to sit unique and unrelated to these other faint features.
Pit 1 is very intriguing in that it sits amid a very long chain of pits and canyons, all aligned, as shown in the image below and to the right.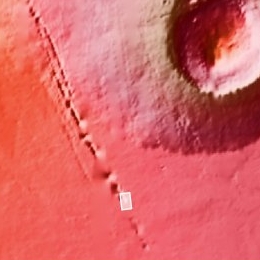 It thus reminds me of the pit I featured on February 5, 2019, though less exciting. The February 5 pit was located in an area with features suggestive of catastrophic flooding from flowing water, while today's pit is more likely the result of volcanic processes, located as it is on the flank of a large volcano.
Still, when Mars was wetter this pit, as well as the full string of pits it is part of, could have also been shaped by water erosion. Someone with better knowledge of the geology and chemistry here would have to answer this question, assuming we have the data.
Finally we have pit #4, which sits much higher on the flanks of Arsia Mons, with the slope going downhill from the southwest to the northeast. The full image reveals a second larger pit to the east, just on the edge of the frame. Unfortunately, no other images have taken by MRO anywhere near this location, so we do not know if there are more such pits here. I would however not be surprised it these are skylights into lava tubes below, and that with more high resolution images we will discover more skylights throughout this area.
Would any of these pits provide access to underground ice? Possibly. They sit high in elevation, which is a strike against. However, the evidence of past glacial activity west of Arsia Mons, as well as the clouds that seasonal form above the volcano, are both strikes in favor.
We won't really know however until we go there.
Readers!
In order to remain completely independent and honest in my writing, I accept no sponsorships from big space companies or any political organizations. Nor do I depend on ads.
Instead, I rely entirely on the generosity of readers to keep Behind the Black running. You can either make a one time donation for whatever amount you wish, or you sign up for a monthly subscription ranging from $2 to $15 through Paypal, or $3 to $50 through Patreon, or any amount through Zelle.
The best method to donate or subscribe is by using Zelle through your internet bank account, since it charges no fees to you or I. You will need to give my name and email address (found at the bottom of the "About" page). What you donate is what I get.
To use Patreon, go to my website there and pick one of five monthly subscription amounts, or by making a one-time donation.

For PayPal click one of the following buttons:

If these electronic payment methods don't work for you, you can support Behind The Black directly by sending your donation by check, payable to Robert Zimmerman, to


Behind The Black
c/o Robert Zimmerman
P.O.Box 1262
Cortaro, AZ 85652