The data is now in. Not only is the coronavirus nothing more than a very bad flu, harmless to the vast majority of the population, the bad policy imposed by almost all governments worldwide has done nothing to alleviate it, and in fact has probably helped kill people, from both the virus and their bad policy.
This conclusion is starkly illustrated in the following four graphs (source), all of which show the history of COVID-19 during the entire 2020 epidemic, now clearly ending. All four graphs are updates of graphs I've referenced previously, but now they take us through the epidemic's present waning, and give us a better context of both the virus' flu-like nature and the terrible policies imposed by governments in their panic over it.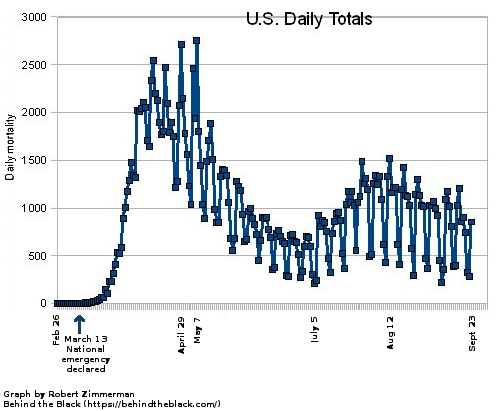 First to the right we have the daily mortality numbers for the entire United States. The steady drop in deaths since epidemic's second peak on August 12th is very evident. The epidemic appears to be winding down, though very slowly. Furthermore, it had an unusual summer peak that is almost never seen in such respiratory diseases. The reasons for both the slowness of the virus's decay and its second peak will become clear as we look at the next three graphs, covering the epidemic's peak in New York, New Jersey, and California.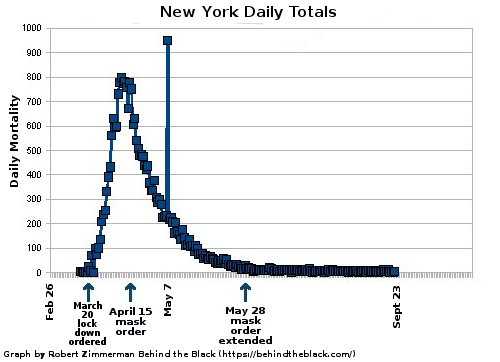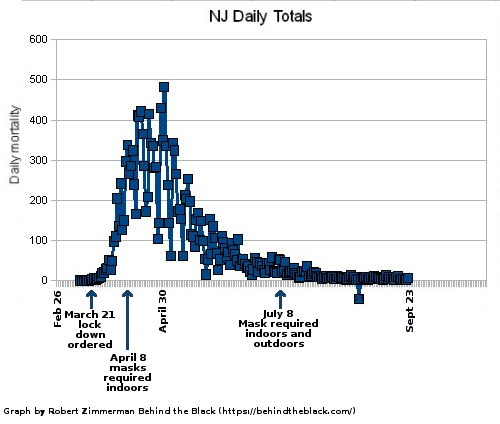 To the right are graphs showing the entire history of daily deaths from COVID-19 in both New York and New Jersey. Both show almost the exact same pattern, a quick rise and then a steady but relatively rapid fall to almost zero.
Note that the spike of deaths on May 7 on the New York graph is because New York suddenly added on that day a whole slew of new deaths, under suspicious circumstances. Similarly, the below zero numbers on August 24 in New Jersey are because that state has been revising its totals repeatedly, also under suspicious circumstance.
Regardless, notice how neither state had that second peak during the summer. In fact, the data shows that for both states, the epidemic has been over for months.
What apparently happened is that both states have a high density of population, which means their lockdowns were pointless. There was no way to prevent their residents from interacting closely in any number of ways, from riding the subways to walking on crowded city streets. Thus, the epidemic did what these respiratory diseases always do, it quickly spread through the population, with the vast majority of people either showing no symptoms, or becoming sick for a week or so but then completely recovering. At that point the population had reached herd immunity, making it difficult for the virus to infect more people, and thus the death rate quickly dropped to almost zero.
In fact, since mid-July in both states the number of deaths per day has exceeded ten only a handful of times. Considering the size of both states' populations, these numbers are truly trivial. You have more chance of dying in a car accident, by many multiples. Furthermore, though I have not researched it, I am willing to bet, based on the nationwide data, that almost all those deaths were among the elderly sick.
In these states the general population was not threatened by this disease during its peak, and was even less threatened by it in the months since. The lockdowns and mask mandates made no difference at all.
Meanwhile, the lockdowns elsewhere across the U.S. had some effect, none of which was positive. The national graph above suggests that these government mandates did succeed in slowing the disease's spread, but the consequence was not fewer deaths, but a second wave of deaths and likely more deaths overall because herd immunity was prevented.
The lockdowns also caused that second wave in the summer, probably because too many Americans were forced to stay indoors, when they would have normally been outside. One of the reasons these respiratory diseases peak in the winter and die in the summer is that they prosper when people are indoors, avoiding the sun (and the ultraviolet light that kills such viruses) while breathing confined indoor air where such pathogens can prosper.
The lockdowns locked people indoors, and thus helped to keep the virus alive, as the national graph above shows.
Moreover, the slow decline of the epidemic nationwide is probably because much of the nation is only now reaching herd immunity, though the continuing lockdowns are probably preventing this from occurring as fast as it should. As we move into the winter months we might even see another peak, only because the lockdowns prevented herd immunity from occurring in too many places.
Thus, because of this wrong-headed and panicky government policy, the elderly sick across much of the nation will remain unnecessarily threatened by this flu-like disease. Fewer will die as they did in 2020, but more will die than should have.
In New York and New Jersey, however, I am confident we will see no significant rise in COVID-19 deaths this coming winter. When it comes to coronavirus, of all places in the U.S. those states are probably the safest places to be.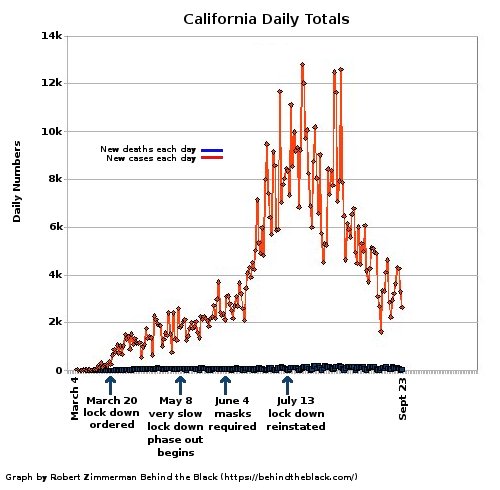 Finally we have California to the right. Unlike New York and New Jersey, the daily death rate throughout this entire epidemic has never risen very high, mostly because the deaths in New York and New Jersey were unnecessarily inflated because those state governments forced infected individuals into nursing homes, thus spreading the virus among the most vulnerable, killing thousands unnecessarily. Though California's government has not done well, it at least did not make this blatant and incredibly incompetent error.
The graph however does illustrate the pointlessness of Governor Gavin Newsom's draconian lockdown mandates. As soon as he imposted both mask and lockdowns rules, the number of COVID-19 cases began to rise. Either his policies encouraged the disease's spread, or were completely irrelevant to it.
Masks especially appear useless, based on this graph. If anything, their requirement in June apparently contributed to the virus's spread, probably because people routinely use them improperly and in ways that make them spreaders of disease.
What the California graph however shows more than anything is that the epidemic is truly ending, without a vaccine and completely irrelevant to the government policy imposed during this year. Cases, the sudden bugaboo of the partisan liberal press when deaths began dropping, are dropping now as well.
The worst is over. We all didn't die. In fact, almost no one did die, who wasn't expected to. The young and healthy are still here, immune to this virus as they are to the flu.
We should throw away the masks, end the lockdowns and absurd rules that accomplish nothing but make us fearful puppets and slaves, and return to normal American life, a life that is courageous, happy, and above all, free.
What we have now is none of those things. As Americans we need to demand an end to these ugly government-imposed "feel-good" empty mandates that are destroying our great nation.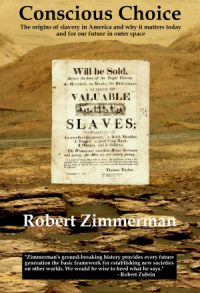 Now available in hardback and paperback as well as ebook!
From the press release: In this ground-breaking new history of early America, historian Robert Zimmerman not only exposes the lie behind The New York Times 1619 Project that falsely claims slavery is central to the history of the United States, he also provides profound lessons about the nature of human societies, lessons important for Americans today as well as for all future settlers on Mars and elsewhere in space.
Conscious Choice: The origins of slavery in America and why it matters today and for our future in outer space
, is a riveting page-turning story that documents how slavery slowly became pervasive in the southern British colonies of North America, colonies founded by a people and culture that not only did not allow slavery but in every way were hostile to the practice.
Conscious Choice
does more however. In telling the tragic history of the Virginia colony and the rise of slavery there, Zimmerman lays out the proper path for creating healthy societies in places like the Moon and Mars.
"Zimmerman's ground-breaking history provides every future generation the basic framework for establishing new societies on other worlds. We would be wise to heed what he says." —Robert Zubrin, founder of founder of the Mars Society.
All editions are available at Amazon, Barnes & Noble, and all book vendors, with the ebook priced at $5.99 before discount. The ebook can also be purchased direct from my ebook publisher, ebookit, in which case you don't support the big tech companies and I get a bigger cut much sooner.
Autographed printed copies are also available at discount directly from me (hardback $24.95; paperback $14.95; Shipping cost for either: $5.00). Just email me at zimmerman @ nasw dot org.