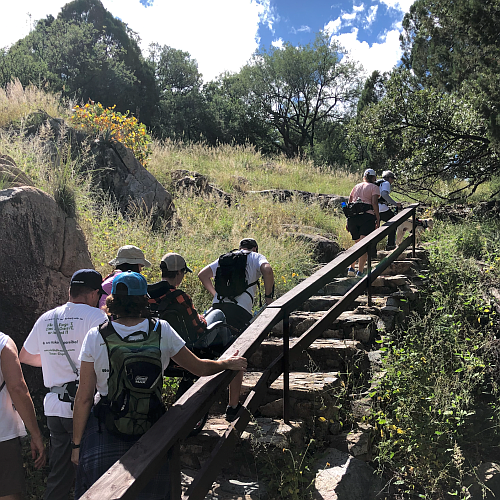 The Tucson crew for Luke 5 Adventures takes a hiker uphill
Since I was blacklisted by the caving community in 2021, I have been searching for a new outdoor hobby that would satisfy my interests and provide me a new social community.
This search has landed me in a very unusual place (a circumstance that for me has actually been very typical in my life). During a loop hike in October last year, Diane and I met a couple who were doing the loop in the opposite direction. The first time we met we chatted for a few minutes, and then moved on in opposite directions. When we met the second time, however, we talked longer and exchanged contact information. It appears that Angelo and Bonnie Piro also love hiking, recently moved to Tucson from New Jersey (which meant I had a lot in common with them), and were looking for people they could hike with.
Since then we have hiked together numerous times. One day in late November Angelo mentioned that they had the day before participated in a short hike whereby they helped transport a 9-year-old boy who could not walk on his own in a one-wheel chair — dubbed Rosie — over a trail, as part of a volunteer organization called Luke5Adventures. From its national webpage:
For those who aren't physically able to hike it, forge it, climb it, cross it, or ascend it, we
we can make it possible.
As the founder of this organization, Kevin Schwieger, explains on the webpage,
I knew we needed to give this venture a name. My thoughts went to the Gospel of Luke, Chapter 5, and the account of the group of friends who took their paralytic friend to go see Jesus. The house where Jesus was speaking was so crowded that they could not get in. That didn't stop them. They were determined to enable their friend to see something amazing. They carried him to the roof, cut the thatch away, and lowered him down through the hole in the roof to see Jesus! I pictured in my mind's eye, groups of friends by the hundreds, using Rosies to take their new friends to see places and things that heretofore have been impossible. Not figuratively impossible, but, literally impossible.
It seemed to me that volunteering for this organization would give me an opportunity to do some fun outdoor stuff in a way that was new and interesting while doing good as well. It would also likely introduce me to some decent and righteous people with whom I could make some friends. That they were Christians and I was a secular Jew made no different to me, and I was quite confident it would make no difference to them either.
Not surprisingly, I was right.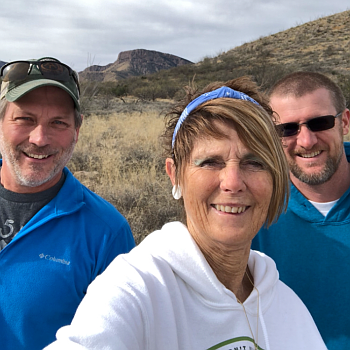 L to R: Kevin Schwieger, founder and president of L5A,
Janet Hale, founder of the Tucson chapter, and
Jeremiah Blackston, L5A Chapters Coach
The Tucson chapter of Luke5Adventures was founded by Janet Hale, whose picture is to the right. To say that Janet is enthusiastic about anything she does is to understate that enthusiasm. As she explained to me, she had for several years been acting as an adult mentor to some young girls at her church, but when those girls started getting older and moving on with their lives, she needed something new to do, to "provide service" as she called it.
At about that time she saw a public service commercial about Luke5Adventures, and found the idea called to her. After much prayer and internal debate — well aware that to start a local chapter would be a gigantic commitment — she moved forward, contacting Kevin to get the training necessary in order to found the Tucson chapter in 2022. When I arrived for my first training session in December, the chapter was less than a year old and had already completed a number of hikes. There was of course the need for more sherpas, people who work together to move the Rosie safely across the trail as well as hobnob with the hiker in the chair during the adventure.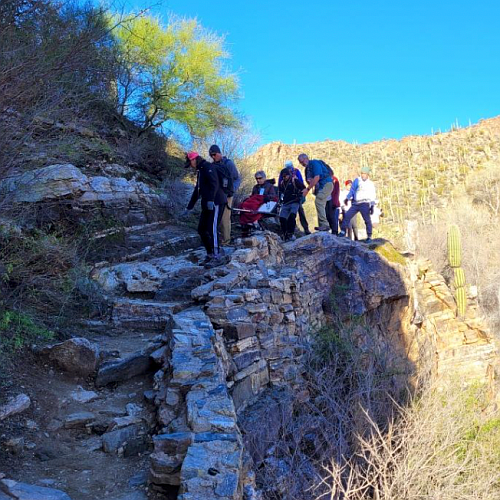 I've now done a little more than a half dozen hikes, some more challenging than others. The picture to the right took place in Sabino Canyon, and was probably the most challenging done so far by the Tucson chapter. I thought it was grand, as did the hiker.
Why do this? Over the last few decades I have found the gap between the religious and secular to be widening in ways that are entirely unnecessary, and often very disturbing. The religious have almost routinely seemed to me very tolerant of secular individuals, and very willing to work together.
The secular (my community) have instead become increasingly intolerant. For troubling reasons they seem uncomfortable listening to the religious when they cite religious reasons for doing good. I can't tell you the number of times I have listened to people in the secular community disparage the religious, merely because they are religious.
I say, what does it matter if such beliefs lead to good and moral action? As I wrote in Conscious Choice,
I do not believe in the spiritual god as portrayed in the Bible. Nonetheless, I recognize that the Old Testament, as interpreted within the foundations of Western culture, probably provides us with one of the best instruction manuals for building a good society as any that has ever been created.
That the secular world has abandoned and even become hostile to this instruction manual I think is why that secular community today has lost its way. You don't have to be religious to know right from wrong. Nor should a secular person be offended by the Ten Commandments.
What matters is that we are all human beings struggling hard to do right for ourselves and for others. That one group finds their way to moral action through their religion should not matter to the secular, ever. What should matter is that both are working to do right, together.
Anyway, if you wish to donate to the Tucson chapter, given that they do not charge hikers or their families to go on the hikes, you can do so here. If you are interested in volunteering, you can apply here. And finally, if you live in the southwest and know someone living with a disability who would love such an adventure, go here.
The world is a wonderful place. We should do whatever we can to make it available to as many as possible.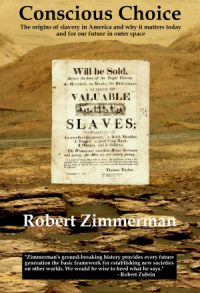 Now available in hardback and paperback as well as ebook!
From the press release: In this ground-breaking new history of early America, historian Robert Zimmerman not only exposes the lie behind The New York Times 1619 Project that falsely claims slavery is central to the history of the United States, he also provides profound lessons about the nature of human societies, lessons important for Americans today as well as for all future settlers on Mars and elsewhere in space.
Conscious Choice: The origins of slavery in America and why it matters today and for our future in outer space
, is a riveting page-turning story that documents how slavery slowly became pervasive in the southern British colonies of North America, colonies founded by a people and culture that not only did not allow slavery but in every way were hostile to the practice.
Conscious Choice
does more however. In telling the tragic history of the Virginia colony and the rise of slavery there, Zimmerman lays out the proper path for creating healthy societies in places like the Moon and Mars.
"Zimmerman's ground-breaking history provides every future generation the basic framework for establishing new societies on other worlds. We would be wise to heed what he says." —Robert Zubrin, founder of founder of the Mars Society.
All editions are available at Amazon, Barnes & Noble, and all book vendors, with the ebook priced at $5.99 before discount. The ebook can also be purchased direct from my ebook publisher, ebookit, in which case you don't support the big tech companies and I get a bigger cut much sooner.
Autographed printed copies are also available at discount directly from me (hardback $24.95; paperback $14.95; Shipping cost for either: $5.00). Just email me at zimmerman @ nasw dot org.