Here we go again! When the first panic over COVID arrived in 2020 and government thugs and their leftist minions in the culture began demanding that everyone wear a mask, I wrote the following:
It apparently has not been enough that they have successfully destroyed a thriving economy, put millions out of work, destroyed the airline, entertainment, sports, and restaurant industries, over a disease that, at best is nothing more than a slight blip in the overall death rate, and at worst will be comparable to similar past epidemics that we lived through without government-imposed panic or economic disaster.

No, destroying millions of lives has not been enough. They need to do more. They need to find more ways to squelch our freedom, nullify the Constitution and the Bill of Rights, and, to paraphrase Orwell, stamp a boot down on our faces, forever.

And in this case, they mean to do this, almost literally.

They are now beginning to demand that we wear masks at all times in public, in the mindless and stupid belief that this will somehow stop COVID-19 from spreading.
I also declared unequivocally that I would not wear a mask, "and if you demand it of me you will have a revolution on your hands."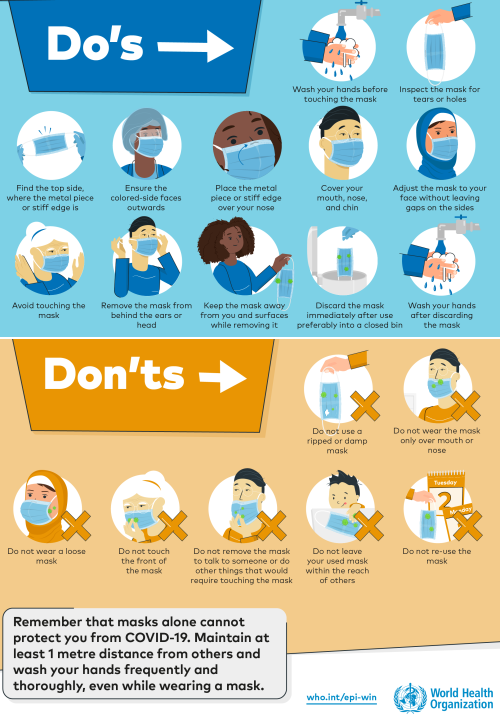 For the full images, go here and here.
During the entire COVID panic I never did wear a mask, but unfortunately, there was no revolution. Americans lined up like sheep and did as they were told, despite the fact that there continues to be zero evidence that masks do anything to prevent the spread of respiratory viruses, but actually contribute to its spread. The graphic to the right, from WHO, illustrates the risks of wearing a mask incorrectly, something everyone does. See this essay from July 2020 as well.
It now appears that the same government thugs who imposed jab and mask mandates before, working in league with the corrupt mainstream press, are once again trying to gin up another COVID panic, and force the same insane policies of lockdowns, school closures, and mask mandates all over again.
A good example of this new fear-mongering can be found in this absurd Daily Mail article today, sounding the alarm that a new mutant stream of COVID has now entered the United States. Let me quote:
A second American tested positive for the new highly-mutated BA.2.86 Covid variant that has been causing global alarm over its rapid transmission.

The positive case was detected in an asymptomatic patient in Virginia who was tested August 10 after returning to the US from Japan. [emphasis mine]
Oh no, we're all gonna die!
Did you notice that the person showed no symptoms? This variant is like all the recent variants, relatively harmless, hardly different than catching a cold. And yet, its arrival according to this article is that we must panic and do something, even though the article itself admits that hospital admissions right now "remain at near-historic lows", and that this variant produces "symptoms … milder than at any point previously in the pandemic."
No matter. We must panic, and the arrival of two positive tests, one in Virginia and another in Michigan, is all the evidence some leftists and a number of very brainless universities need. In Atlanta Morris Brown College announced on August 20, 2023 it is reinstating mask mandates, social distancing, tracking of students, quarantines, and repeated temperature checks.
Let me repeat, for what might be the hundredth time: No study before, during, or after the COVID epidemic has found any evidence any of these policies reduce the spread of these respiratory viruses, while many studies have repeatedly found some of these policies — especially masks — carry risks and can be harmful.
Meanwhile, Rutgers and Georgetown never stopped demanding students wear masks indoors, while more than 100 colleges nationwide still require students to get the COVID jab in order to attend classes, even though all versions of the jab have been shown to be utterly ineffective in stopping COVID's spread or its transmission and numerous studies are now finding the jab is medically dangerous to the hearts of young people — college students you might say.
New Jersey State Sen. Declan O'Scanlon (R) told NewsNation that he is ready to stand with any student who may be disenrolled from the university over their vaccination status, going so far as to call Rutgers administrators cowards. "For Rutgers, which should be the preeminent scientific institution, public institution in New Jersey, to be clinging to this now anti-science and punishing students — life-changing punishment, by the way — is outrageous. The administrators at Rutgers should be ashamed of themselves," O'Scanlon said.
These COVID mandates by Morris Brown, Rutgers, and Georgetown should remove any doubts anyone might still have that a large percentage of academia is bankrupt and worthless. Fortunately, it also seems that in the case of COVID at least these tyrannical and mindless colleges are increasingly the exception, not the rule. They now comprise a significant minority, with more than 80% of universities nationwide no longer requiring any jabs at all.
Meanwhile, intelligent thought continues to be missing in the White House. The arrival of this new very mild strain is causing it to consider returning to some of the same insane policies that failed so miserably in 2020 and 2021:
The Biden administration plans to urge all Americans to get a booster shot for the coronavirus this autumn to counter a new wave of infections, a White House official said on Sunday. The official said that while the Centers for Disease Control and Prevention are reporting an increase in infections and hospital admissions from the virus, overall levels remain low.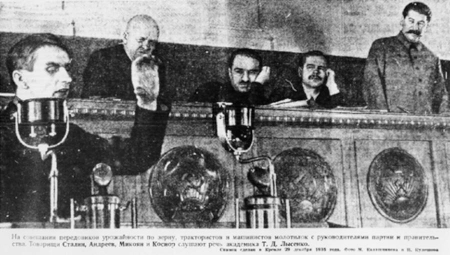 The hero of the Biden administration and too many universities:
Trofim Lysenko (on the left) preaching to Stalin as he destroyed
Soviet plant research, persecuted anyone who disagreed with him,
and caused famines that killed millions.
The full policy recommendations can be read here. While it is clear that the White House is avoiding the kind of jab mandates it imposed previously (and were found not only ineffective but illegal), it still acts as if these COVID shots have some value and carry no risks at all.
In other words, its behavior fits the definition of insanity perfectly, doing the same failed thing over and over in the hope the results might be different next time.
Will Americans bow like sheep again and obey any new mandates? I sincerely hope not, because if they do this time, all hope for this nation's commitment to freedom and the rule of law will end for good. Now more than ever everyone has to proclaim loudly, "I do not submit!" We have to tell these fools that we don't believe or trust them anymore, and refuse to follow their dictates.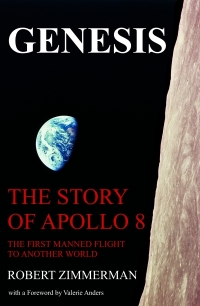 On Christmas Eve 1968 three Americans became the first humans to visit another world. What they did to celebrate was unexpected and profound, and will be remembered throughout all human history. Genesis: the Story of Apollo 8, Robert Zimmerman's classic history of humanity's first journey to another world, tells that story, and it is now available as both an ebook and an audiobook, both with a foreword by Valerie Anders and a new introduction by Robert Zimmerman.
The ebook is available everywhere for $5.99 (before discount) at
amazon
, or direct from my ebook publisher,
ebookit
. If you buy it from
ebookit
you don't support the big tech companies and the author gets a bigger cut much sooner.
The audiobook is also available at all these vendors, and is also
free with a 30-day trial membership to Audible.
"Not simply about one mission, [Genesis] is also the history of America's quest for the moon... Zimmerman has done a masterful job of tying disparate events together into a solid account of one of America's greatest human triumphs."--San Antonio Express-News