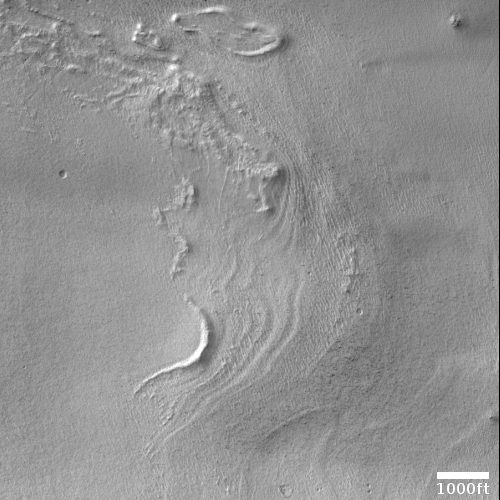 Click for full image.
Today's cool image more than simply cool, it reveals a wider picture of Mars that should be quite exciting to future colonists. The photo to the right, rotated, cropped, and reduced to post here, was taken on January 30, 2021 by the high resolution camera on Mars Reconnaissance Orbiter (MRO). What drew my attention to it was the title given to this uncaptioned photo: "Moraine-Like Ridges in Nereidum Montes."
Moraines are the debris pile pushed ahead of any glacier. The picture shows what appear to be a series of moraines, likely caused by different periods of glacier activity when the glacier was growing. It also suggests that past active periods were more active than later ones, as with each active period the moraine did not get pushed out quite as far.
The location, Nereidum Montes, intrigued me, as I am not that familiar with it. I emailed the scientist who requested the image, Dan Berman, senior scientist at the Planetary Science Institute in Arizona, and asked him for more information. He suggested I read a very recent paper he co-wrote entitled "Ice-rich landforms of the southern mid-latitudes of Mars: A case study in Nereidum Montes." From that paper I was able to produce the map of Mars below that shows the regions on the planet where scientists now think hold the greatest concentrations of glaciers.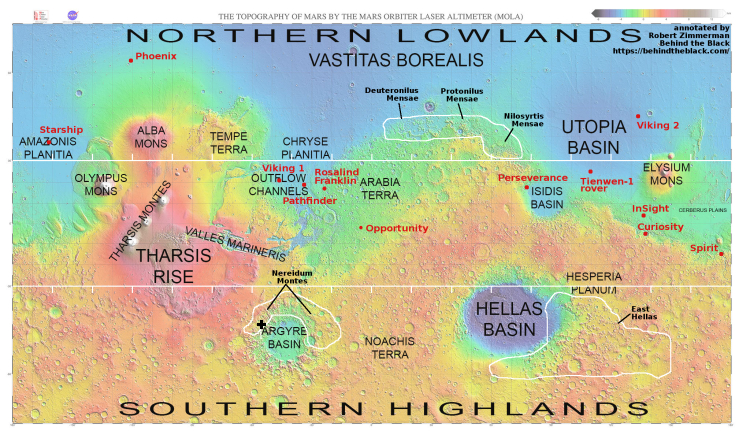 Click for high resolution clean version.
The two hatched lines at 30 degrees north and south indicated the closest to the equator such glacial features have been identified. The black cross in the Nereidum Mountains (that circle the northern half of Argyre Basin) is the location of the photo above.
The important aspect of the paper however are the three regions outlined by a white border. From the paper's opening paragraph:
Mars provides evidence for extensive surface modification from the flow of ice or ice-rich materials, most notably in the mid-latitudes. Early studies of Viking Orbiter data identified a suite of geomorphic landforms interpreted to have formed via viscous flow of ice-rich materials, including lobate debris aprons (LDA), lineated valley fill (LVF), and concentric crater fill (CCF). These features are tens of km in size and are estimated to be [hundreds of millions of years] old, and recent radar data across LDAs in Deuteronilus/Protonilus Mensae and eastern Hellas suggest that they contain nearly pure ice under a debris cover.
I have posted numerous cool images of glacial features in both the mensae regions in the north and the east Hellas region in the south. In the Nereidum Mountains I have only posted two (here and here), both also requested by Berman. His paper is a summary of what these images have found, as stated by the paper's conclusion:
Our mapping and radar results suggest that Nereidum Montes may be one of the most ice-rich regions in the southern mid-latitudes of Mars.
It is very important to point out that glacial features on Mars are not restricted to these three areas. Glaciers have been identified all across the mid-latitude bands from 30 to 60 degrees latitude. These regions are simply the areas where glacial features are most highly concentrated.
Moreover, the ice of Mars above 30 degrees latitude is not merely found in these glacial features. In the mid-latitudes of the northern lowlands, especially in Amazonis Planitia where SpaceX hopes to land Starship as well as Utopia Planitia where China's unnamed rover will land sometime before June, are places where the ice is found not in glacial features but as an ice table just below the surface.
I have said this before but I think it bears repeating: Mars is not a desert like the Sahara. It is instead a desert like Antarctica, with a lot of ice but because of its cold and thin atmosphere it remains a very dry and barren place.
Someday humans might change that. The abundant ice we are finding there provides us a great resource for doing so.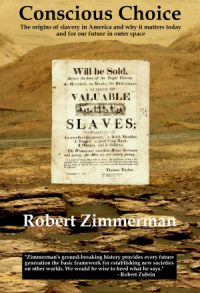 Now available in hardback and paperback as well as ebook!
From the press release: In this ground-breaking new history of early America, historian Robert Zimmerman not only exposes the lie behind The New York Times 1619 Project that falsely claims slavery is central to the history of the United States, he also provides profound lessons about the nature of human societies, lessons important for Americans today as well as for all future settlers on Mars and elsewhere in space.
Conscious Choice: The origins of slavery in America and why it matters today and for our future in outer space
, is a riveting page-turning story that documents how slavery slowly became pervasive in the southern British colonies of North America, colonies founded by a people and culture that not only did not allow slavery but in every way were hostile to the practice.
Conscious Choice
does more however. In telling the tragic history of the Virginia colony and the rise of slavery there, Zimmerman lays out the proper path for creating healthy societies in places like the Moon and Mars.
"Zimmerman's ground-breaking history provides every future generation the basic framework for establishing new societies on other worlds. We would be wise to heed what he says." —Robert Zubrin, founder of founder of the Mars Society.
All editions are available at Amazon, Barnes & Noble, and all book vendors, with the ebook priced at $5.99 before discount. The ebook can also be purchased direct from my ebook publisher, ebookit, in which case you don't support the big tech companies and I get a bigger cut much sooner.
Autographed printed copies are also available at discount directly from me (hardback $24.95; paperback $14.95; Shipping cost for either: $5.00). Just email me at zimmerman @ nasw dot org.