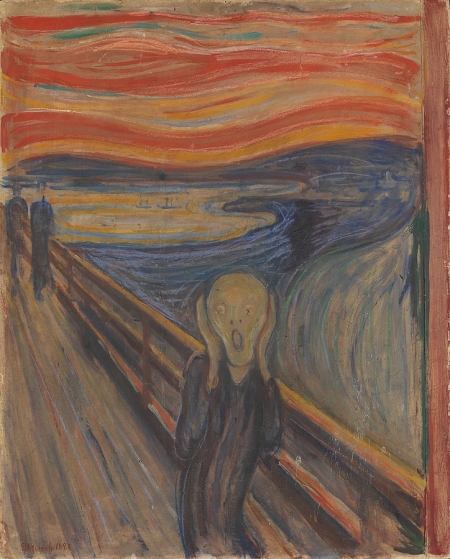 The Scream by Edvard Munch, the absolute wrong response
to any emergency, and sadly the very response Americans adopted
against COVID-19.
Three more stories in the past few weeks have proven once again what I and many others saw unequivocally more than a year ago: The panicky response to COVID was unwarranted and not based on the actual facts on the ground but on manipulated and unproven assumptions.
Those assumptions were touted for purely political reasons. Worse, too many Americans meekly accepted those assumptions without any of the kind of mature skepticism that is required of adult citizens in a democratic republic. The result: Our rights were violated and false and corrupt politicians gained power, power they eagerly abused.
First, officials in Alameda County in California revealed on June 4th that they have reduced the number of COVID deaths in that county for the past year by about 25%, from 1,634 to 1,223.
"There are definitely people who died from reasons that were clearly not caused by COVID,"said Neetu Balram, a spokesperson for the Alameda County Public Health Department. Balram couldn't give specifics about the true cause of death for the 411 people removed from the COVID-19 data, but she said the cases were identified after reviewing codes entered by county coroners into CalREDIE, the state's database for disease reporting and surveillance.
None of this is a surprise to anyone who was open-minded enough to pay attention. The federal government provided hospitals and doctors a bonus for claiming as many deaths as possible as caused by COVID. They thus inflated the numbers grossly. Moreover, encouraging a panic in 2020 over the Wuhan flu served the political ends of the Democratic Party (to which almost all health officials belong) because it then justified the illegal easing of election laws so that Democrats could commit election fraud in November with ease.
Thus, doctors had both financial and political incentives to inflate the COVID numbers, which apparently they did with glee.
Two research papers published in mid-May added further weight to these conclusions:

The reported number of COVID-19 hospitalizations, one of the primary metrics for tracking the severity of the coronavirus pandemic, was grossly inflated for children in California hospitals, two research papers published Wednesday concluded. The papers, both published in the journal Hospital Pediatrics, found that pediatric hospitalizations for COVID-19 were overcounted by at least 40 percent, carrying potential implications for nationwide figures.

Dr. Monica Gandhi, an infectious-diseases specialist at the University of California, San Francisco, and Amy Beck, an associate professor of pediatrics, also at UCSF, wrote a commentary for Hospital Pediatrics that accompanied the two studies. They wrote, "Taken together, these studies underscore the importance of clearly distinguishing between children hospitalized with SARS-CoV-2 found on universal testing versus those hospitalized for COVID-19 disease." The studies demonstrate, they said, that reported hospitalization rates "greatly overestimate the true burden of COVID-19 disease in children." Gandhi told Intelligencer that while the studies were both conducted with data from California hospitals, "there is no reason to think these findings would be exclusive to California. This sort of retrospective chart review will likely reveal the same findings across the country." [emphasis mine]
Thus, these stories suggest that the COVID numbers were anywhere from 25% to 40% lower than reported, which would bring those numbers last year to down to a completely ordinary bad flu season, the kind of event that routinely happens about once every ten or twenty years, and if treated rationally is hardly noticed by the general population.
Finally, a study published two weeks ago confirmed once again what has been known from repeatedly proven science research for more than a century: masks are useless at reducing the spread of such respiratory diseases like COVID:
The study, conducted by the University of Louisville using data from the Centers for Disease Control and Prevention, found that "80% of US states mandated masks during the COVID-19 pandemic," but while "mandates induced greater mask compliance, [they] did not predict lower growth rates when community spread was low (minima) or high (maxima)." The study also found that "mask mandates and use are not associated with lower SARS-CoV-2 spread among US states."

"Our findings do not support the hypothesis that SARS-CoV-2 transmission rates decrease with greater public mask use," the study said, as reported by Townhall's Spencer Brown.
Masks are a Potemkin Village of "feel-good" virtue-signalling. They do nothing to protect anyone from getting sick, and if used improperly — which practically everyone does — might actually increase the chances you will get sick, since used improperly they are unsanitary pieces of cloth covering the very place you breath.
Take the mask off, throw it away, and resolve to never be fooled by these corrupt health officials ever again.
Above all we must all recognize this very important fact: For more than a full year the constitutional rights of Americans have been badly violated and abused by politicians, mostly Democrats with a fair scattering of Republicans joining in, based on false premises and fake scientific claims. It was obvious before COVID reached our shores, during the epidemic, and now that it has receded that it was really nothing more than a variation of the flu, bad for older people but relatively harmless to everyone else. Panic was the last thing we should have done. We should have gone about our lives like normal, with the one exception of making sure we did not expose old people to the illness.
We did the opposite, and we did so because too many of us believed our so-called "experts," Instead, those "experts" turned out to be false gods, liars who were not interested in serving the interests of the nation but their own corrupt greed for power.
Hopefully all Americans will come to recognize this reality so that they not only won't be fooled the next time, they will take action now to remove these fake "experts" from positions of power.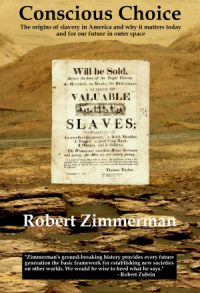 Now available in hardback and paperback as well as ebook!
From the press release: In this ground-breaking new history of early America, historian Robert Zimmerman not only exposes the lie behind The New York Times 1619 Project that falsely claims slavery is central to the history of the United States, he also provides profound lessons about the nature of human societies, lessons important for Americans today as well as for all future settlers on Mars and elsewhere in space.
Conscious Choice: The origins of slavery in America and why it matters today and for our future in outer space
, is a riveting page-turning story that documents how slavery slowly became pervasive in the southern British colonies of North America, colonies founded by a people and culture that not only did not allow slavery but in every way were hostile to the practice.
Conscious Choice
does more however. In telling the tragic history of the Virginia colony and the rise of slavery there, Zimmerman lays out the proper path for creating healthy societies in places like the Moon and Mars.
"Zimmerman's ground-breaking history provides every future generation the basic framework for establishing new societies on other worlds. We would be wise to heed what he says." —Robert Zubrin, founder of founder of the Mars Society.
All editions are available at Amazon, Barnes & Noble, and all book vendors, with the ebook priced at $5.99 before discount. The ebook can also be purchased direct from my ebook publisher, ebookit, in which case you don't support the big tech companies and I get a bigger cut much sooner.
Autographed printed copies are also available at discount directly from me (hardback $24.95; paperback $14.95; Shipping cost for either: $5.00). Just email me at zimmerman @ nasw dot org.