It is now more than a year since the arrival of the coronavirus in the United States and the panicky wave of fear it brought to our governments and many of our citizens, shutting down whole states, bankrupting millions of businesses, and shuttering schools for practically a whole year. In the process our governments have demanded we change how we live in fundamental ways, from no longer gathering together in any social setting to wearing masks wherever we go, inside or out.
Was that reaction correct? Readers of my website know that I never believed it rational, and that it was an entirely out-of-proportion response to what was really nothing more than a new variation of the flu.
Well, we now have some data that reveals the actual scale of the COVID-19 epidemic, as shown by the CDC graph below: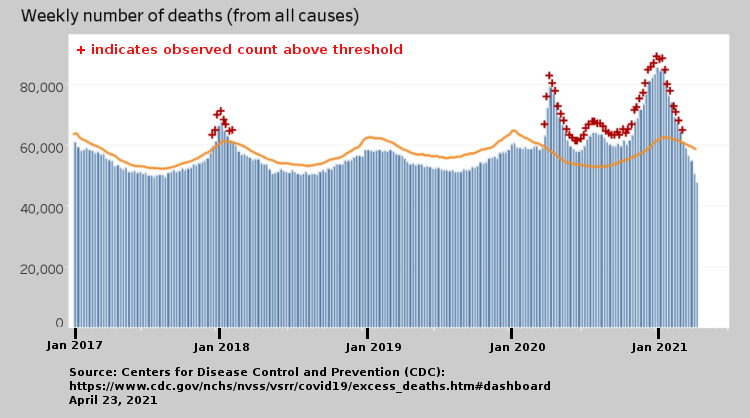 Click for CDC source page.
The yellow curve indicates the upper bound threshold for expected deaths. Any week that exceeds that threshold is considered to be a week whereby more people died than would normally be expected.
The graph reveals many things, the most of significant of which is that this epidemic was simply not devastating and that all the harsh lockdowns, mask mandates, and panic were simply unnecessary. To explain that conclusion will require some analysis, as follows.
The most obvious take-away from this graph is that the 2020 and 2021 waves of COVID-19 definitely caused more deaths than previous flu seasons. The 2018 flu season had been considered a bad one, as shown by the graph. Both COVD-19 waves exceeded it. These final numbers are also higher than I and others had expected or predicted based on earlier data. However, a wider and deeper view of these numbers shows that the earlier more optimistic conclusions were still largely correct.
First, we must remember that the numbers of deaths from the flu practically vanished during this epidemic, which seems unlikely. More likely, based on the financial benefits awarded to doctors and hospitals for assigning any undetermined respiratory illness to COVID-19 and not the flu, most flu deaths were instead labeled COVID. Thus it is not surprising that during the last two years the numbers were high, as they probably included deaths from both COVID and the flu. We were hit with a double whammy these past two years.
Second, the data continues to show that the large majority of these deaths occurred among the elderly sick. If you go to the source webpage and change the settings to show you deaths by age, it shows that in the past 40 weeks almost all deaths were for those over 45 years of age, with more than 75% of those deaths older than 65 years of age. Previous studies have found that of the aged who were dying most did so because of a combination of several chronic illnesses and COVID. In other words, these individuals were poised for death because of age and their overall very bad health, and the addition of a respiratory infection, such as COVID or the flu, was enough to push them over the edge.
Nor is this unusual. Sadly it is the norm, and has always been so. Old sick people do not have the resources to fight off a sudden respiratory illness that is relatively harmless to the rest of the population. While almost everyone else recovers, the disease kills them.
Fourth, and most important, the number of excess deaths demonstrate that the last two flu/COVID seasons, while bad, were not terribly different than the many other bad flu seasons we have weathered in the past without blinking an eye.
To illustrate, take the numbers for the week ending January 2, 2021, the worst week on record. According to past data, the CDC expected there to be 59413 deaths that week, with an upper bound of 61,248. Instead, 83,283 people died (these are not deaths from just COVID, but from all causes). Whether or not we had an epidemic, it is perfectly normal for about 60,000 people to have died that first week in January, because it is a basic fact of life that it ends at some point.
Nonetheless, in that week there were about 29% more deaths than would normally be expected during a normal flu season. O my God! We are all gonna die!
NOT. When compared to the entire population, this increase is a pinprick. There are presently about 330 million people alive in the U.S. Eighty-three thousands deaths equals a death rate of 0.00025, which means 99.975% of the population survived during that first week of January. Even more revealing, had the number of deaths been what the CDC expected, about 60,000, then 99.982% of the population would have survived instead, a difference of .007%, a percentage difference so small that scientists would normal consider it what they call an insignificant number.
More important, that difference means that the COVID-19 epidemic for the past year was not something that warranted a panic. It was simply nothing more than a variation of the flu, though clearly more deadly to the elderly sick. Had we treated it like the flu, we would have acted to first and foremost protect that elderly sick population, while letting everyone else go about their lives normally.
Had we done that — as we have done traditionally since the Enlightenment — the virus would have quickly spread through the general population, killing almost no one while rapidly running its course so that it had less chance to reach that protected elderly sick and vulnerable population.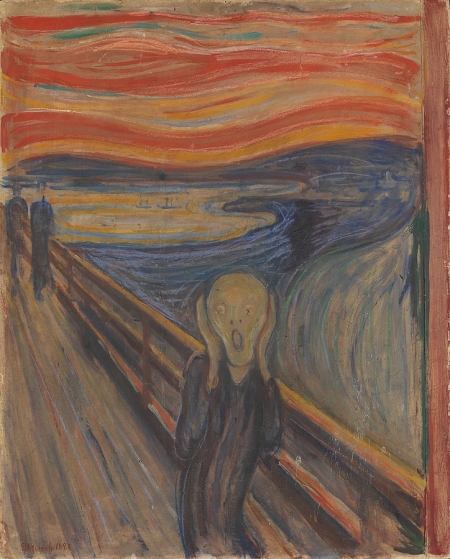 Edvard Munch's Scream, a perfect representation of today's culture.
Instead, Democratic Party governors in states like New York, Michigan, Washington, and Pennsylvania decided — in their panicked belief that the virus was about to kill millions based on computer models that were inherently flawed and untrustworthy — that they couldn't favor this vulnerable population with any protection. To make sure they had plenty of emergency room beds for the hoards of sick COVID patients from the general population (hordes that never materialized), they required nursing homes to take in COVID patients, thus exposing that most vulnerable population and thus killing tens of thousands for absolutely no reason.
COVID-19 was not a pandemic, it was simply a somewhat worse flu season that caused a sad but entirely intolerable number of additional deaths among the older population because of fear and panic the strong and healthy decided to let them die.
Had we responded rationally and with courage, we might not have even had the number of the excess deaths now documented. Those elderly sick in New York, Michigan, Washington, and Pennsylvania might still be alive, and the non-devastation from COVID-19 might have been even less noteworthy.
But we did panic, and the result was not only many additional unnecessary deaths, but a terrible transformation of our society from one that was an exuberant celebration of freedom to a culture that now crouches in fear from the thunder gods.
The children who lived through the horror of masks and Zoom and isolation in the past year will not be the kind of adults who will build a nation of the free and brave. They will live in fear, and will impose that fear on all around them.
Readers!
In order to remain completely independent and honest in my writing, I accept no sponsorships from big space companies or any political organizations. Nor do I depend on ads.
Instead, I rely entirely on the generosity of readers to keep Behind the Black running. You can either make a one time donation for whatever amount you wish, or you sign up for a monthly subscription ranging from $2 to $15 through Paypal, or $3 to $50 through Patreon, or any amount through Zelle.
The best method to donate or subscribe is by using Zelle through your internet bank account, since it charges no fees to you or I. You will need to give my name and email address (found at the bottom of the "About" page). What you donate is what I get.
To use Patreon, go to my website there and pick one of five monthly subscription amounts, or by making a one-time donation.

For PayPal click one of the following buttons:

If these electronic payment methods don't work for you, you can support Behind The Black directly by sending your donation by check, payable to Robert Zimmerman, to


Behind The Black
c/o Robert Zimmerman
P.O.Box 1262
Cortaro, AZ 85652