With InSight's landing on Mars set for 11:54 am (Pacific) this coming Monday, November 26, 2018, I decided to put together a map of Mars showing the location of all the successful landers/rovers, adding the landing sites for the planned landers/rovers through 2020. This will give some context to InSight's landing site.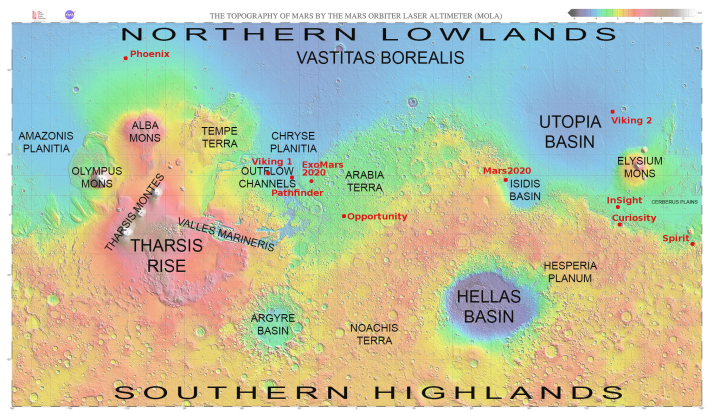 The map does not show the landing sites for the failed Soviet, American, and British landers.
As I noted in describing the Mars2020 landing site, the location of the bulk of these landing sites, along the transition zone from the southern highlands and the northern lowlands, demonstrates the areas of the planet that interest geologists the most. It is here that we find many shoreline features, suggestive of the ocean that many scientists theorize existed intermittently in the northern lowlands. It is here that planetary scientists can quickly gather the most information about Martian geological history. And it is here that they have the opportunity to study the widest range of rock types.
From an explorer's perspective, however, this approach has its limits. It does not provide us a look at a wide variety of locations. It is not directly aimed at finding lower latitude locations where ice might actually exist. And it is decidedly not focused in studying the planet from the perspective of future colonists. I am sometimes frustrated that we have as yet no plans to send any rovers into Marineris Valles, or to the western slopes of Arsia Mons, the southern most volcano in the chain of three giant volcanoes where there are indications that ice might exist underground, or to any of the places where caves are known to exist where a colony could be built more easily. In fact, the caves on the slopes of Arsia Mons seems a prime exploration target.
Eventually these locations will be explored, likely by private landers aimed at scouting out locations for future private settlements. I am just impatient.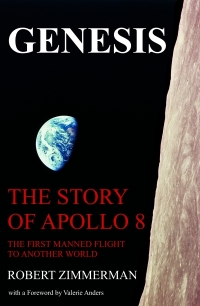 On Christmas Eve 1968 three Americans became the first humans to visit another world. What they did to celebrate was unexpected and profound, and will be remembered throughout all human history. Genesis: the Story of Apollo 8, Robert Zimmerman's classic history of humanity's first journey to another world, tells that story, and it is now available as both an ebook and an audiobook, both with a foreword by Valerie Anders and a new introduction by Robert Zimmerman.
The ebook is available everywhere for $5.99 (before discount) at
amazon
, or direct from my ebook publisher,
ebookit
. If you buy it from
ebookit
you don't support the big tech companies and the author gets a bigger cut much sooner.
The audiobook is also available at all these vendors, and is also
free with a 30-day trial membership to Audible.
"Not simply about one mission, [Genesis] is also the history of America's quest for the moon... Zimmerman has done a masterful job of tying disparate events together into a solid account of one of America's greatest human triumphs."--San Antonio Express-News