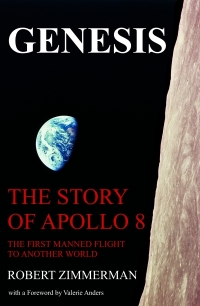 On Christmas Eve 1968 three Americans became the first humans to visit another world. What they did to celebrate was unexpected and profound, and will be remembered throughout all human history. Genesis: the Story of Apollo 8, Robert Zimmerman's classic history of humanity's first journey to another world, tells that story, and it is now available as both an ebook and an audiobook, both with a foreword by Valerie Anders and a new introduction by Robert Zimmerman.
The ebook is available everywhere for $5.99 (before discount) at
amazon
, or direct from my ebook publisher,
ebookit
.
The audiobook is also available at all these vendors, and is also
free with a 30-day trial membership to Audible.
"Not simply about one mission, [Genesis] is also the history of America's quest for the moon... Zimmerman has done a masterful job of tying disparate events together into a solid account of one of America's greatest human triumphs." --San Antonio Express-News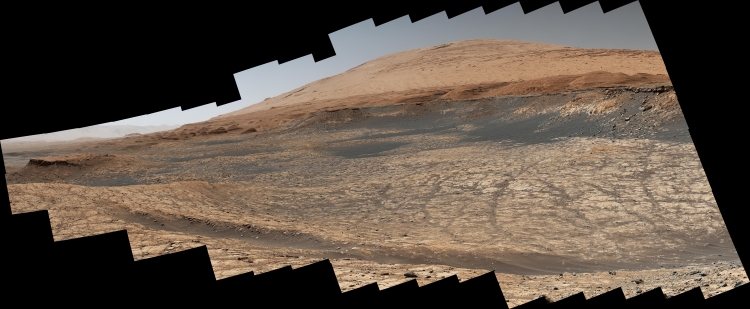 Click for full image.
[For the overall context of Curiosity's travels, see my March 2016 post, Pinpointing Curiosity's location in Gale Crater. For the updates in 2018 go here. For a full list of updates before February 8, 2018, go here.]
Today the science team of Curiosity issued a press release outlining their travel plans for the rover over the next year. In conjunction, they also released a mosaic of 116 images taken by the rover showing that route, a reduced in resolution version shown above.
The rover's next stop is a part of the mountain called the "sulfate-bearing unit." Sulfates, like gypsum and Epsom salts, usually form around water as it evaporates, and they are yet another clue to how the climate and prospects for life changed nearly 3 billion years ago.

But between the rover and those sulfates lies a vast patch of sand that Curiosity must drive around to avoid getting stuck. Hence the mile-long road trip: Rover planners, who are commanding Curiosity from home rather than their offices at NASA's Jet Propulsion Laboratory in Southern California, expect to reach the area in early fall, although the science team could decide to stop along the way to drill a sample or study any surprises they come across.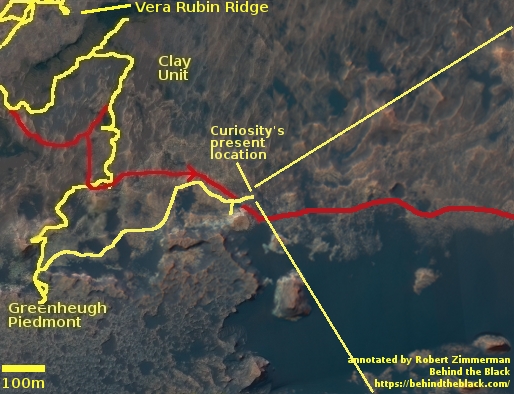 This journey actually began in late May, at about the time of my last rover update. The overview map to the right shows in red their approximate planned route to avoid that large dune field to the south. The meandering yellow line indicates Curiosity's actual route. The straight yellow lines indicates I think the area covered by the mosaic above. As you can see, since the end of May they have quickly returned to their planned route. Note also that the dune field extends about twice the distance beyond the eastern edge of this overview map.
The next big goal when they reach that sulfate-bearing unit will be to not only study it but to also study a recurring slope lineae on the slopes of that unit, a streak that darkens and lightens seasonally that might be caused by seeping brine from below. Because the sulfate unit and the linneae are both major geological goals, they are going to be moving fast to get there. I am sure they will periodically stop to do geology, but I think the travel will be, as it has been for the past month, quick-paced.
Once the rover gets to the sulfate unit, Curiosity will at last have actually reached the base of Mount Sharp. Up until now it has been traveling first in the surrounding plains, then in the mountain's foothills. The terrain will get much rougher and be far more spectacular, as Curiosity will be entering canyons as it begins to climb the mountain itself.
Readers!
My July fund-raiser for Behind the Black is now over. The support from my readers was unprecedented, making this July campaign the best ever, twice over. What a marvelous way to celebrate the website's tenth anniversary!

Thank you! The number of donations in July, and continuing now at the beginning of August, is too many for me to thank you all personally. Please forgive me by accepting my thank you here, in public, on the website.

If you did not donate or subscribe in July and still wish to, note that the tip jar remains available year round.
Regular readers can support Behind The Black with a contribution via paypal:
If Paypal doesn't work for you, you can support Behind The Black directly by sending your donation by check, payable to Robert Zimmerman, to

Behind The Black
c/o Robert Zimmerman
P.O.Box 1262
Cortaro, AZ 85652