[For the overall context of Curiosity's travels, see my March 2016 post, Pinpointing Curiosity's location in Gale Crater. For the updates in 2018 go here. For a full list of updates before February 8, 2018, go here.]
In my last rover update (April 16, 2020), I posted some new images taken of Curiosity's wheels, showing the damage that they have experienced during the rover's journey so far in Gale Crater.
At the time, I was unable to match any of the released images, taken on Sol 2732 (April 13, 2020), with the previous wheel image I have used to quickly gauge any new damage (see my July 9, 2019 report).
As it turns out, one of those images did match the earlier image. I simply failed to realize it. Today's daily download of raw images from Curiosity included additional photos of the rover's wheels, apparently also taken on Sol 2732 but not available until now. One of those images matches the earlier wheel image, and this time I spotted the match. A comparison is posted below, with my analysis.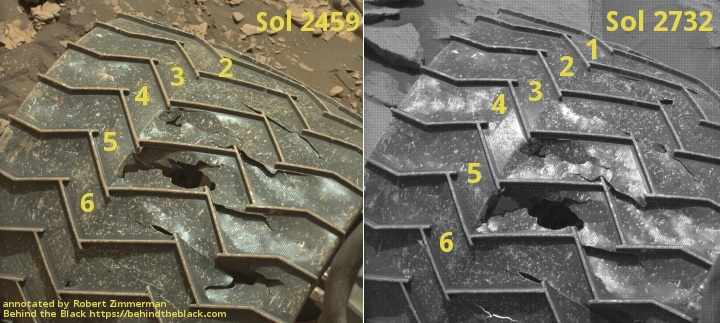 The left image was taken July 7, 2019. The right image was taken on April 13, 2020, ten months later. A comparison between the two is very encouraging. During these ten months Curiosity traversed the clay unit, climbed up onto the very rocky and rough Greenheugh Pedimont, and then retreated back down to the clay unit.
And yet, I can see little additional damage in this particular wheel section, suggesting that the rover's engineering team is doing an excellent job picking a route that will minimize damage.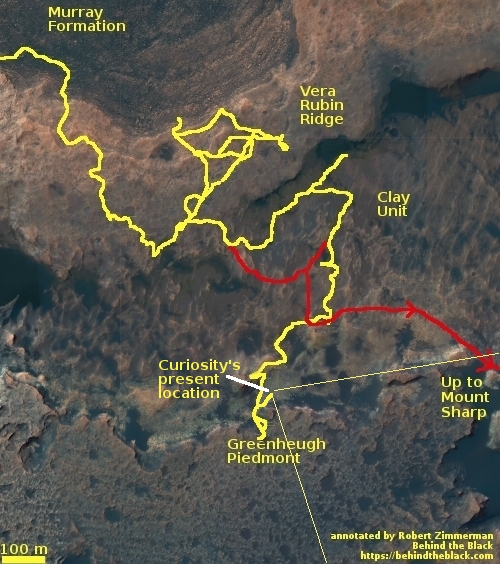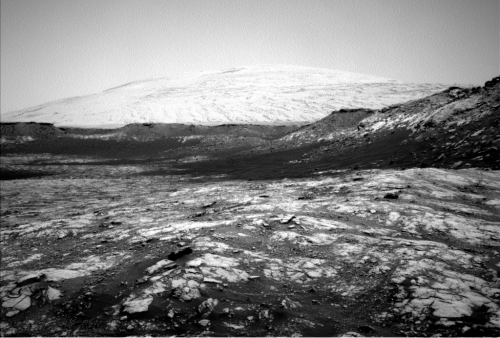 Click for full image.
The journey forward, across the relatively benign clay unit, will hardly be kind. The two images to the right illustrate this. The first is a map showing Curiosity's present location, where they have spent a month taking a lot of pictures and drilled one hole to get samples. They are presently trying to decide whether they will drill a second hole in this area, or begin the journey east towards their original planned route, as indicated by the red line.
The thin yellow lines indicate the view in the second picture to the right. This is where Curiosity is heading, circling the base of the Greenheugh Pedimont plateau to swing around on its east side to climb up in a more gentle area (see the May 30, 2019 rover update for a detailed description of this route.) Mt Sharp towers in the background.
As you can see, as benign as the clay unit has been, this route still has a lot of rocky roughness to it. The rover's engineering team is certainly going to spend a lot of time planning this route carefully, as once they leave their present location they apparently wish to move with some speed, with the goal I suspect of getting to the first recurring slope lineae, one of those seasonal darkening streaks found on many slopes of Mars that some suspect might be caused by seeping water brine, as quickly as possible.
Once there they will probably want to spend some time in that area, in order to observe any changes in the lineae from season to season.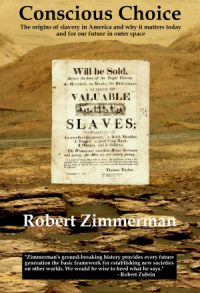 Now available in hardback and paperback as well as ebook!
From the press release: In this ground-breaking new history of early America, historian Robert Zimmerman not only exposes the lie behind The New York Times 1619 Project that falsely claims slavery is central to the history of the United States, he also provides profound lessons about the nature of human societies, lessons important for Americans today as well as for all future settlers on Mars and elsewhere in space.
Conscious Choice: The origins of slavery in America and why it matters today and for our future in outer space
, is a riveting page-turning story that documents how slavery slowly became pervasive in the southern British colonies of North America, colonies founded by a people and culture that not only did not allow slavery but in every way were hostile to the practice.
Conscious Choice
does more however. In telling the tragic history of the Virginia colony and the rise of slavery there, Zimmerman lays out the proper path for creating healthy societies in places like the Moon and Mars.
"Zimmerman's ground-breaking history provides every future generation the basic framework for establishing new societies on other worlds. We would be wise to heed what he says." —Robert Zubrin, founder of founder of the Mars Society.
All editions are available at Amazon, Barnes & Noble, and all book vendors, with the ebook priced at $5.99 before discount. The ebook can also be purchased direct from my ebook publisher, ebookit, in which case you don't support the big tech companies and I get a bigger cut much sooner.
Autographed printed copies are also available at discount directly from me (hardback $24.95; paperback $14.95; Shipping cost for either: $5.00). Just email me at zimmerman @ nasw dot org.