A quick holiday fund-raising campaign for Behind the Black!
Scroll down to read this post.
In past years I have managed to avoid asking for donations for Behind the Black during the holiday season. My finances however now compel me to do a short one-week fund-raiser, from November 11 to November 17.
I do not use Twitter for ethical reasons, which I have been told cuts down on traffic to the website. So be it. Furthermore, Facebook has clearly acted in the past two years to limit traffic to Behind the Black, almost certainly for political reasons. So be this as well. Finally, I do not post outside ads, as I have found them annoying to my readers and not that profitable to me.
Therefore, I need to ask for the direct support from my readers. If you like what I do here, please consider contributing, either by making a one-time donation or a monthly subscription, as indicated in the tip jar below.
Regular readers can support Behind The Black with a contribution via paypal:
If Paypal doesn't work for you, you can support Behind The Black directly by sending your donation by check, payable to Robert Zimmerman, to

Behind The Black
c/o Robert Zimmerman
P.O.Box 1262
Cortaro, AZ 85652

Or you could consider purchasing one of my books, as indicated in the boxes scattered throughout the website. My histories of space exploration are award-winning and are aimed for the general public. All are page-turners, and all not only tell the story of the beginning of the human exploration of space, they also help explain why we are where we are today. And I also have a science fiction book available,
Pioneer
, which tells its own exciting story while trying to predict what life in space will be like two hundred years in the future.
Note that for this week only I am also having a sale on the purchase of the last 20 hardbacks of
Leaving Earth
. (Click on the link for more information about the book, which was endorsed by Arthur C. Clarke himself!) This award-winning out-of-print book is now only available as an ebook, but I still have a handful of hardbacks available, normally for sale for $70 plus $5 shipping. For this week only you can buy them, personally autographed by me, for $50 plus $5 shipping! Just send me a check, payable to Robert Zimmerman, to the address above, with a note saying that the money is for the
Leaving Earth
hardback.
Please consider donating. Your help will make it possible for me to continue to be an independent reporter in the field of space, science, technology, and culture.
Summary: Curiosity begins journey off of Vera Rubin Ridge. Opportunity's silence is now more than seven months long, with new dust storms arriving. Yutu-2 begins roving the Moon's far side.
Before providing today's update, I have decided to provide links to all the updates that have taken place since I provided a full list in my February 8, 2018 update. As I noted then, this allows my new readers to catch up and have a better understanding of where each rover is, where each is heading, and what fascinating things they have seen in the past few years.
These updates began when I decided to figure out the overall context of Curiosity's travels, which resulted in my March 2016 post, Pinpointing Curiosity's location in Gale Crater. Then, when Curiosity started to travel through the fascinating and rough Murray Buttes terrain in the summer of 2016, I stated to post regular updates. To understand the press releases from NASA on the rover's discoveries it is really necessary to understand the larger picture, which is what these updates provide. Soon, I added Opportunity to the updates, with the larger context of its recent travels along the rim of Endeavour Crater explained in my May 15, 2017 rover update.
Now an update of what has happened since November!

Curiosity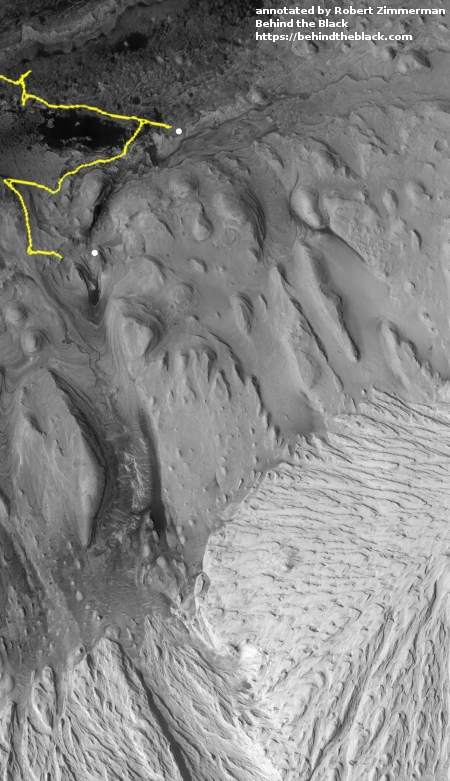 Since November Curiosity has remained on the top of Vera Rubin Ridge, where it drilled its third successful hole there, out of a total of six drilling attempts. The failures were partly because of the hardness of the rock on the ridge, and partly because they are using a new drilling technique because of the failure of the drill's feed mechanism. Instead of having the feed mechanism push the drill down into the rock, they use the robot arm itself. This has required care because the last thing they want to do is damage the arm itself.
The image on the right shows where Curiosity is heading in next year or two and was discussed in detail in my December 19, 2018 post, Curiosity's future travels.
Curiosity's journey has not yet brought it onto the terrain shown in this image. …The rover is right now just off the left edge of the photograph, on the white ridge dubbed Vera Rubin Ridge visible in the uppermost left. This week it completed the last planned drill sampling on that ridge, and it will soon descend off the ridge and begin heading along the yellow route up the mountain. The white dots along its future route are the locations of recurring slope lines, believed to be seasonal seeps of brine coming from below and causing gentle landslides that darken the surface. As you can see, they hope to get very close to the first seep, and will observe the second from across the canyon from a distance of about 1,200 feet.
Before they get to these seeps, however, they will first travel through the darker terrain near the top left of the image, a region they have given the somewhat boring geological name of "the clay unit." Since they spent more than a year on Vera Rubin Ridge, I would not be surprised they take another year crossing this clay unit, drilling several holes and inspecting its geology closely. Moreover, the terrain will be getting rougher now, so they will have to more carefully pick and choose their future route. The rover's wheels over Curiosity's travels have experienced some wear, as shown in the images in my April 27, 2018 update.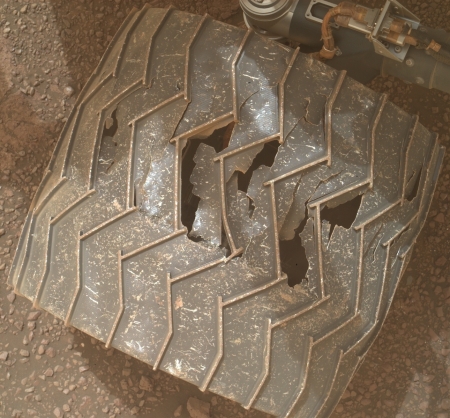 This week they did another photo survey of the wheels, which you can see here, here, and here. On the right is one image from that survey, cropped and reduced to post here, showing the most damaged area on one wheel.
In my April 27, 2018 update, I was able to identify the same damage seen in a September 2017 image, with little noticeable change, suggesting the wheels were holding up well. This time, however, I was not able to do so, which could either mean I simply missed the match, or that the wheels have sustained more damage since April 2018 and therefore the new damage makes it harder to match it with the old damage. If so, Curiosity faces an increasingly difficult journey.
The journey off Vera Rubin Ridge will hopefully begin today. Stay tuned!
Opportunity
For the context of Opportunity's travels along the rim of Endeavour Crater, see my May 15, 2017 rover update.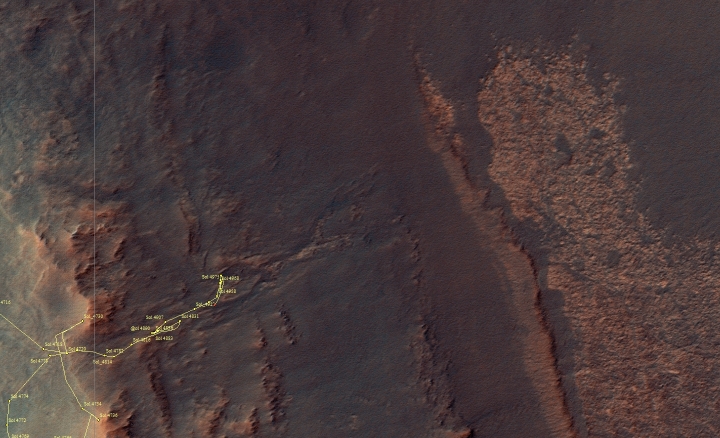 The traverse map above, showing Opportunity's location halfway down the rim of Endeavour Crater inside Perserverance Valley, was released on February 15, 2018. Through June, Opportunity stayed at this general location as it did contact science.
In June Mars was hit by a global dust storm, and since then all contact with Opportunity has been lost. The rover team has been making repeated attempts daily to re-establish contact, with the hope that during the dust devil season in November-January a devil would go by and blow off any dust on the rover's solar panels, allowing those panels to recharge Opportunity's batteries. Unfortunately, this apparently did not happen, and the dust devil season is over. Worse, there is evidence that the dust storm activity at Endeavour Crater is once again increasing.
This might very well be my last update on Opportunity. I would not be surprised if the next press release from the Opportunity science team is an admission that the rover is lost.
This would be a tragedy, but there would be much to celebrate. This was a rover that landed on January 25, 2004 with a planned lifespan of only 90 days. It instead lasted fifteen years, and ended up traveling more than 28 miles.
Yutu-2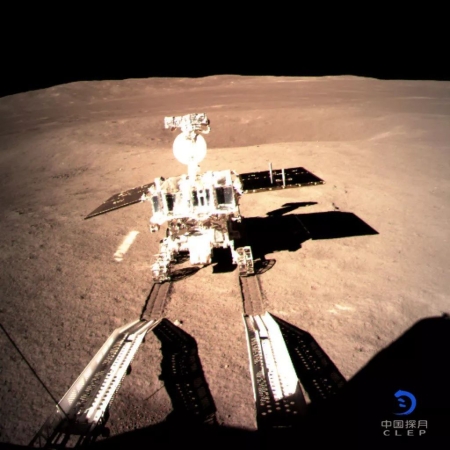 After its successful deployment from the Chang'e-4 lander shortly after the landing on January 2, 2018, the rover has not traveled very far. It completed its plant and biology experiments, and then went into a hibernation mode to take it through the 14-day-long lunar night.
Using images from the American Lunar Reconnaissance Orbiter (LRO), the LRO team was able to precisely pinpoint where the lander and rover are located in Von Kármán crater. I expect that in the near future the LRO team will release images showing both the lander and the rover on the surface.
How detailed the updates will be from China in the coming months remains unknown. Unlike NASA the Chinese government has no requirement to be open about what they are doing. I expect them to release periodic press releases, but tracking the rover's travels might be more difficult.